Tuesday, June 15, 2010
Karnala fort(also called Funnel Hill[1]) is a hill fort in Raigad district about 10 km from Panvel city. Currently it is a protected place lying within the Karnala Bird Sanctuary
Its exact date of formation is not known but likely it predates 1400 CE as under the Devagiri Yadavs(1248- 1318) and under theTughlaq rulers(1318-1347), Karnala was the capital of the north Konkan districts of their respective empires. It later fell under the command of the Gujarat Sultanate but in 1540 was taken over by Nizam Shah of Ahmednagar. The Gujarat sultans then requested the help of the Dom Francisco de Menenzes the commanding officer of the Portuguese at Bassien(modern day Vasai) to win it back. He ordered 500 of his solidiers to Karnala fort and they were able to capture it. The fort was left in charge of the Gujarat Sultanate but with Portuguese garrisons.
The loss of Karnala enraged the Nizam Shah and he took back the fort and the surrounding countryside by sending 5,000 of his men. The Gujarat sultans fled to Vasai in panic and gave up any claims of the fort to the Portuguese. In the subsequent battle between the Nizam Shah and the Portuguese, the latter were victorious in repulsing further attacks of the Nizam Shahi army and the fort remained with the Portuguese. However the Portuguese Viceroy determined that the forts of Sangli and Karnala were of little value to them and decided to give them to the Nizam Shah for an annual payment of Rs. 17,500(or 5,000 gold pardoas) to further their friendship
Shivaji conquered it from the Portuguese in 1670 by building breastworks as he advanced After his death in 1680 it was taken over by Aurangzeb. After this the Mughals occupied it for some time after which it in 1740 with the rise of the Peshwas of Pune it went to them. It remained under the command of killedar(garrison commander) Anantrao until a colonel Prother won the fort and established the rule of the British East India Company there in 1818.
VALLEY VIEW FROM FORT
ENTRY GATE TO KARNALA FORT BOMBAY
KARNALA FORT WALLS
Arnala Fort is built on a small island of the port town of Arnala, located around 8 miles north of Vasai, Maharastra, India

. Being an island fort, it is also called Jaldurg or Janjire-Arnala. The Portuguese, who owned this fort

,

rebuilt and gave it the name Ilha das vacas.
History
In 1516, a local chieftain in Gujarat, Sultan Mahmud Begda originally constructed the fort on the island, strategically located at the mouth of the Vaitarna river. In the 1530s, the Portuguese had established their operations in the coastal area headquartered at Fort Bassein and soon gained control of the island. The Portuguese captain of Bassein donated the island to a Portuguese nobleman who tore down the old fort and began construction of 700x700 foot fort. Though fort was never completed by the nobleman, it remained under Portuguese control for 2 centuries, who used it to control shipping and navigation along the northern Konkan coast.
During the late 1600s and early 1700s, after a long struggle with the Mughal Empire, the Maratha Confederacy came to dominate present day Maharastra. In 1737 the then Peshwa Baji Rao I sent his brother, Chimaji Appa, to take the Bassein Fort from the Portuguese. After winning the Battle of Vasai, his general,
Shankarji Pant
, persuaded Chimaji to launch an assault on Fort Arnala, for its strategic importance to the Maratha navy in assaulting Portuguese interests. Their first assault, coordinated with a Maratha naval force commanded by Manaji Agre, was routed by a superior Portuguese naval force. A second assault on the fort on March 28, 1737, caught the Portuguese by surprise and forced them to abandon the fort. The victory was commemorated by a plaque installed on the northern wall of the fort and is still visible today. Marathas then rebuilt the fort, constructing three bastions Bahirav, Bhavani and Bava.
The Marathas controlled the fort until 1817 when, during the third British-Maratha war, despite successfully defending the fort, they were forced to surrender the fort to the British due to their superior naval power. The Arnala and Bassien forts were returned to the Marathas by the British in the treaty of Salabai, but the forts again changed hands under the treaty of Pune. Today the fort is in a state of disrepair
ARNALA ISLAND AND FORT NORTH BOMBAY

Monday, June 7, 2010
Bungalow occupied by a British family in Ranchi; 20th Century; photograph courtesy of Major General R.C.A. Edge.
Tea plantation bungalow; 1930s
ANOTHER VIEW OF HAND PULLED PUNKAH(FAN) SEEN ABOVE THE BED
punkah man(man who pulls cord of hand pulled punkah) sitting ;crouching outside the window
hand pulled punkah(fan) hanging above can be seen
1900'S -BRITISH DAKBUNGALOW -
CHURCH WITH HAND PULLED FAN(PUNKAH) MAT ON EITHER SIDE
General Manager's room ['Times of India'],AND THE HAND PULLED/OPERATED FAN/PUNKAH - November 1898.--Photographer: E.O.S. and Company Medium: Photographic print Date: 1898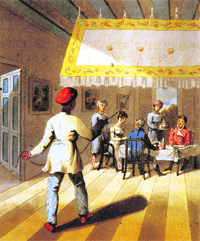 An English family at dinner under a hanging punkah. Drawing by Sir Charles D'oyly c. 1810
Beating the heat
Cooling tales from the Raj by Pran Nevile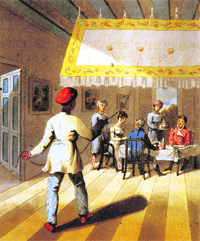 An English family at dinner under a hanging punkah. Drawing by Sir Charles D'oyly c. 1810
The heat of the Indian summers scared the English

.
Before the advent of punkhas and American ice in early the 19th century, the English dreaded the oppressive heat and miseries of the hot season.
One of the earliest comments on the Indian summer was recorded by an English surgeon in 1774. He refers to his horrible experience of a sultry day "when not a breath of air was there for many hours; man and every fowl of the air so sensibly felt it that some species fell down dead". The heat, dust and hot winds and the awful devastation they caused earned them the title of "angels of death" by many a memsahib in her letters home.
It was even jokingly remarked that the deadly heat of Calcutta was more dangerous to British life than any uprising by the natives.
An amusing tool to battle the heat as recommended to the sahibs by the English editor of Calcutta Gazette in 1783 was to sleep with Indian women to keep themselves cool in the beastly summer of Calcutta. The Portuguese actually secured a firman from Emperor Shahjahan to keep Bengali women during summer to save themselves from the heat of the delta.


The early British settlers in the 18th century used to wear loose fitting and

airy cotton garments at home

suitable for the hot climate. Later, however, in the light of increasing political power and prestige they began wearing clothing designed for the English climate which was completely unsuitable for the Indian summer. Their attire and the habit of excessive consumption of alcohol were not conducive to alleviate the effects of the heat.
As a protection against the hot Indian climate,

the English built their bungalows within compounds of shady trees and the rooms had very thick walls and high ceilings surrounded by covered verandas.
Some wealthy high-ranking sahibs in Calcutta even maintained garden houses on the banks of the river. Some
British officials like Metcalfe
Sir Thomas Metcalfe, Bt

Sir Thomas Metcalfe, Bt, on a picture from the Delhi Book
and William Fraser, in Delhi followed the Mughal practice and built
tehkhanas-
Tehkhana literally means basement. In the olden days, tehkhanas served as prisons or were used to store treasures]
in their residences where they entertained their guests.
Another novel feature of the English bungalows was the terrace or housetop accessible through a winding staircase from without and often from within the house also. Many sahibs, especially bachelors, had their cots carried to the housetop during the hot season, and there, with heaven as their canopy, they slept during the night.
Some sahibs would set up special enclosures on the terrace and put their cots over there. Colesworthy even writes about a person known to him, who used to sleep on the bare terrace with nothing except a pillow and would remain lying there even when it rained. We come across an interesting case of a young Company civilian who beat the heat by lying down on a cot with a mushq for a pillow and the contents of a secondmushq poured over him.
There were others who slept in sheets which had been previously soaked in water

. As it was unbearable to sleep indoors during the hot weather, some of them selected open spaces in their compounds.
An indigenous cooling device adopted by the sahibs was the installation of tatties made of khus-khus grass over all openings — windows and doors — of a house. Tatties were kept continually wet by a bhishtee,
bhishtee,
or a water carrier,
or a water carrier, engaged to throw water against these from outside.
Tatties[MAT] made of khus khus
Summer Curtain Made with Vetiver Roots
This was very effective in cooling when winds, hot or cool, blew. The rapid evaporation of sprinkled water and the refreshing odour of khus-khus made the inner spaces both cool and comfortable. The khus-khus tatties were highly valued in the upper provinces, which had far more hot winds than in Calcutta.
The use of tatties, however, was also prevalent during the Mughal times and the invention of this device is attributed to the Mughal emperor Akbar.
The punkah bears the stamp of the Orient and the tropics.

The use of hand punkha dates from olden times.

There were many different kinds and sizes of the hand punkha. These were waved to and fro by servants called punkhawalas. There is also a mention of hand fans made of peacock tails and feathers in South India where servants also held umbrellas over their masters.
The hanging punkha suspended from the ceiling was introduced towards the end of the 18th century. Col Yule in Hobson Jobson refers to the use of this device by the Arabs and attributes its invention to Caliph Mansur (AD 753-74). It was known as the Marwaha al Khaish (linen fan). There is no reference to swinging punkah in Mughal India or in the East India Company records until 1780.
William Hicky in 1785 records the luxury of hanging fans while sahibs were having their meals. It is a French seaman — Captain de Grandpre' — who first describes the Calcutta punkha in 1790. "In many houses, there was a large fan, hanging from the ceiling over the eating table, of a square form and balanced on an axle fitted to the upper part of it. A servant standing at one end of it, puts it in motion by means of a cord which is fastened to it in the same manner as he would ring a bell".
According to one authority, hanging punkhas were accidentally invented by a Eurasian clerk in Calcutta when he suspended the leaf of a table which was waved by a visitor to and fro resulting in a breath of cool air, which suggested the idea of developing this device.
Besides the punkah, there was another mostly forgotten device used in some British homes for beating the heat called the
'thermantidote'
.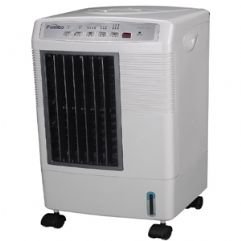 MODERN DAY THERMANTIDOT OR AIR COOLER
It was a huge box containing a revolving hand-operated fan like a steamboat's paddle with tatties- fitted windows on each side. The hot air sucked in by this gadget passing through moist tatties filled the entire house with cool air, bringing relief to the memsahib, who would write home about various modes of cooling during the ghastly Indian summer. There is a mention of this novel device in the writings of Fanny Parks in 1831.

This invention is attributed to Dr George Green Spilsbury, who came to India in 1823 and was, for some years, surgeon to the Saugor Political Agency.
Before the introduction of ice,
an important servant of the sahib's household was the Abdar. He was entrusted with the job of cooling the water, wines, beer and other table delicacies, which depended more on their refreshing coolness than flavour for value and acceptance. He was the walking refrigerator of those days and went with his master to every dinner party for cooling the master's wine,

using saltpetre in a container for the bottle

.
Imported ice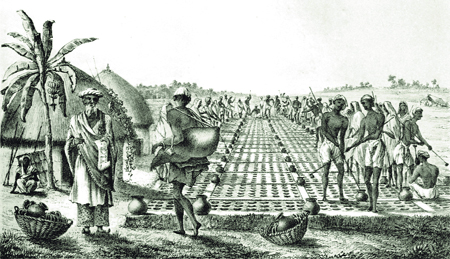 Icepits near Allahabad. Drawing by Fanny Parks c. 1830
The introduction of American ice in 1833 was an event of great jubilation and feasting in Calcutta. The American ice replaced the mountain ice brought down at heavy cost

and inconvenience, and the other
native ice produced in ice pits
during winter nights and preserved for the summer, entailing colossal wastage. Small earthen pots filled with water were placed in an open field, and in the morning the coating of ice formed in the cold temperature of the night was collected and stored in ice-pits.
It was after more than 20 years of experiment in the early 19th century that an American entrepreneur, Fredrick Tudor, succeeded in transporting ice from a cold to a hot climate.
The i

ce blocks cut from the frozen ponds rented near Boston were stored in an icehouse before loading them on board the vessel, which had an in-built icehouse.
The first shipment of American ice
arrived in Calcutta by S.S. Tussany in September, 1833,
Icemen, on the rocks.
after a four-month voyage around the Cape. Wrapped in felt and pine saw dust, two-thirds of the ice cargo in solid form was received with great excitement in Calcutta. So much so that the Governor-General
Lord Bentinck
presented an inscribed silver-gilt cup to the ship's captain William C. Rogers for having successfully landed the first shipment of American ice in India

.
This encouraged the exporter
Fredrick Tudor
to make ice shipments to Bombay and Madras also. Icehouses were soon constructed at all three ports to store the precious ice cargo and preserve it against heat.
ICE STORAGE HOUSE 19 TH CENTURY
There was a growing demand for this crystal clear ice among the local European population as well as wealthy Indians. Selling at four annas a seer, half the price of Indian ice, the American ice became popular with all who could afford it.
Tudor made a fortune by carrying on this ice trade for over 30 years till the technology of making ice was introduced in India.
Another useful device, which served as a shield against the killer sun of the tropics was the
sola topi.
People had used various kinds of head covers for protection against the sun's rays.
It was after 1857 that the sola topi attained its supremacy and eliminated all other kinds of sun hats. It became even a symbol of the Imperial might as no sahib ever appeared in public without a hat. They wore them even during the rain and some sahibs got them enamelled to make them waterproof.
The heat, no doubt, haunted the English and even determined their life-style in India. After consolidating their hold on major parts of India,
they created their "little Englands" at the hill stations with English-style cottages. These relics of the Raj with their cool climate
, lush greenery and glorious views of snow-covered peaks offered a pleasant escape from the grilling heat of the plains.
Simla, the pride of the`Raj, became the summer capital of India from 1830 followed by Ooty for Madras, Nainital for Lucknow, Mahableshwar for Bombay and Darjeeling for Calcutta.
With their holiday atmosphere enriched by picnics and parties in the cool and picturesque surroundings, the hill stations provided an escape from the heat, a refuge for the invalid and the bored and a fun place for the pleasure seekers, both sahibs and memsahibs.
Emily Eden, sister of Governor-General Auckland, described Simla as "the nearest place to dear home that one could hope for in this dreadful country".
From 1864, Simla became the seat of the government from April till October, and the ruling elite and their staff would move en bloc from Calcutta to run the administration from there. With Kipling's writings, Simla acquired a reputation for merriment, gaiety, high living and not so harmless flirting. Nevertheless, the hill stations became popular centres for rest and recreation in summer, especially for memsahibs, who supposedly wilted under the heat much more rapidly than their men folk.
------------------------------------------------------------------
POST SCRIPT:-
[1]
INDIAN CARS - BOTH AMBASSADOR AND FIAT CARS USED TO HAVE A 'SOLAR TOPI' MADE OF KHUS TATTIE OR MAT ON THE TOP ;DURING SUMMER ;MADE WET AT REGULAR INTERVALS BY WATER .THIS WAS TILL 1985 WHEN THE FIRST AIR CONDITIONED MARUTI CARS WERE AVAILABLE IN INDIA
[2]
AS THE WHITE MEN WERE AWAY TO ESCAPE THE SUMMER HEAT IN INDIA ;THEY STARTED THE SUMMER HOLIDAYS FOR SCHOOLS AND COURTS ETC .IN VILLAGES STILL PEOPLE THINK TO DO A SURGERY DURING SUMMER IS NOT GOOD ;MAY BE THOSE DAYS THE WHITE SURGEONS WERE NOT AVAILABLE DURING SUMMER
[3]
THE ICE STORAGE HOUSE IN MUMBAI[BOMBAY] AND CALCUTTA ARE NO MORE BUT THE ONE IN MADRAS(NOW CHENNAI) HAS BEEN CONVERTED AND IS BEING USED

THE ICE STORAGE HOUSE OF BOMBAY-MUMBAI 1870 ;SEEN AS A ROUND WHITE DOME ;NEXT TO THE CHURCH ;HARBOR AREA

The Vivekananda House (Or
OLD Ice House/
Vivekanandar Illam) is located on the main road facing the Marina Beach. Its quite close to Queen Mary's Womens College.;AT CHENNAI(MADRAS)
Postcards depicting household servants; produced by both Indian publishers, such as Moorli Dhur and Sons of Ambala, and British, such as Higginbotham and Company of Madras and Bangalore; early 20th century.
A bearer or head servant; an ayah holding a European child
a dhoby or laundryman; the laundryman's wife. Company School paintings
MALEE -GARDNER
DOG BOY FOR ENGLISH RULERS
A SWEEPER WOMAN
THE BARBER
PASSENGER SHIP TO ENGLAND AND AUSTRALIA
COALING (COAL WAS NEEDED AS FUEL) AT PORT SAID HARBOR
[From an early period the East India Company raised its own army, which evolved into the Indian Army.]
Indian sepoy (infantryman) and his wife; Company School painting, South India, Tanjore artist; late 18th century.
Wife of Indian Political Service member visiting women of the royal family of a princely state under her husband's direction; photograph courtesy of the Centre of South Asian Studies, University of Cambridge; 1920s.
An Artillery Elephant on Duty"; hand-colored lithograph by Captain C. Gold; 1799.
ractice firing from the walls of a fort on the Northwest Frontier; photograph courtesy of the Centre of South Asian Studies, University of Cambridge; 20th century.
The Frontier was the loosely controlled area between British India and Afghanistan inhabited by various tribal groups. The British and Indian armies frequently operated in the region to maintain order and their small campaigns provided what was considered valuable military experience for the troops.
Operations and fortifiations on the Frontier: "Convoy of A.T. Carts from Paiaza. 100 Yds. Above the Barrari Tangi"; postcard (Simla: Army Canteen Board), 20th century
English officer with his men, members of the Frontier Constabulary; photograph courtesy of the Centre of South Asian Studies, University of Cambridge; 1912.
An officer of the Survey of India mapping in the Himalayas; photograph courtesy of Major General R.C.A. Edge; 1930s.
The young Maharajah of Bastar with his British guardians; photograph courtesy of the Centre of South Asian Studies, University of Cambridge; 1937.
A significant portion of India continued to be ruled by Indian princes under indirect British control. When a minor ascended to a princely throne or if there was gross mismanagement or scandal in a princely state, a British official would be given more direct control. But normally a rajah or nawab had considerable independence to administer his own dominions
Life in the Bungalows
Dooreahs or Dog Keepers Leading Out Dogs"; aquatint by Samuel Hewitt from a drawing by Captain Thomas Williamson; 1806.
"Christmas in India"; chromoxylograph from a drawing by E.K. Johnson; 1881. An idealized picture of British home life: attentive servants and happy children (who would be packed off to England for schooling before long).
Interior of tea plantation bungalow; 1930s. Though large and sometimes well furnished, British bungalows in India might have very simple furnishings. Sometimes furniture was simply hired from Indian contractors.
English child on pony held by servant; 20th century; photograph courtesy of the Centre of South Asian Studies, University of Cambridge.
Behind the Bungalow by "EHA," illustrated by F.C. MacRae, 14th edition (London: W. Thacker & Co; Calcutta and Simla: Thacker, Spink & Co., 1929). Originally published in 1889 (reprinting earlier newspaper sketches), this little volume went through numerous printings. Each chapter details the activities of some type of servant and the book's popularity testifies to the fascination their household servants held for the British (most of whom could never have hoped to maintain such an establishment in England).
Imperial Diversions:
The Club, the Hills, the Field
Paying off the beaters after a tiger hunt; 20th century; photograph courtesy of the Centre of South Asian Studies, University of Cambridge.
Joining in field sports enabled English women to participate more fully in the pleasures of life in India; photograph courtesy of Major General R.C.A. Edge.
"A Little Over Ridden"; lithograph; 19th century. Hog hunter, probably along the Ganges River. The sport of hog hunting (or "pig sticking") involved chasing on horseback and spearing dangerous wild hogs. Though limited geographically, the sport had a very popular image, perhaps because it seemed to evoke ancient ways and almost feudal methods of organization.
"The Return from Hog Hunting"; aquatint by Samuel Hewett from a drawing by Captain Thomas Williamson; 1819.
"The Line of Beaters," color illustration (from a water color by the author) in Pig-Sticking or Hog-Hunting: A Complete Account for Sportsmen--and Others by Sir Robert Baden-Powell, Bart. (London: Herbert Jenkins, 1924).
The founder of the Boy Scouts, who had seen Army service in India, was a notable devotee of the sport.
British soldiers on the Mall at Murree, a popular hill station; postcard; 1920s.
"Simla--the Mall"; postcard, photograph by R. Hotz; c. 1900. Simla, where the Government of India functioned during the hot weather, was a vibrant temporary capital. The architecture seen here is notably European, as though the Hills were meant to be psychologically as well as physically removed from the terrible heat and related pressures of the Indian plains.
Women in dandi, sedan chairs
European travellers through the Hills; postcards (Umballa: Herman Dass and Sons); 1890s
Simla"; lithograph by Captain J. Luard; 19th century. Only the workers in Indian garb suggest that this is not a European landscape, as though the Hills were not merely a refuge from the heat but a kind of symbolic return to a more culturally familiar place.
Club scene; color illustrations in Lloyd's Sketches of Indian Life by W. Lloyd (London: Chapman and Hall, 1890).
Garden party with British and Indian guests at the Viceroy's Palace, New Delhi; photograph courtesy of Brigadier Richard Gardiner; 1930s.
Indian man with Englishwomen at a fete to aid the Indian Red Cross; photograph courtesy of Major General Sir Charles and Lady Dalton; 1930s.

Constraints in social relations sometimes meant that Britons interacted with Indians mostly in formal or superficial situations.
British and Indian guests of a maharajah, dining in a tent; photograph courtesy of the Centre of South Asian Studies, University of Cambridge; early 20th century.

Socializing with Indian princes was a high point of life in India according to many recollections. Connections to this world of royalty could validate British status.
"Sutteeism on the Banks of the Ganges -- Preparing for the Immolation of a Hindoo Widow," steel engraving by J. Hedway from a drawing by Captain Grindlay in The Indian Empire: Its History, Topography, Government, Finance, Commerce, and Staple Products, by R. Montgomery Martin, 5 vols. (London: London Printing and Publishing Co., 1879-81?).
Devotees in India Sacrificing Themselves to the Idol Juggernaut"; wood engraving; 19th century.
Family photo album; 1920s-1930s
Indian clerk, Malabar Coast; Company School painting, 19th century.
"Book Hawker and Wife," Company School painting on mica, North India (?); c. 1850;
"Mussalman [Muslim] Taking His Bride Home," Company School painting on mica, North India (?); c. 1850;
"Khansamah Followed by Coolie Bringing Home the Provisions for the Day," Company School painting, Patna artist; c. 1880.
"Basket Makers," Company School painting by Bani Lal of Patna; c. 1880.
"Mysore Government Offices, Cubbon Park"; "Oilette" postcard (London: Raphael Tuck and Sons; c. 1910; "View of Calcutta from the Esplanade," steel engraving; 1850s (?), later hand coloring. Especially in the cities they founded, like Madras and Calcutta, but elsewhere as well, the British imposed European architectural style
In this engraving the European woman and child in the center appear to be engulfed by Indian humanity, but they in turn are dominated by the severe lines of the European structures in the near distance.
"Municipal Building"
Bombay"; late 19th century.
"Victoria Terminus," photographs in a souvenir portfolio, "Views of Bombay"; late 19th century.
"The Legislative Buildings, Delhi (India)" and "The Secretariats of the Government of India," tear-out postcards (Delhi: H.A. Mirza and Sons); c. 1912.
ohn Shattock:
I arrived in Calcutta early on a Sunday morning and the Under-Secretary in the Political Department of the Government of Bengal was at the railway station to meet me and he said, "We have booked rooms for you at the United Services Club of Calcutta, where you will stay for three days. Then you'll go to the district to which you've been posted."

I so well remember that Sunday morning. The luggage arrived from the station and upstairs we went to our rooms and a very old Mohammedan was standing outside my room. This chap from the Political Department said, "Mohammed will be your personal bearer and servant. He has just retired from being servant to a Commissioner who has just retired from the ICS and he's prepared to start life all over again with a junior officer like you." I went into the bedroom. He looked so solemn. He scarcely allowed me to take my clothes off, he had to take them off for me. When I put my dressing gown on and went to the bathroom, then he proceeded to follow ahead of me to the bathroom door and was waiting for me in the room when I came back. I started to put on my socks, I started to put on my shirt. He wouldn't let me. After about one day I said, "Please, I'm going to dress myself unless I'm terribly tired."
I went into a house to breakfast and it was my first meeting with the Collector and District Magistrate. And I said, "What shall I do for work, sir?" And he said, "Don't call me 'sir'. You reserve that for people two above you. And as for work, you don't have to do any work in your first year. All you've got to do is get the atmosphere of the country." And he said, "Here's a book on polo. Read that in your spare time, and I'll examine you on that this evening." And he said, "After a day or two -- you've got a clerk -- I'll have some cases, your own, and I'll go through these with you and read this record." Then I went off to a room which I was told was my office.
Roy Metcalf:
There was another old friend of mine and myself -- we'd been in the same section -- we were going to the same regiment. We mucked about in Bombay, then we had to take a slow mail to Karachi. We were going up to Quetta. So that's about three days in Bombay to make our own arrangements and then we got to Karachi and got the train and we got to Quetta. We arrived in the middle of the Hyderabad Sind, one of the hottest places in the world, in the middle of the Sind desert, at four o'clock, five o'clock in the afternoon and there was a chap, an Englishman, wandering up and down the station in a tweed jacket and flannel trousers! I said, "Look, we'll be like that in due course, blood will get so thin!" And we got on this train and went on. You have to go through the Bolan Pass to get to Quetta. It got awfully cold of course -- suddenly. We were coming up over the top of the pass and down into Quetta and there was a real Central Asian caravan, all jingling bells and camels and everything else crossing along by the side of the train. It was quite unforgettable.
Major-General R.C.A. Edge:
Your first experience of India when you arrive -- I was there as a child, so I ought to have remembered -- but one's first experience in one's first month or two -- it's absolutely ghastly. Everyerything's so inefficient and dirty!

And you feel homesick, and stupid things like that. And you don't like it! So unless you get over the hump somehow -- and once you're over the hump, you're for it, because you can never, never get it out of your system.

We really thought of ourselves -- well, not as Indians, because that would have meant we had dark skins -- but we completely identified with India. Doubtless, most of our friends were connected with India in one way or another.