Shivkar Bapuji Talpade (1864-1916) was a Maharashtrian Pathare prabhu community member who purportedly flew an unmanned airplane,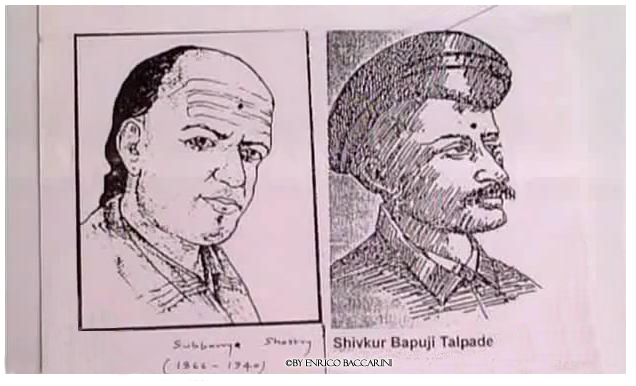 One of the conquests many attempted since Da-Vinci's time or even earlier, is flight by man, powered or un-powered. There were people who attached wings to their backs, some even attaching feathers to their arms, but in the end injuries, hurt egos and even death were the results.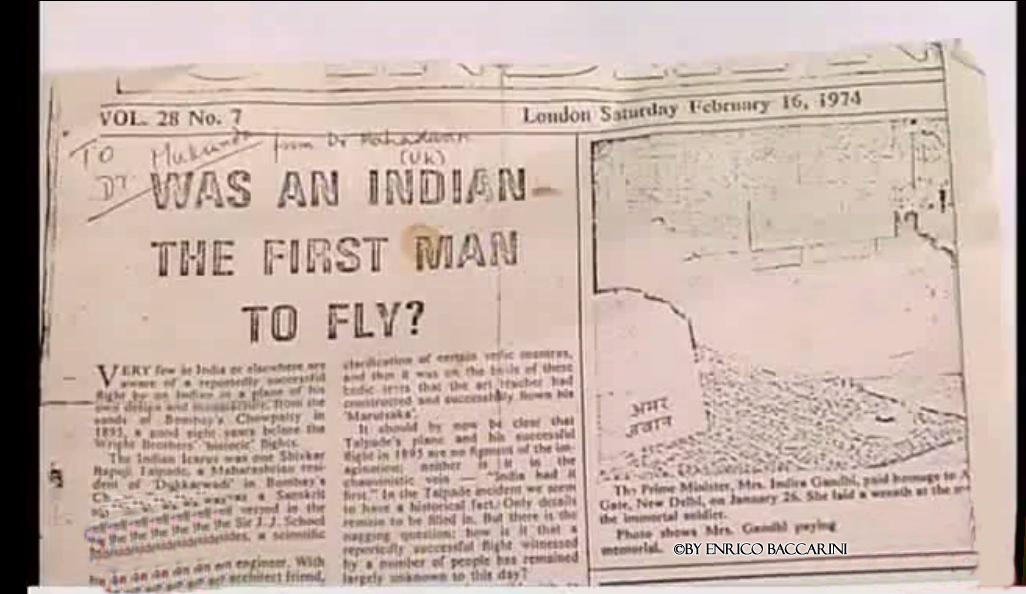 Historic documents such as the Vedas and some Indian epics do mention flight and structures termed Vimana's but nobody seems to have taken them seriously (inspite of claims & rumors that NASA's ion engine is based on the vedic texts). The contents of the book Vimanika Sastra and all the innuendo put together by H Childress and Berlitz, were dismissed as hogwash by many learned scientists. Having read the "the anti-gravity handbook" and the Vaimanika Shastra translation myself, I should agree that both leave a number of new doubts and questions in the reader's mind rather than answering them. It could be so since the original Sasthra text itself is considered incomplete.
1800-1900 was a period of inventions- People were innovating left and right, at a pace never attained since then. Eventually, two attempts got recorded into the annals of aviation history. One was Santos Dumont of Brazil and the other the Wright brothers of USA. The latter are accorded all the credit today for being pioneers of manned, controlled flight. Dumont's supporters argued that his 14bis flew for 722 feet in 1906-1907 after his 1901 dirigibles; The Wright brothers did their first 852' flight in 1903, but more in secret. Brazilians argued that Dumont flew without use of catapults and slopes to aid take off, the Wright brothers did just that. Clement Ader did a self powered flight in 1890; or so it appears, but just 8 inches above the ground. Then there was John Stringfellow's plane in 1848. The Wright brothers did some more sparsely witnessed flight demonstrations 1903-1906. But was there somebody else before the Wright's, perhaps? Somebody who did not get his due recognition?
Well, one other person 'purportedly' flew a self powered unmanned plane in 1895. That man was Shivkar Bapuji Talpade. His plane was called 'MarutSakha'. Reports concluded that he obtained the designs from his Guru Subbaraya Shastri (who compiled Maharishi Bhardwaja's Vaimanika Shastra – a collection of some parts of the original Vedic period text), that he had his wife supporting him in these design & production endeavors, that the plane flew only a short distance before crashing, that it had a mercury ion engine, that he stopped his efforts after the crash due to paucity of funds, imperial animosity & lack of sponsorship.
The problem with this story is that there is very little to corroborate it except for the two articles, one by Times of India and one by Deccan Herald. There is a third write up linked here.
The Times article states- In 1895 an Indian pioneer flew what is said to be the first Indian plane in the air. The centenary year of the first successful flight, by the Wright brothers, was celebrated from December 17, 2003. But our own pioneer from Mumbai, Shivkar Bapuji Talpade, made an aircraft and had flown it eight years earlier. One of Talpade's students, P Satwelkar, has chronicled that his craft called 'Marutsakha'(Friend of the Winds) flew unmanned for a few minutes and came down.
KRN Swamy of Deccan Herald states -
One day in June 1895 (unfortunately the actual date is not mentioned in the Kesari newspaper of Pune which covered the event) before an curious scholarly audience headed by the famous Indian judge/ nationalist/
and

H H Sayaji Rao Gaekwad

,
Talpade had the good fortune to see his unmanned aircraft named as 'Marutsakthi' take off, fly to a height of 1500 feet and then fall down to earth.
Doubts remain, since the Guru named Shastry later turned out to be a disciple. Talpade passed away in 1916, the manuscript of Vaimanika Shastra was completed by Shastry only in 1923 (he died in 1941) to make do a promise Shastry had made to the well known scientist JC Bose. The drawings of the craft and engines were made by a TK Elappa, a draftsman from what he thought the text meant. Then there is the fact that Talpade was a Sanskrit scholar, not really an inventor (nor was his wife one) who could build an ion engine from incomplete Vedic text. Those interested may checkout a critical study of Vaimanika Shastra by a few IIS students.
Kesari was a newspaper edited by Bal Gangadhar Tilak in Marathi. Some argue that the very fact that Kesari Bal Gangadhar
himself was editor when this article was printed, gives it complete credibility. Some add that Shivkar Bapuji's craft only flew only to a twenty meter height and crashed within seventeen minutes,
hence was counted largely as a failure but had he been loaned more R&D money he might have gone into the annals of history. Anyway Talpade supposedly lost interest in things after his wife`s death which happened some time after the test flight, and after his own death in 1917 at the age of 53 his relatives sold the machine (in which children of the house used to play) to Rally Brothers, a leading British exporting firm then operating in Mumbai.
The story of the first Indian to fly a plane thus remains a myth, for lack of further evidence. If somebody has some more concrete data to prove this event, please feel free to provide it. Another question remains unanswered. Since Subbaraya Sastry completed the book after Talpade's experiment, why did he not allude to it or add information of this very important practical experiment?
P.Damodaran Pillai, a vernacular scholar in Malayalam, of the last generation on the ancient wisdoms of India. He had made reference to sage Bharadwaja's Vaimanika Samhita in which a technique for flying the aeroplanes using mercury vapour was mentioned. Reportedly the Germans had used such techniques during WWII, he wrote.
In Kalidasa's Kumarasambhava, while describing Indra's chariot approaching earth from the skies, there is a remark by Mathali, Indra's chariot rider. He says, ""Aho udagra ramaneeyaa prithvi""(How beautiful is the earth looking from here""!)It could have been probably told only by people who travelled in the skies.
Added references
Another translation of Vaimanika Shastra
Vimanika Shastra – Wikipedia entry
Vimana Aircraft of Ancient India and Atlantis - David Childress, Ivan T Sanderson
In 1991, the English portion and the illustrations from the Josyer book were reprinted by
David Hatcher Childress
in
Vimana Aircraft of Ancient India & Atlantis
as part of the
Lost Science Series
. According to Childress, the 8 chapters treat the following:
The secrets of constructing aeroplanes, which will not break, which cannot be cut, will not catch fire, and cannot be destroyed.
The secret of making planes motionless.
The secret of making planes invisible.
The secret of hearing conversations and other sounds in enemy places.
The secret of retrieving photographs of the interior of enemy planes
The secret of ascertaining the direction of enemy planes approach.
The secret of making persons in enemy planes lose consciousness.
The secret of destroying enemy planes.
The propulsion of the Vimanas according to Kanjilal (1985) is by a "Mercury Vortex Engines"
[8]
, apparently a concept similar to
electric propulsion
. Childress finds evidence for this "mercury vortex engine" in the
Samarangana Sutradhara
, an 11th century treatise on architecture.
====================================================================
This is a blog brought under vaimanika.com project to provide information of Historical Aeronautics and the present and the Future Aeronautics in the world.


CLICK AND READ THE BLOG
:-
http://vaimanika.com/blog/talpade-shubbaraya-shastry-and-marutsakha/talpade-shastry2-copyright/
====================================
====================================
How We Made the First Flight
by Orville Wright
The flights of the 1902 glider had demonstrated the efficiency of our system for maintaining equilibrium, and also the accuracy of the laboratory work upon which the design of the glider was based. We then felt that we were prepared to calculate in advan ce the performance of machines with a degree of accuracy that had never been possible with the data and tables possessed by our predecessors. Before leaving camp in 1902 we were already at work on the general design of a new machine which we proposed to propel with a motor.
1902 glider and camp
Immediately upon our return to Dayton, we wrote to a number of automobile and motor builders, stating the purpose for which we desired a motor, and asking whether they could furnish one that would develop eight-brake horse power, with a weight complete not exceeding 200 pounds. Most of the companies answered that they were too busy with their regular business to undertake the building of such a motor for us; but one company replied that they had motors rated at 8 h.p. according to the French system of ratings, which weighed only 135 pounds, and that if we thought this motor would develop enough power for our purpose, they would be glad to sell us one. After an examination of the particulars of this motor, from which we learned that it had but a single cylinder of 4 inch bore and 5 inch stroke, we were afraid that it was much overrated. Unless the motor would develop a full 8 brake horse power, it would be useless for our purpose.
Finally we decided to undertake the building of the motor ourselves. We estimated that we could make one of four cylinders with 4 inch bore and 4 inch stroke, weighing not over two hundred pounds, including all accessories. Our only experience up to that time in the building of gasoline motors had been in the construction of an air-cooled motor, 5 inch bore and 7 inch stroke, which was used to run the machinery of our small workshop. To be certain that four cylinders of the size we had adopted (4" x 4") would develop the necessary 8 horse power, we first fitted them into a temporary frame of simple and cheap construction. In just six weeks from the time the design was started, we had the motor on the block testing its power. The ability to do this so quickly was largely due to the enthusiastic and efficient services of Mr. C.E. Taylor, who did all the machine work in our shop for the first as well as the succeeding experimental machines. There was no provision for lubricating either cylinders or bearings while this motor was running. For that reason it was not possible to run it more than a minute or two at a time. In these short tests the motor developed about nine horse power. We were then satisfied that, with proper lubrication and better adjustments, a little more power could be expected. The completion of the motor according to drawing was, therefore, proceeded with at once.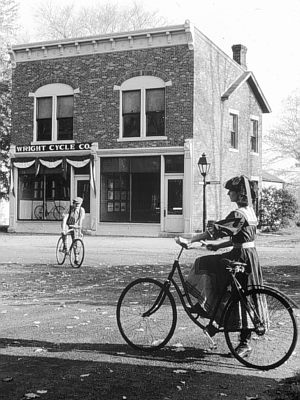 The Wright Cycle Company, Dayton, Ohio

Next Page
====================================
How We Made
The First Flight
By Orville Wright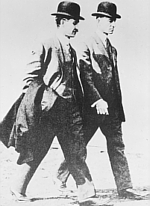 Orville and Wylbur Wright