~1882 – More than 100,000 inhabitants of Bombay were killed when a cyclone in the Arabian Sea pushed massive waves into the harbor.
1855 cyclone in Bombay -boats destroyed at Appollo Bunder [lower picture]
A CYCLONE WHICH MISSED BOMBAY:-
Cyclone Phyan-
Wed Nov 11 2009
were expected to experience high-speed winds reaching upto 90 KM per hour.
All 24 control rooms of the BMC have been "activated".;but
THE CYCLONE MISSED THE CITY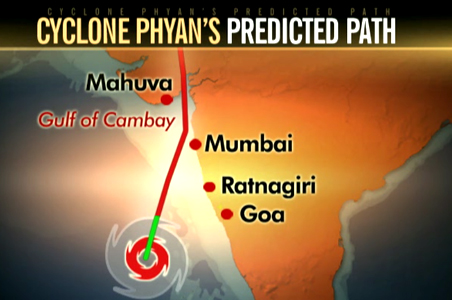 Cyclone Phyan bypasses Mumbai, city :-

Phyan crossed the coast between Mumbai and Alibag, to the south of the city, between 3:30 p.m. and 4:30 p.m

Indian Navy helicopter rescued fishermen from a sinking vessel off Ratnagiri, the Coast Guard assisted two offshore vessels at Bombay High which were stranded at sea,

.
NASA's Aqua satellite captured the path of Cyclone Phyan where cold thunderstorm cloud tops with temperatures as cold as -63 degrees Fahrenheit (in purple) indicate strong convection is occurring in the storm. Credit: NASA JPL, Ed Olsen