http://www.docbrown.info/docspics/nymr/DieselGala2011.htm
======================================
The Conwy valley line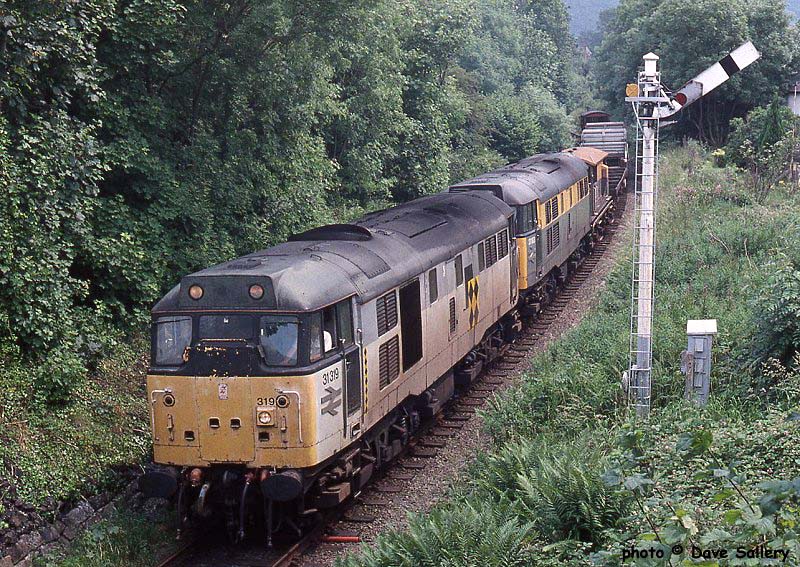 http://www.penmorfa.com/Conwy/two.htm
======================================
Picture of the Day 1 March 2007


56098 is seen at Wansford on the Nene Valley Railway during another popular 'night shoots' using three preserved Class 56's.

Picture of the Day 2 March 2007

More Class 66's are currently being produced for the European Market, during early March Two more Polish class 66's are pushed from ITS Rail's Welland Ontario plant towards the CN Rail interchange for shipment to Europe.




Picture of the Day 3 March 2007




Riviera Trains 47853 "Rail Express" and 47843 "Vulcan" substituted for The Blue Pullman on the 1st March 2007 with The Great Briton set. The luncheon charter ran from Victoria to Wimbledon, and was captured on the return leg approaching London Victoria at Grosvenor

Picture of the Day 4 March 2007




Steam Locomotives are beginning to gather on the West Somerset Railway in preparation for their Spring Gala Weekends.

On the 3rd of March 34007 'Wadebridge' is seen being being shunted by Foxcote Manor ready for it's move to Williton.

Picture of the Day 5 March 2007

On the 3rd March a southbound BNSF stack train emerges from the classic Southern Californian view of Tunnel 10 in the Tehachapi Mountains after some five inches of overnight snow. Snow very very seldom falls in the area of the 'Loop' and when it does it melts in a very short time. This shot was certainly worth the effort.

Picture of the Day 6 March 2007

Large engineering works are currently in full swing at Edinburgh Waverly. When finished the station should be able to handle more trains. New platforms and through roads have been created to allow more efficient use of the space available at one of Scotland's busiest stations

Steve Smith

Picture of the Day 7th March 2007

It's not inconceivable to think that this image could have been taken in 2007 had the Class 50's not been withdrawn from mainline service. Perhaps this 'artists impression' detailing a slightly garish version of First Great Western blue may give an idea of how things could have looked on a Class 50.

Sam Felce

Picture of the Day 8 March 2007

On the 6th March 47840 'North Star' is seen working back in the West Country passing through the flooded fields of Exminster. working the 5Z47 0937 Derby Litchurch Lane to Laira with newly refurbished Mk3 HST stock in tow.

Picture of the Day 9 March 2007


37611 leads 37607 through Morley (near Leeds) operating the 1Z92 08:30 Crewe-Derby via Diggle and York Network Rail Test Train, on the 8th of March.

Picture of the Day 10 March 2007

On Saturday the 20th March 20313 leads 20314 and 202315 past Needham Mkt with 'The Twenty/Twenty Vision' operated by Pathfinder Raitours. The1Z20 Crewe - Sizewell was also helped in the East Anglian Reigon by DRS 47501.

Oli Smith

Picture of the Day 11 March 2007


The Gloucestershire and Warwickshire Railway is well known for it's pair of operational 37's. 37214 is seen oposite nearing Toddington on during the 2004 operating season. This Summer season will see the fleet boosted by visiting 37219 from the Chasewater Railway. The loco has recently been restored and by the Growler Group and will be working on the GWR during the Summer Season.




Brian Garrett




Picture of the Day 12 March 2007




319435 is the latest First Capital Connect Class 319/4 to have been refurbished and reliveried at Wolverton, it's seen in Bedford Cauldwell Depot on 10 March 2007, when it was named 'Adrian Jackson-Robbins 1987-2007 Chair of the Association of Passenger Transport Users'.


Brian Morrison


Picture of the Day 13 March 2007




8F 48151 is seen passing Plean while operating a Carnforth - Inverness private charter. 37248 from West Coast Railways is seen on the rear of the train.


James Young


Picture of the Day 14 March 2007

Just west of London, Ontario, Canada at Dicky Lane, Canadian National Nos. 2665 (Dash9) and 5656 (SD75I) power an eastbound manifest bound for Toronto on 13 February 2007. In the background a Canadian Pacific manifest freight also heads towards London.

Colin J. Marsden

Picture of the Day 15 March 2007

Freightliner Heavy Haul No. 66605 passes Cholsey on the Great Western main line on 13 March 20-07 powering train 6B11 from Thorney Mill to Hackney Yard (Newton Abbot) formed of new JGA bogie hopper wagons, which have taken over from the recently displaced 4-wheel PGA wagons.

Martin Blois

Picture of the Day 16 March 2007




On 15 March 2007 West Coast Railway Class 33s Nos. 33207 and 33029 powered the 'Royal Scotsman' stock together with TPO No. 80382 from Carnforth to Bo'ness. The train is seen near Greenhill.



Jim Young


Picture of the Day 17 March 2007


After a long wait, the Bodmin Diesel Group finally took delivery of Class 47/3 No. 47306 'The Sapper' on 17 March 2007, after it was hauled from St Bazey by Class 66 No. 66187. The loco is seen in the exchange sidings at Bodmin Parkway.

Bodmin Diesel Group


Picture of the Day 18 March 2007




The Stratford 47 Group's No. 47596 was launched into traffic for the first time on 16 March 2007, at its new home on the Mid Norfolk Railway.Repainted into a variation of BR Blue with silver roof, the loco is seen running round its stock at Dereham, at the lines Spring Diesel Gala. No. 20069 is in the background.



Oli Smith

Picture of the Day 19 March 2007



DRS Class 47/4 No. 47501 departs from Ashford (Kent) and passes Chart Leacon on 19 March 2007 powering train 6Z47, the 13.30 Ashford Plant Depot to Doncaster via Wembley formed of Stoneblower DR80217.


Brian Stephenson

Picture of the Day 20 March 2007




After unveiling at Glasgow Queen Street on 29 March, FSR Class 170s Nos. 170420 and 170421 in 'Back the Bid' 2014 Commonwealth Games livery formed the 10.45 to Edinburgh. The return working led by No. 170421 is seen at Lenzie.





Alastair Blackwood

Picture of the Day 21 March 2007




DRS Class 37/6 Nos. 37608 and 37607 'top and tail' the Network Rail track test train forming a Derby to Derby via York run on 17 March 2007. The train is seen at Old Denaby (Mexborough).





David Cooper

Picture of the Day 22 March 2007


In a positioning move for a week of steam action in the West, 'Black Five' No. 45407 operated light from the East Lancs Railway to St Blazey on 22 March 2007. In declining light, the loco and one support coach pass through Dawlish.


Colin J. Marsden

Picture of the Day 23 March 2007


We go to the Isle of Wight for todays picture. Showing a scene about to change with new liveries for the lines six units. Set 008 approaches Ryde St Johns with a service for Ryde Pier on 23 March 2007.


Colin J. Marsden

Picture of the Day 24 March 2007


Preserved Class 86/1 No. 86101 Sir William Stainer FRS made its debut with a main line passenger train on 24 March 2007. Powering the Carlisle - Crewe leg of a Compass Railtour from Carlisle to Holyhead. The immaculate BR rail blue loco is seen storming through Warrington Bank Quay.


Tom Mcatee

Picture of the Day 25 March 2007




This is the first view of the stunning new Kansas City Southern de Mexico 'heritage' livery applied to General Electric ES44AC No. 4650. It is expected that all new locos from both GE and EMDD will emerge in this livery, for both the US and Mexican operations of KCS.





KCS

Picture of the Day 26 March 2007


GBRf-operated No. 47840 North Star was used to power six FGW Mk3 HST carriages from Laira depot to Bombardier Derby via London and Ilford on 26 March 2007. The train, which departed Laira at 12.08, is seen approaching Teignmouth.



Colin J. Marsden

Picture of the Day 27 March 2007




A location not frequently photographed is Colchester Town. On 26 March 2007, 'one' Railway Class 321 No. 321359 departs from the station with the 12.45 Walton-on-Naze to Colchester North service.





John Binch

Picture of the Day 28 March 2007




DRS Class 66/4s Nos. 66406 and 66408 pass along the sea wall at Dawlish on 28 March 2007 hauling two flask support vehicles from Carlisle to Devonport Dockyard. The consist returned north with a high-capacity MoD flask train.




Colin J. Marsden

Picture of the Day 29 March 2007


Freightliner Class 86s have staged a comeback in East Anglia recently. Normally two or three pairs work into the area daily. Usually a solid Class 90 turn 4M88 from Felixstowe to Crewe has reverted back to a pair of Class 86s this past week. Nos. 86607/627 are seen passing Kelvedon, Essex, on 27 March 2007.


Michael J. Collins

Picture of the Day 30 March 2007



Hauling a rake of new DRS high-capacity coal hoppers of type HYA, Class 66/7 No. 66714 powers train 6H93 from Tyne Dock to Drax power station past Hawthorn on the Durham Coast line on 23 March 2007.



Ken Short

Picture of the Day 31 March 2007




DRS Class 37/0 No. 37069 passes through the woods between Pluckley and Chart Leacon with train 6Z47 from Doncaster Marshgate to Ashford on 27 August 2007 hauling a Stoneblower for repair.





Brian Stephenson
Steam Locomotives of the Canadian Locomotive Company
Page 2
Canadian Locomotive Company Limited was incorporated federally June 9, 1911.
CPR 1835 N3a Cyl. 23 ½ x 32 Drv. 63" 180lbs. 42900 t.e. eng.weight 221800 total 369800 #1000 10/11
CLC-Henderson/Don McQueen collection.
This 2-8-0 was part of an order for twenty engines (1820-1839), the first order for the new locomotive company and the 1000th. built at Kingston. This was the only CPR order for N class 2-8-0's built by CLC; most of the 161 engines were built by MLW, 10 by little Canada Foundry in Toronto and 1 by the CPR. Hundreds of
Consolidation
type locomotives were built for and by the CPR as well as for many other railways large and small. It was the main freight locomotive until the 2-8-2 came along.
Re# 3835 in 9/12, it was rebuilt May 1928 into N2a 3635 and then rebuilt into 2-8-2 5243 in March 1949.
CLC and MLW shared many orders from the CPR, which also built many of its own engines. Even little Canada Foundry got some orders. The larger Montreal Locomotive Works got a bigger share of these orders simply because they could build more engines. Regardless of who built them they were all identical locomotives, you could not tell one from the other without looking at the builder's plate. The CPR was big on "standard" designs and parts, although this is not say that certain components did not vary sometimes as a method of evaluating the performance of such things as stokers etc. Differences that were easily noticed came about as a result of changes over the years such as location of make of headlight, pilot or footboards etc. Alterations to tenders to increase coal capacity or replacement with tenders off other classes of engines were another noticeable feature of many engines.
These 2-8-0's underwent change as part of a major rebuild program the CPR undertook between 1923 and 1930 that saw all 161 engines (3800-3960) receive new frames, cylinders and motion, with some receiving enclosed vestibule cabs. None received mechanical stokers but some were oil fired. Renumbered 3600-3760.
N2a 3600-3760 23 x 32 63" 190# 43400 t.e. 236000* 375000* .5000 gal. 12 tons tender
.................................................Vestibule cab 240000* 471000* 10,000 gal. 16tons tender
NOTE:
While the two photographs below are of locomotives built by Canada Foundry in Toronto, they are good examples of these 2-8-0's over the years and are identical to those built by CLC and MLW.
CPR 3958 N3c Canada Foundry #1000 1/14 Re# 3758 (see 3757 next)
October 29, 1927 Calgary. BC Archives/Bordertown Collection G-05995

Part of an order of ten engines (3951-3960) from Canada Foundry in Toronto.
Note cylinder slanted for inside admission. Vestibule cab.
CPR N2a 3757 small tender 5,000 gallons Note extremely high coal boards!
Filthy locomotive c.1949 Calgary. BC Archives/Bordertown Collection I-46243
They were further rebuilt; "remanufactured" would be a more correct term such as used in the diesel era, when many were changed into more modern 2-8-2's equipped new boilers and larger tenders with stokers. This finally overcame a problem with the N2 class; simply stated they were under-boilered. The two "engines" could consume steam faster than the boiler could produce it, no matter how much the fireman shoveled. Nearly 100 N2 class 2-8-0's remained when the program was ended with only 65 engines completed (25 in 1949) by December 1949. Only 8 (out of 20) were originally CLC built. Except for six new Selkirks delivered by MLW in February and March, 1949, steam ended in 1948 with CLC G5 1301 and MLW G3 class 2472 Pacifics.
P1n 5200-5264 22 x 32 63" 215# 271000 509000 45000 (10000 gal. 18 tons)
CNoR 2134 Cyl. 23x26 Drv. 57" Pres.170# 34,800 t.e.166 tons working order eng. and tender #1052 7/12
CLC/Don Mc.Queen collection
One of 25 (2130-2154)
Consolidation
type locomotives ordered by Canadian Northern. Became CNR 2134.
ACR 38 Cyl. 22x28 Drv. 56" 200# 41,100 t.e. Weights 100 tons and 151 tons working order eng. and tender. #1094 3/13. CLC-Henderson/National Archives of Canada
One of five 2-8-0's (38-42) ordered by Algoma Central & Hudson Bay.
(These engines were identical to ICR 201-205, which became CNR 2180-2184).
AC 40
in the Soo, 1937.
Harold K. Vollrath/Collection of Wayne V. Brittain
John B. Smith & Sons Ltd. 4 0-4-0T Cyl.13x18 Drv. 36" 165# t.e 11,840 #1217 5/16
weight in working order 30 tons. One ton coal, 999 gallons water. CLC/Don McQueen
This was a typical "dinky" engine used by contractors and industries, a saddletanker. It was one of six identical engines built for stock to have on hand for immediate delivery when ordered. What was not typical about this engine was the added diamond stack to catch sparks account working in a lumber mill in Callander, Ontario. It is interesting to note that when they were ready to replace the steam locomotive with a diesel in 1946 they turned to GE for a little 25-tonner like so many other industries did thus depriving CLC of an order. The mill closed in 1960 and diesel dinky number 6 was acquired by dealer Andrew Merrilees Ltd. and eventually resold in December 1970.
PGE 55 Cyl. 22x28 Drv. 57" 180# 36,380 t.e. Total weight 172 tons. #1246 9/14
CLC-Henderson/Don McQueen collection.
Four oil-fired 2-8-0's (53-56) were ordered in 1914 as the small Pacific Great Eastern built north.

First engine (#1242 7/14) sold to PGE is shown here at Alta Lake BC hauling train Number 1.
Later, it was lost in Seton Lake due to an avalanche Jan.23, 1950.
Note the pole chained to the pilot for polling cars by in switching moves.
Public Archives British Columbia/Bordertown Collection
T&NO 141-146 Cyl. 25x30 Drv.63" 180# 45530 t.e. total weight 202 tons. #1350 11/16
These were CLC's first 2-8-2 type built. Repeat orders brought the total to 17 Mikado types.
These engines were hand-fired and were equipped with Russian-style enclosed cabs.
146 was modified with Young valve gear instead of Walschaerts. It later received Baker valve gear.
CLC/Don McQueen Collection
The next order for 2-8-2's was a large order of 50 engines for the Canadian Government's new National Transcontinental Railway. Another 50 engines quickly followed the next year and a further and final 60 after that. Many went to the ICR and GTP as well as the NTR, while others were leased to the GTR. All wound up on the CNR, eventually rostering 400 of these 2-8-2's.
CGR 2800-2899 (CNR 3200-3299)
CGR 2900-2930 built by MLW
CGR 2930-2989 (CNR 3330-3389)
……………….. (CNR 3390-3404)
GTR 500-599 (CNR 3405-3504) Schenectady-Baldwin-Montreal
GTR 485-494 (CNR 3505-3514)
………………(CNR 3515-3559) Schenectady-Montreal
……………. ..(CNR 3560-3569)
……………. . (CNR 3570-3599)
CGR 2846 Cyl. 27x30 Drv. 63" 180# 53100 t.e. total weight 222 tons. #1399 4/17
Built with all-weather cab and hand-fired. Later equipped with mechanical stoker.
CLC/Don McQueen Collection
Locomotive 9 of contract number 538 (marked on smokebox) is one of ten 0-6-0 switchers being built for Canadian Northern Rolling Stock Ltd. to become Canadian Northern 408 #1533 9/18 (later, CNR 7367). CLC/National Museum of Science & Technology
CNR 425 (410-434) Cylinders 21"x26", drivers 51" diameter, boiler pressure 180 psi
tractive effort 34,400 lbs. engine weight 77 tons #1610 11/1919
CLC/National Museum of Science & Technology (now, Canada Science and Technology Museum)
One of 25 0-6-0's ordered by Canadian Northern, they were the first CLC engines delivered lettered for Canadian National. They were identical to a previous order of 10 by Canadian Government Railways for Canadian Northern. Renumbered CN 7369-7393. These locomotives lasted until the last decade of steam.
Two more orders for 20 and 10 0-6-0's begun by CNoR soon followed with delivery to Canadian National. There had also been several prior orders by CNoR and GTR for 0-6-0's that were absorbed into CNR along with those of other builders both before and after creation of the Canadian National Railways.
CNR 6000 Cyl. 26x30 drv. 73" 210# t.e 49,600 total weight in working order 288 tons. #1696 6/23
CLC/Bill Thomson collection
One of 16 4-8-2's these were CLC and CNR's first Mountain type. They were the most powerful passenger engine in Canada when built and so successful that five more orders followed to a grand total of 79 engines.
CNR 4100 Cyl. 29x32 drv. 57" press. 200 lbs. Rated at 80,265 t.e. with a further 11,470 for the booster. Engine and tender in working order totaled 327 ½ tons. #1759 9/24
Shown at Brockville, likely on September 4, 1924, delivery day.
Don McQueen collection.
CNR 4104 assisting Extra 6156 East with 72 cars up Danforth, 10.15 a.m. July 7, 1952. Al Paterson
One of five 2-10-2's they were the first CLC
Santa Fe
types but not the first for the CNR. Ordered especially for heavy transfer and helper service in the Toronto Terminals area, from Mimico yard eastward through Bathurst Street yard included a 1.2 per cent grade to Danforth yard and Scarboro Junction. A westward helper grade of 0.6 per cent between Port Union and Scarboro Jct. (7 ½ miles) was also worked by these engines. More powerful than any other 2-10-2's in Canada, they were the most powerful locomotives in the British Empire at the time. They were also the heaviest until 1929 when the CPR's 2-10-4
Selkirk
types were built
Old Time Trains Archives
A few years later, 33 more 2-10-2's went to CNR. 10 were built as oil burners, the rest had Standard stokers all of which were converted to oil about 20 years later. These were nearly 50 tons lighter and had 20,000 lbs. less tractive effort. Algoma Central added on two engines to this order. They were ACR's only
Santa Fe
types.
CNR 6100 Cyl. 25 ½ x 30 drv. 73" 250# 56,800 t.e. total weight 325 tons. #1800 6/27
10 were equipped with 12900 lb.t.e. booster engine, others were applied later.
All were built with Duplex stokers, later some were changed to HT stokers.
CLC/Kingston Historical Society

Part of an order for twenty engines, it was the first 4-8-4
Northern
type built in Canada, and was followed by large numbers of these popular dual service (freight or passenger) engines. Originally named
Confederation
type to honour the 60th anniversary of the Confederation of Canada, July 1, 1867.
CNR 6189 (#1969 9/40) last 6100 series 4-8-4 passing Hyde Park just west of London.
Charles Joyes/Don Mc.Queen collection.
EDBC 73 Cyl. 22x28" Drv.56" 190# t.e.39,140 total weight working order 180 tons #1821 10/27
The only preserved NAR steam locomotive was built for predecessor Edmonton, Dunvegan & British Columbia. Retired in August 1960 it was later donated to the Alberta Pioneer Railway Association who operated it for a time at their museum. It had been converted to oil in August 1952. It was one of three identical engines delivered the same day, Pembina Valley 72, ED&BC 73 and 74. These became NAR 72-74 Signature Studios
Bigger and stronger switch engines were needed as trains grew in size and weight, so railways turned to 0-8-0's, some new, some converted from 2-8-0's. In other instances 2-8-0's were equipped for yard service with pilots replaced by footboards front and back, a rear headlight applied and a fire hose added.
CNR 8350-8359 Cyl. 22x28 Drv. 51" 220# 49700 t.e. eng.wt.113tons total 192 tons #1837 2/29
CLC/Don McQueen collection
CNR 8352 at Bathurst Street, August 1957. Note the CPR engine on King Street lead. Don Mc.Cartney
Beauharnois Construction 114 0-4-0T Cyl. 15x22 Drv. 42" 170# 17,000 t.e. 43 tons. #1867 3/30
CLC/Don Mc.Queen Collection
These 14 engines were the largest order for saddletank engines and were some of the largest and most powerful 0-4-0T's built. Miniature road engines, they were equipped with Walschaerts valve gear and were superheated, both uncommon features for "dinky" engines. Only one still exists and
it is being restored for operation
.
Steam Locomotives of the Canadian Locomotive Company
Page 3
Extra 5368 West crossing Sixteen Mile Creek Oakville August 3/1957 Dick George
CPR 5360-5379 Cyl. 23x32 Drv. 63" 250# 57,100 t.e. total weight in working order 277 tons.
These engines were the first P2's built with multiple throttles which provided a rapid response.
Beginning in 1919 the CPR built ten P2 class heavy 2-8-2 Mikado type engines, bigger and more powerful than exisitng P1 class 2-8-2's they were used primarily for freight but also for heavy passenger trains just as were the P1's. Repeat orders to MLW and CLC continued for many years, eventually totalling 174 engines; later models were more modern semi-streamlined locomotives built between 1940 and 1948. These were the best heavy freight engines the CPR had and were designed for 65mph. They were built with a variety of stokers, BK, D1 and HT. Selkirk 2-10-4 types were more powerful however, their heavy weight restricted where they could be used.
5425 westbound at Sixteen Mile Creek, Oakville.
Steam at Oakville
NAR 101 Cyl. 24x28" Drv. 56" 200# 49,000 t.e. 199 tons in working order. #1898 8/30
CLC/Queen's University Archives
This was the only NAR order for any builder. These two engines were the last Decapods built by CLC, an old wheel arrangement that was somewhat obsolete by this time. NAR had no engines with a trailing truck except for a late acquisition of a used 4-6-2 from the CPR, 50% owner along with CNR. Equipped with Standard stokers they were later converted to oil as were all NAR steam locomotives. They followed a number of earlier 2-10-0's built for predecessor railways.
T&NO 144 Cyl. 22x30" Drv.57" 180# t.e. 45,000 #1902 10/30
Late 2-8-0's were Temiskaming & Northern Ontario 141-144 These became ONR 500-503.
One has been preserved in North Bay.
William R. Folder
Other late
Consolidations
were Algoma Eastern 55 and 56 built 1/21,
which became CPR
3955
and
3956
; and Roberval & Saguenay 16-17 (below).
CPR 6607 Cyl. 22 ½ x 32 drv. 58" 250# 59,400 t.e. (60%) 234 tons in working order. #1910 1/31
CLC/Queen's University Archives
An order of only ten out of a proposed 30 0-8-0's these were the most powerful switch engines on a Canadian railway. Modern engines, 250 pounds of boiler pressure with multiple throttle for rapid response and a vestibule cab, although still hand-fired.
T&NO's 1100 Cyl.22 1/2x30 Drv. 69" 275# 54,500 t.e. plus booster 326 tons #1919 6/36
CLC/Bill Thomson collection.
Two orders for two engines each in the middle of the Great Depression was a boost for employment as well as an improvement for the Ontario government's own railway. These were the biggest T&NO engines and the biggest for a Canadian railway other than the two major ones, CNR and CPR.
RS 16 Cyl. 23x30 Drv. 57" 200# 47300 t.e. 201 tons working order. #1923 6/37
CLC/Queens University Archives
One of two 2-8-0's built for Roberval Saguenay, a short line owned by Alcoa. Built long after other railways had turned to 2-8-2's, these modern looking engines were equipped with vestibule cabs and were the last domestic 2-8-0's built in North America.
Crab Orchard & Eastern 17 (ex R&S 17 CLC #1959 1/40) survived dieselization and later operated tourist trains on a small shortline in the US (1973-1978) and continued hauling freight for a few years before again being retired September 8, 1986. The tiny 8.5 mile ex IC shortline still struggles on in 2006. On display in Boone, Iowa, September 6-2004.
See:
Trains magazine September 1980 and March 2006.
This revealing photograph shows a CPR Jubilee 4-4-4 type with its semi-streamlining removed.
CLC/Marine Museum of the Great Lakes at Kingston.
A modern steam locomotive hauling two ancient wooden passenger cars on a branchline train.
CPR Jubilee 2928 ( #1942 3/38) backs train #637 from Hamilton into Guelph Junction, May 24, 1954.
It will wait for a meet with Montreal-Chicago #21 Chicago Express before continuing on to Goderich.
J.F.Beveridge/Collection of F.D.Shaw
CPR 2910-2929 Cyl. 16 ½ x 28 Drv. 75" pressure 300 pounds and only 25,900 t.e. weigh only 212 ½ tons in working order and are hand-fired. This single order of 20 small, lightweight locomotives were unique to the CPR where they were used on local passenger and branchline freight trains. #1924-1943 11/37 to 3/38
These twenty modern, semi-streamlined 4-4-4 Jubilee type engines were hand-fired due to their small size. Designed for light passenger trains and branchline freights they were unique to say the least. No other Canadian and few American railways used this wheel arrangement.
It was the earlier
3000-3004
with 80" drivers and stokers built 8/36 by MLW that became famous for their record making high speed, 112 ½ mph. Cyl.17 ¼"x28 Drv. 80" 300# 26600 t.e. 231 tons.
CC&F 1 Cyl.19x26 Drv.50" 180# t.e. 28,720 total weight working order 105 tons. #2042 9/43
CLC was still turning out 0-6-0 switchers at a time when 0-8-0's were more common for the heavier work required in railway yards. These two were for industrial switching at the Turcot Works (Montreal) of Canadian Car & Foundry. Two identical engines had been built in 1929 and 1930. CLC/Don Mc.Queen Collection
Cyl. 16 1/2x22 Drv.42" 21,200 t.e. 46-ton CLC #2043 5/43 Don Mc.Queen Collection
Other industrial engines were the more common 0-4-0T saddletanker such as this one ordered by the Dominion Government for wartime use at Algoma Steel in the Soo. It was the last industrial steam engine built by CLC.


Framed lithograph (32" x 17") of 2356 presented to CPR is unique in that it is coloured.
Prior to this order, all steam locomotives were plain black. These framed pictures were presented to
railways by the builder and hung in the offices of higher ranking railway motive power officers.
Old Time Trains Museum
CPR 2351-2462 Cyl. 22x30 Drv. 75" 275# 45,250 t.e. weight working order 272 tons Built 1938-45.
Four orders for 112 modern Pacifics out of an eventual 122 (the last 10 from MLW 6-7/48) were built between September 1938 and April 1945. These were the finest steam locomotives the CPR had. Sure-footed, with a sharp exhaust they were equally suitable for passenger or fast freight trains. The great tragedy is that not one was saved. A G3 would have made an even better excursion engine than the G5's that were saved.
Canadian Locomotive Company
This was the
2000th locomotive
built by CLC and its predecessor companies.
It was displayed and photographed on July 28, 1942, then it was repainted to CPR 2396.
Brand new CPR 2400 G3g (#2004 9/42) awaiting delivery via CNR account the light CPR branch
(former Kingston & Pembroke) could not handle weight of modern steam locomotives.
CPR 2427 G3h brand new! Sitting on the CNR interchange track in Belleville about to move onto CPR.
One of twenty G3's equipped with Worthington Feedwater Heater.
Only four other CPR engines were so equipped, 1200, 1201, 2212 and 2592, none built by CLC.
October 1944 Donald M. Wilson/James A. Brown Collection
CPR G3 class 2400 was perhaps a bit too fast for the slow speed colour film of the 1950's.
Shown here on the Galt Subdivision of the CPR London Division, August 1956. Randy Masales
PGE 163 Cyl. 20x30" Drv. 57" 225# 40,300 t.e. total weight 191 tons oil fired #2409 10/47
CLC/Don Mc.Queen collection.
Last of four Mikado types built for PGE, these low-drivered light engines were to have a short life.
The CPR was the only railway in North America to turn to modern, lightweight 4-6-2 Pacific type steam locomotives as a way of updating their motive power fleet. Based upon the tried and proven, they were to replace hundreds of old G1 and G2 class Pacifics and D10 class Ten Wheelers all across it vast system. In fact, following the successful two built by the CPR they planned to order SIX HUNDRED! It wasn't to be. After only 100 were built by CLC and MLW, no more orders were forthcoming, by now it was diesels that were wanted, not steam locomotives.
CPR G5 class Pacific at West Toronto from Owen Sound in the late 1950's. Bob Shaw CPR ret'd.
CPR 1252-1301 Cyl. 20x28" Drv. 70" 250# 34,000 t.e. weight in working order 210 tons. #2458 8/48
Bob Guhr/W.H.N.Rossiter collection.
Ron Muldowney
CPR 1301 constructed August 20, 1948, last of two orders totalling 50 engines, it was the last steam locomotive built at Kingston for a Canadian railway. It was also the last G5 class Pacific type.

Steam Locomotives of the Canadian Locomotive Company
Part 1
Diminutive narrow gauge (42") Toronto & Nipissing no.6 Uxbridge just out-shopped early in 1871
by CE&M was one of an order of six 4-4-0's delivered to the T&NR. Cyl. 11x18 drv. 42"
Note the four-wheel tender.
CLC/photographer unknown/ Bill Thomson/Kingston Pump House Museum collection.
Credit Valley 19 J L Morrison 4-4-0 16x24 cyl. 69" drv. #234 10/1881 (Re# CPR 186 8/84)
18 and 19 believed to be the first engines with Westinghouse air brakes for cars (only).
Kingston & Pembroke 10 W C Caldwell 18x26 cyl. 62" drv. #327 8/87. Pictures of K&P engines are rare. This one is of a single-engine order and was only the fourth 2-6-0 Mogul built at Kingston. Equipped with link and pin couplers and an air brake on the engine only. Became CPR 3003 with acquisition of the "Kick and Push." CLC/Fritz Lehmann collection.
Star 0-4-0T Cyl.12x16 Drv.38" 150 lbs. 7726 t.e. 22-ton CLC #559 5/02 Don Mc. Queen Collection
HS&I 6 0-6-0T Cyl. 17x24 drv. 50" press. 180 lbs. t.e. 21,200 #877 6/09
Light weight 45 tons, working order 54 tons. coal 1.5 tons water 850 gals.
CLC-Henderson/Don McQueen collection.
Here is the same engine many years later. Note the extended saddle tank and feedwater heater.
Bay City Railway Historical Foundation
CPR 1613 2-8-0 Cyl. 21x28 Drv. 57" 200 lbs. t.e. 37% Eng.143 tons, total working 156 tons. #631 9/04
This order of ten (1610-1619) Consolidation type engines was the first built in Canada with the Schmidt superheater. Note the piston valves. It followed a CPR test in 1901 on
Ten-Wheeler 548
, which was the first superheated steam locomotive in the Western Hemisphere.
CLC-Henderson/Don McQueen collection.
(Re# 3413 9/12)
IRC 316 one of twelve (401-412) 4-6-2's these were the first Pacific types built in Canada.
Cyl. 21x28 Drv. 72" Press. 200 lbs. t.e 29% Working Eng. 94 tons total weight 155 tons. #655 4/05
CLC/Don McQueen collection. Became CNR 5503
CNR 5509 (ex ICR 410) still around and little changed more than thirty years later. Levis, August 26, 1936.
Orin P. Maus
CPR 706 D10a #685 8/17/1905
One of the most popular wheel arrangements was the 4-6-0 Ten Wheeler of which hundreds were built for many railways. The CPR had hundreds of D6, D9 and D10 class built by many builders including CLC, MLW, and their own Angus shops in Canada along with Schenectady Locomotive Works, Richmond Locomotive & Machine Works in the United States but, not the famous Baldwin Locomotive Works, although CPR did have other classes built by them. North British Locomotive Company in Glasgow, Scotland and Saxon Locomotive Building Company in Chemnity, Germany also built engines at a time when North American builders were busy. Specifications were very similar for all of them including 63" drivers that were capable of 60 miles per hour or higher and a good 33,300 pounds of tractive effort and a total weight in working order of 155 tons. D9's were used on passenger trains in the early part of the 20th. Century while large numbers of D-10's worked branchline way freights and yard switching late in the steam era.
CPR 670-684 Cyl. 21x28 Drv.63" 200# 33,000 t.e. #723 5/1906
Freshly outshopped from Ogden backshops is D10 class 672 still with Stephenson valve gear. c.1950's
A.H. (Alf) Coverdale/Collection of R.L.Kennedy


CPR 1095 (CLC #1131 10/13) part of last order for 25 (1087-1111) Ten Wheeler 4-6-0's built in 1913.
Displayed in its home town of Kingston, Ontario next to the CPR station in downtown.
W. J. L. Gibbons
TEM 151 0-6-0 Cyl. 19x26 drv.50" t.e. 32% eng wt. 103 tons. #747 11/06 one of only four 0-6-0's built for the T&NO in two orders of two each in 1906 and 1909. CLC-Henderson/Don McQueen collection.
Sister engine 150 Re#854 was sold in December 1941 to Abitibi Power & Paper Co. in Iroquois Falls, Ontario as their number 60 and in 1951 went to Mattagami Railroad 101 before finally being scrapped in July 1951. 153 was sold in June 1941 to Normetal Mining Corp. for their non-common carrier Normetal Railway and resold in 1946 to Manitoba Paper Co. in Pine Falls.
CNoR 176 4-6-0 Cyl. 18x24 Drv. 63" 200 lbs. t.e. 21% Working eng. wt. 69 tons #756 5/07
National Archives of Canada PA-203707

Brand new Ten Wheeler is posed at Parry Sound in June 1907. One of an order from Canadian Northern of 15 Ten Wheelers for its subsidiaries, 11 for CNoR, and 2 each for Canadian Northern Quebec and Halifax & South Western, all part of the Mackenzie and Mann Empire. Photographs of engines lettered for Canadian Northern Ontario are rare; most photos just show Canadian Northern. It became CNR 1236.
COR 17 4-6-0 Cyl. 18x24 Drv. 57" 190 lbs. Engine weight 60 tons #789 12/07
CLC-Henderson/Don McQueen collection.
An order of four engines for Central Ontario, part of the Rathbun empire before it was sold off in 1912 to the Canadian Northern this engine eventually become Canadian National 1027.
QC 30 4-4-0 Cyl.18x24 Drv. 63" 180 lbs. Engine weight 57 tons 19% t.e #799 1/08
CLC-Henderson/Don McQueen collection.
This engine and sister 31 were the last two 4-4-0's built by CLC and among the last of any built of this obsolete wheel arrangement. Pre-CPR standard design.
More than forty years later 31 is little changed in appearance. It was sold in March 1937 to John Breakey Ltd. for their non-common carrier railway Chaudiere Valley shown here 9-23-49 in Breakeyville, Quebec.
Charles E. Winters/Old Time Trains Archives
Chaudiere Valley was a short connecting track from the John Breakey Ltd. mill to the CNR. They owned another 4-4-0, (ex GTR) that became
CNR 40
on the 1950's Museum Train that travelled across Canada.
O'Brien, Fowler and McDougall Bros. (contractors) 11, 2-6-0 Cyl. 18x24 drv. 50" pres. 180 t.e. 23,800 working order weight 105 tons . #912 10/09 Became CGR 4506 when acquired in March 1916 and in 1919,
CNR 422 CLC-Henderson/Don McQueen collection. Little changed after 30 years, the engine is stored in Moncton, January 1, 1939. In October 1939 it was sold to Malagash Salt Company in Malagash, Nova Scotia.
Collection of Al Paterson.
One of two identical engines delivered in October 1909 for construction work on the National Transcontinental between Cochrane and Winnipeg.
GTR 1015 2-6-0 Cyl. 19x26 Drv. 62" Press.180 t.e. 23,200 engine weight 70 tons working order 134 tons #928 4/10 CLC/Don.McQueen collection. Engine 1012 became 90.
CNR 90 E-10 Class Cyl 21x26 Drv. 63" pres.170 t.e 26,300 eng. Wt 71-tons working order, eng and tender 140 tons Tender 14 tons 5,200 gals.Simcoe, Ontario c.1950's Cyril Butcher/Don Mc.Queen Collection
These engines and many other CNR ones retained their Stephenson valve gear to the end, unlike CPR which standardized on Walschaerts.
One of 25 Mogul type 2-6-0's delivered in 1910, nineteen of which were later modernized with superheating and eventually other features that drastically altered their appearance. They were equipped with a
Casey-Cavin
power reverser. Very capable little engines some of these survived into the last years of steam and became familiar sights on Ontario branchlines, many being saved from scrap to be
displayed
and some (89, 91, and 92) even being
restored to operation
on
tourist railways
in the United States.
CNR 83 leaving Port Dover with Mixed 235 for Hamilton passes
GRR 624 interurban car about to leave LE&N station for Brantford. April 8,1955 J.Wm.Hood
CNR 86 on the Owen Sound Way Freight from Palmerston at Chesley July 1957. Don Wood