PHOTOS: Mumbai Is Flooded After Heavy Rains
Heavy rains in Mumbai since Thursday has disrupted normal life in the city. The continuous downpour has led to water-logging in many parts of the city, stranding commuters and office-goers.
Brihanmumbai Municipal Corporation (BMC), the city's civic, has body ordered the shutdown of all schools in Mumbai for three days, and asked Mumbaikars to venture out of their homes only if necessary. The Bombay High Court has also declared holiday on accounts of heavy rain.
Services on main line and Harbour line have stopped due to water logging on the tracks.
Here's a look at the city after the heavy rains:
ASSOCIATED PRESS

ASSOCIATED PRESS

India Monsoon

ASSOCIATED PRESS

ASSOCIATED PRESS

ASSOCIATED PRESS

ASSOCIATED PRESS

ASSOCIATED PRESS
Photographs that capture India's monsoon mayhem
To get such articles in your inbox
June 26, 2015 08:42 IST
The Southwest Monsoon hurried across over India covering the entire country, several days before its expected onset in many parts.
The death toll due to heavy rainfall, followed by a flood-like situation in many parts of Gujarat has gone up to 70, including 26 casualties in the worst affected Amreli district.
Heavy rains washed away a vital bridge over Mandakini river between Sonprayag and Gaurikund on way to Kedarnath in Himachal Pradesh on Thursday evening.
Yatra to Kedarnath was suspended earlier today with heavy rains lashing Rudraprayag district since Wednesday night amid a MeT department warning of heavy rain and landslides in high altitude areas of the state for the next 48 hours.
Incessant rains in Jammu and Kashmir and Gujarat since Wednesday have led to flooding in many parts of the two states. Heavy rains are expected in Himachal Pradesh and Uttarakhand in the next 24 hours.
In Delhi and the National Capital Region, monsoon arrived four days before its normal onset.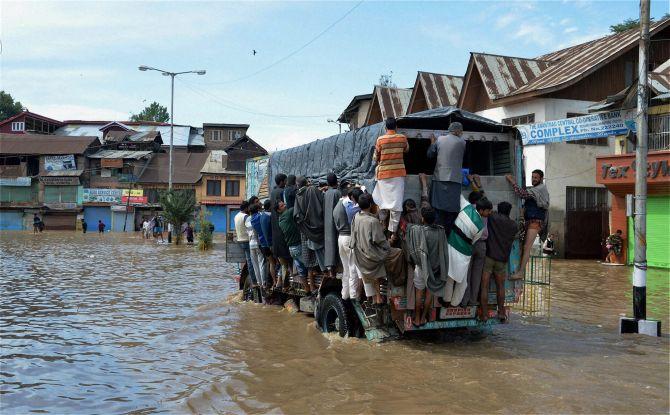 People move to a safer place after floods hits Anantnag, due to heavy rainfall in Kashmir. Photograph: PTI Photo
---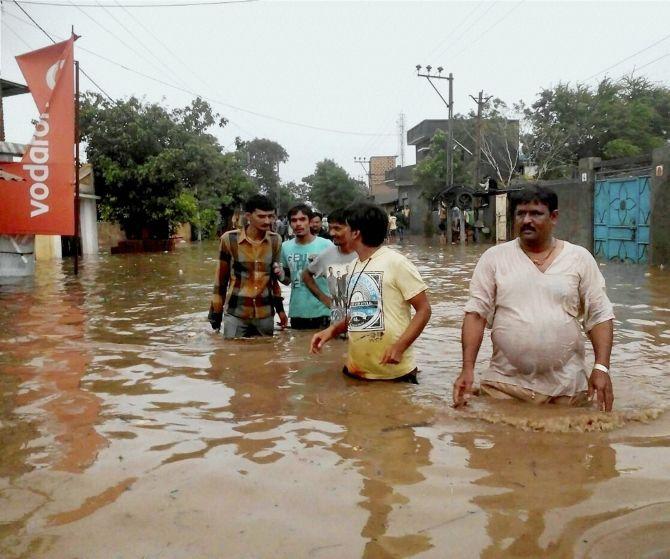 People wading through the water logged street after a heavy downpour in Amreli. Photograph: PTI Photo
---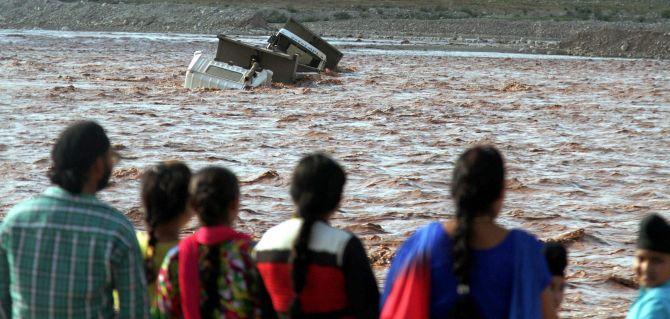 A damper drowning in the overflowing Tawi river after a heavy rainfall in Jammu. Photograph:PTI Photo
---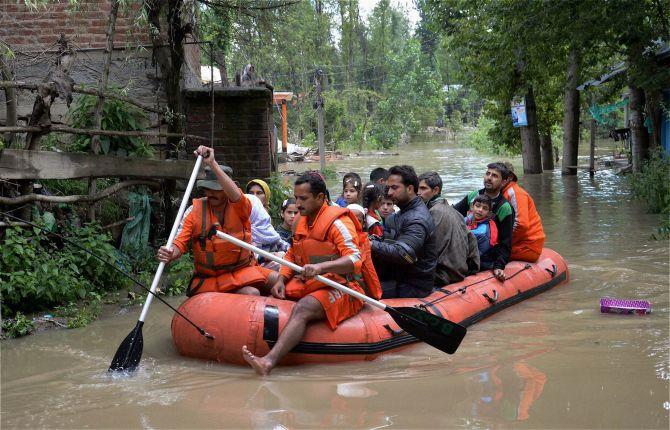 NDRF Personnel rescues trapped families from the flood hit Aadur Urhanhal Mandi area of Anantnag District of South Kashmir. Photograph: PTI Photo
---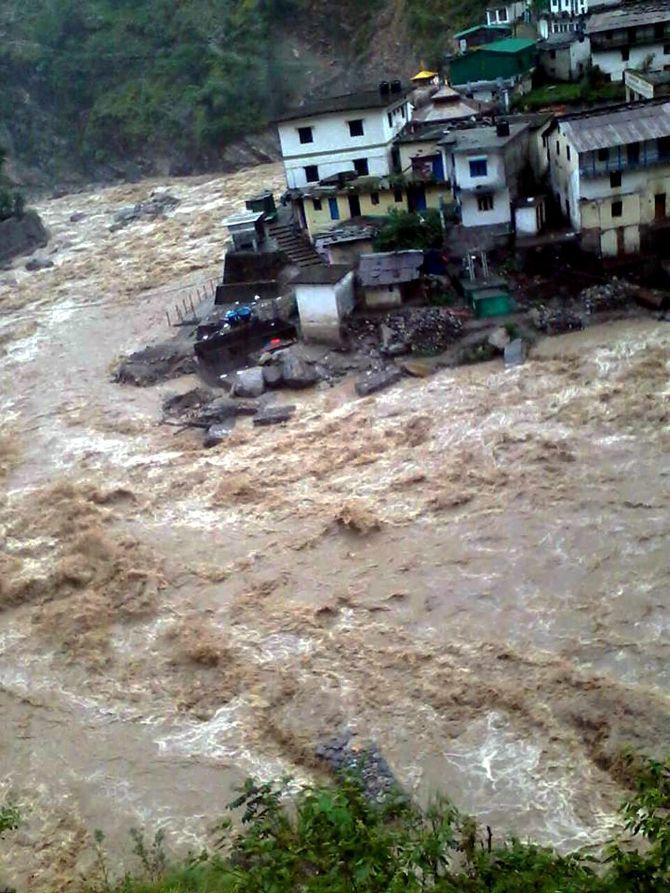 Heavy flow of water in Mandakini river at Rudrapryag due to continuous rains. Photograph: PTI Photo
---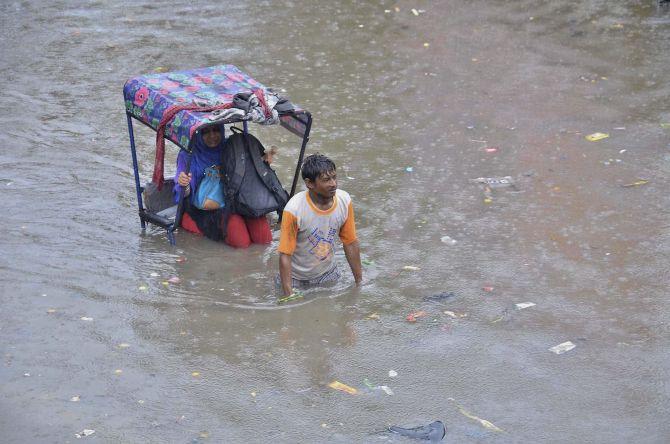 A rickshaw peddler wade through a water logged street after a heavy rains in Mathura. Photograph: PTI Photo
---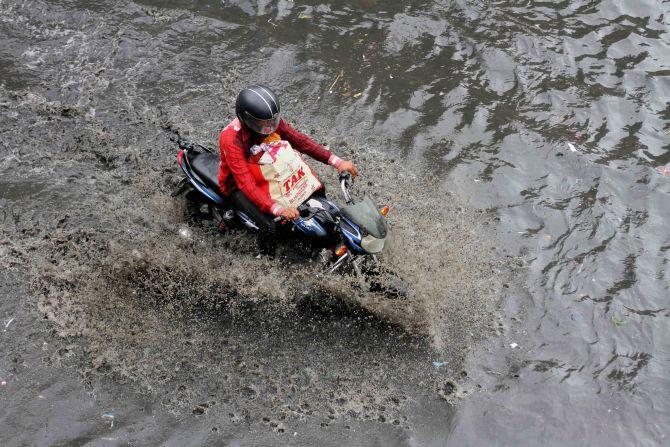 A bike-rider drives through a water logged road in Ajmer. Photograph: PTI Photo
---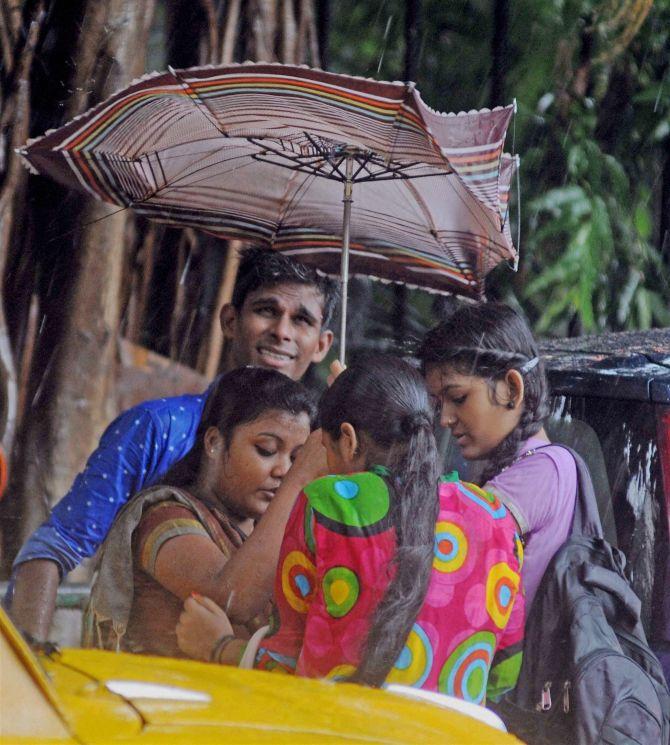 A group of youngsters during heavy downpour in Kolkata. Photograph: PTI Photo
---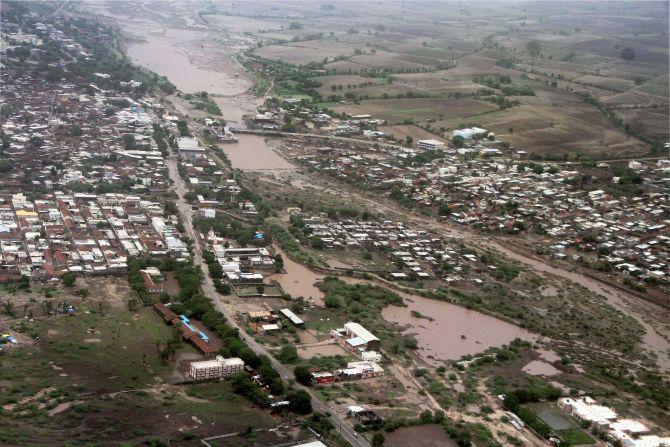 An Ariel view of the flooded areas of Amreli Distt caused by heavy rains. Photograph: PTI Photo
---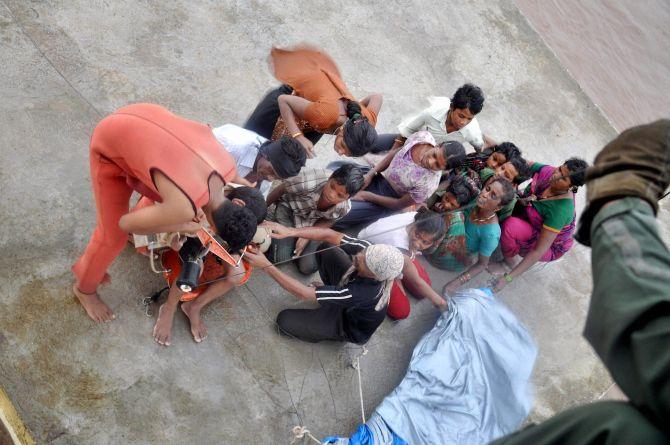 Air Force personnel air lifts people stranded on a roof top after heavy rains caused floods in Amreli district in Gujarat. Photograph: PTI Photo
---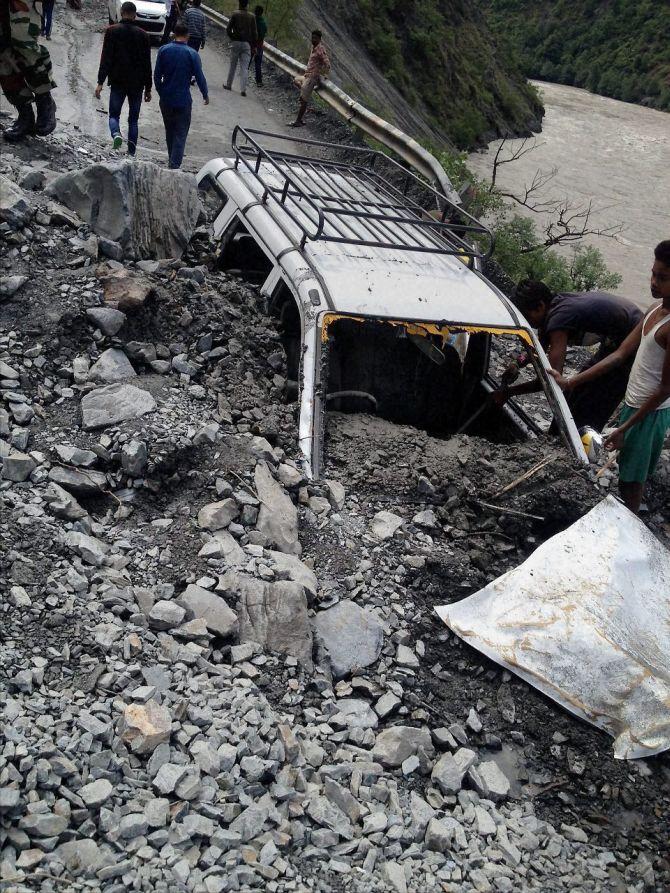 A vehicle stuck in debris after a landslide occurred on the Jammu-Srinagar highway due to heavy rainfall. Photograph: PTI Photo
---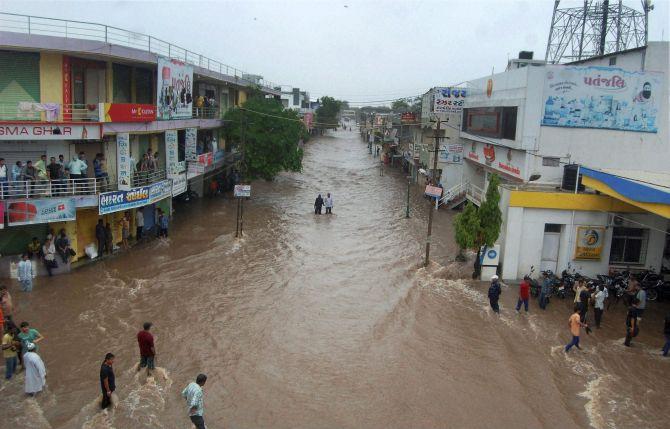 Stranded people in flooded Gondal town. Photograph: PTI Photo
---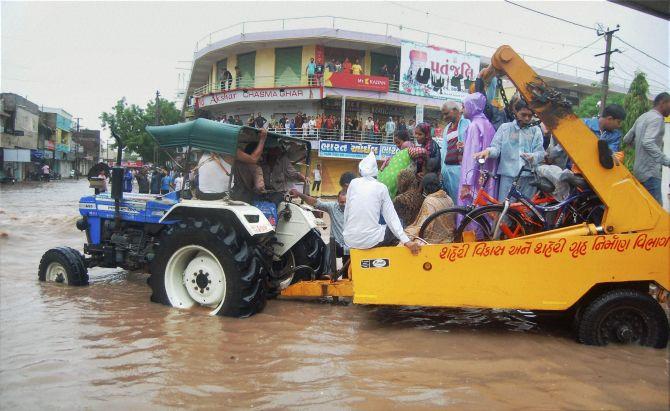 Stranded people being shifted with the help of a garbage lifter from flooded Gondal town. Photograph: PTI Photo
---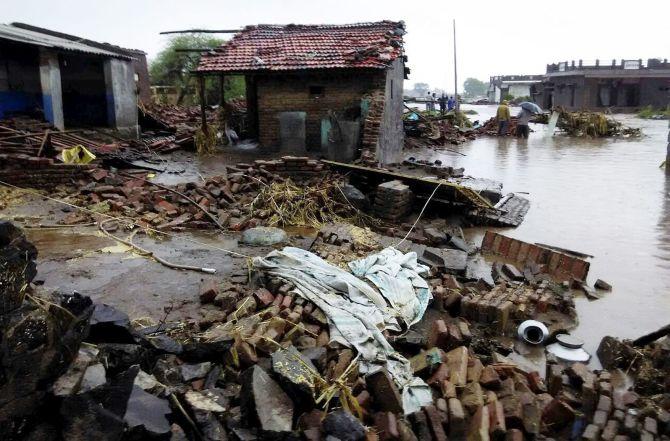 Damaged houses after heavy rains in Sultanpur village in Rajkot district of West Gujarat. Photograph: PTI Photo
---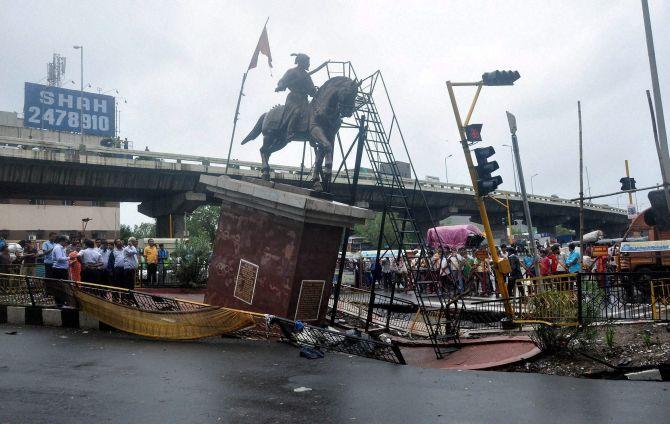 Platform of a statue of Shivaji broke after heavy rains at Sahara Darwaja in Surat. Photograph: PTI Photo
---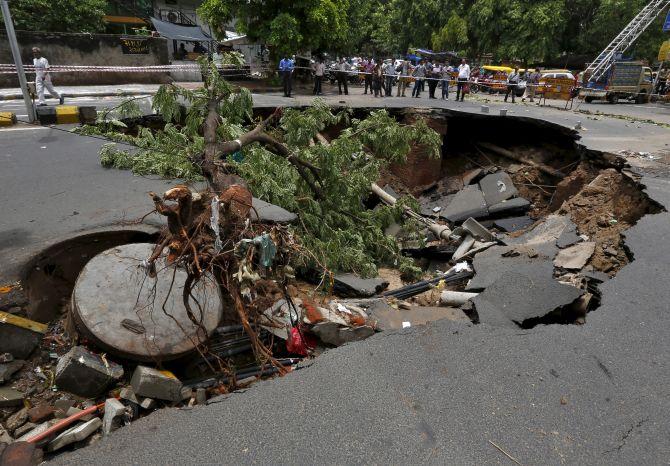 Onlookers stand next to a road that was damaged after heavy rains in Ahmedabad. Photograph: Amit Dave/Reuters
---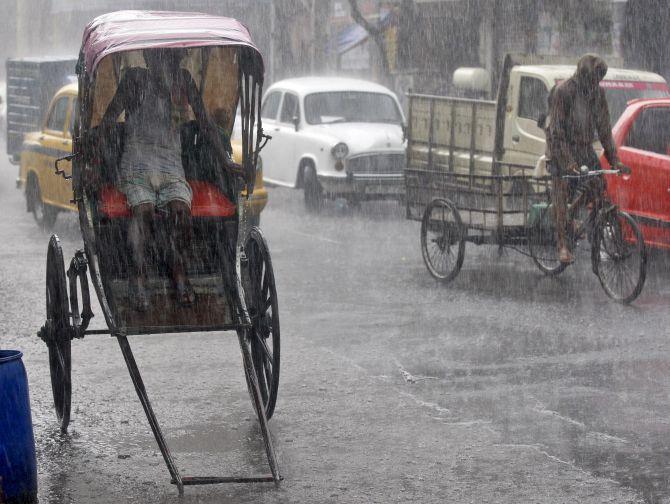 A man takes shelter inside his rickshaw during a heavy rain shower in Kolkata. Photograph: Rupak De Chowdhuri/Reuters
---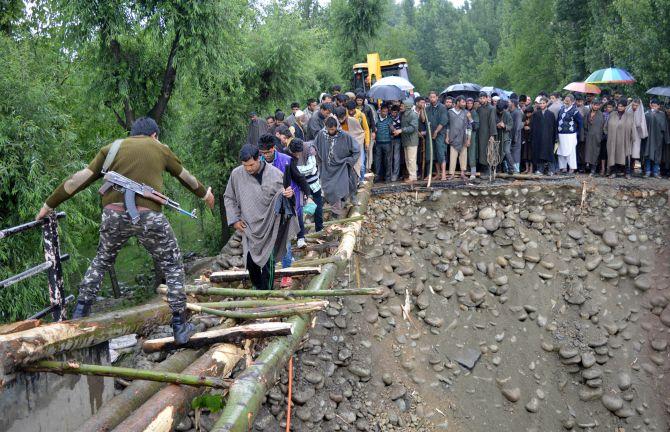 Army and Police personnel rescuing locals from the flood hit area, through a temporary wooden bridge at Nihama, in Kulgam district of South Kashmir. Photograph: Umar Ganie/Rediff.com
---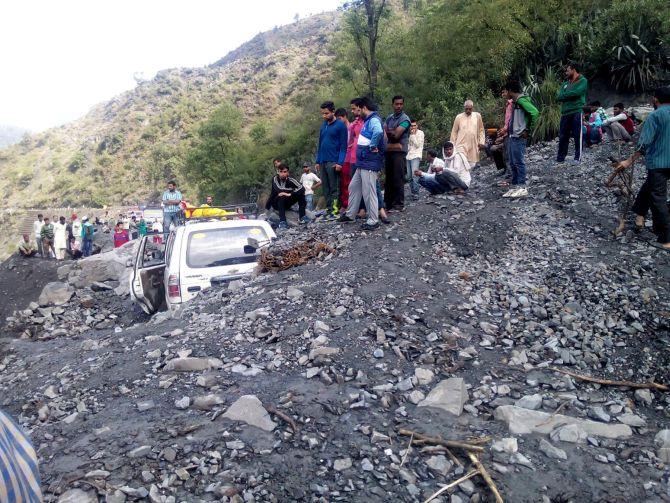 A vehicle stuck in debris after a landslide occurred on the Jammu-Srinagar highway due to heavy rainfall. Photograph: PTI Photo
---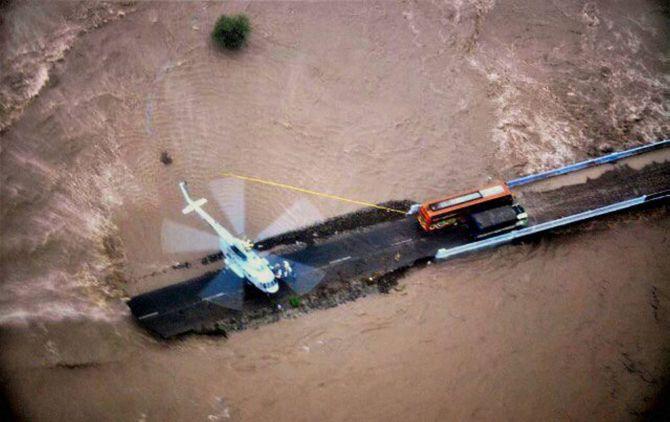 Air force personnel carrying rescue operations after floods hit the Amreli district due to heavy rains in Gujarat. Photogrpah: PTI Photo