1-

Mumbai: MSRDC to decongest Khandala Ghat section
Mumbai: Maharashtra State Road Development Corporation (MSRDC) will construct twin tunnels and two cable-stayed bridges to decongest the Khandala Ghat section on the Mumbai Pune Expressway. An MSRDC official said the civil work of the augmentation of the expressway is expected to start by mid-March.
"All the required process has been completed, like getting approval from the environment and forests. The two contractors, M/s Navayuga Engineering Co Ltd and M/s Afcons Infrastructure Ltd, have been given the work order and letter of intent. Now we only have to give them the date of work, after which the project will commence" said the official.
As per the MSRDC, the need for augmentation of the expressway was proposed following heavy traffic and landslides reported at the ghat section. The Mumbai-Pune Expressway and NH-4 meet near Khalapur toll plaza and separate near Khandala exit. The section from Adoshi Tunnel to Khandala exit is a six-lane road but the huge number of vehicles plying on the 10-lane road (six-lane of Mumbai-Pune Expressway and 4-lane of NH-4) in this section creating plenty of traffic chaos.
Therefore, in 1995, M/s. RITES had carried out a feasibility study for the Mumbai-Pune Expressway and had suggested an alternate route for this ghat section and construction of new missing link corridor. The project is divided into two packages. Package-I consists of eight-lane two tunnels of 1.75 km and 8.92 km and Package-II consist of eight-lane two viaducts of 790 metre and 650 metre.
Since the new missing link will start at the Khopoli through an interchange to Kusgoan at the Pune end of the expressway, the existing alignment will be not get affected due to the construction work. "It is impossible to stop or divert the traffic at the current alignment. The twin tunnel and viaducts will be built at the green field alignment and not at the existing alignment," said the official.
The estimated cost of the project is around Rs 7,000 crore and expected to complete within three years. Along with easing the traffic and bottleneck at the ghat section, the travel time will be cut by about half an hour. Moreover, the length of the existing Mumbai Pune Expressway section from Khopoli exit to Sinhgad Institute is presently 19-kilometre. After completion of this project, this distance will be reduced to 13.3 km. So, the total length of Expressway from Mumbai to Pune will be decreased by 6kms.
2-
3-
4-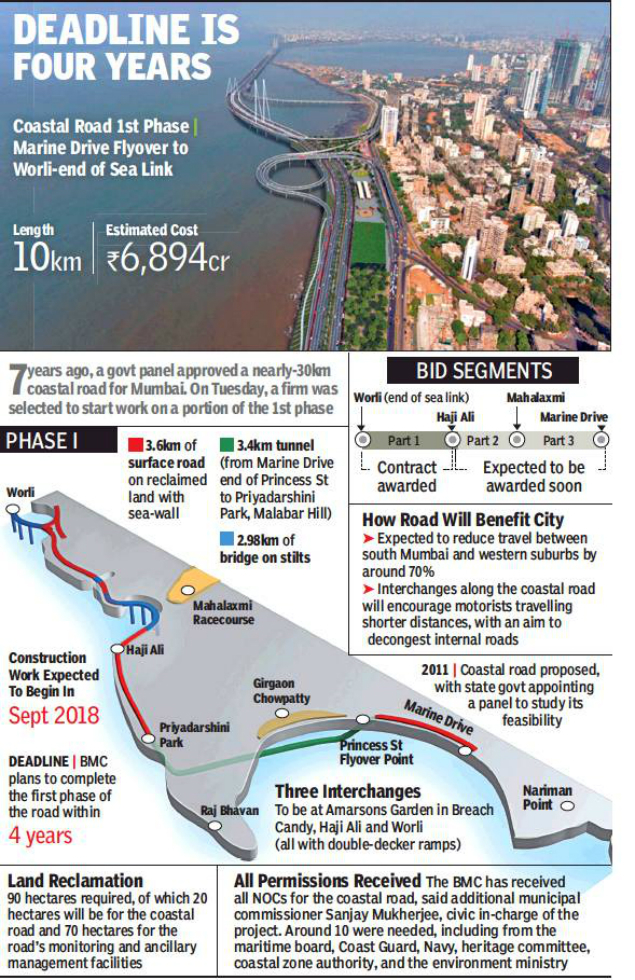 5-