Speak softly love
14 February,2021 06:22 AM IST | Mumbai | Meher Marfatia
Retelling romances of couples who played and pined, danced and dined in an earlier Bombay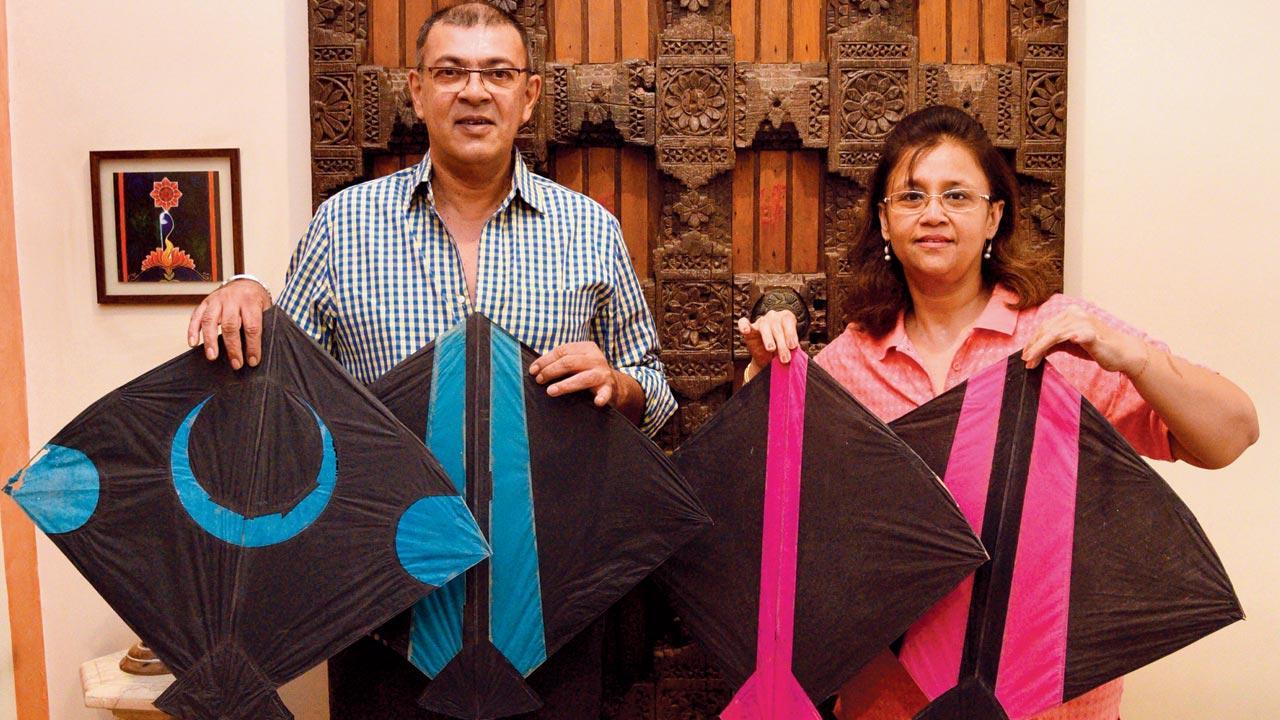 Dev and Neha Ghia first partnered at kite flying from the terraces of their French Bridge homes. The couple hold four vintage specimens. File pic
Most families uncork a bottle of bubbly to mark glad tidings. Mine raised a not so sparkling "toast" over vanilla ice cream drizzled with chocolate sauce. The cool combo was just a fun reprisal of what my parents had done in the 1950s. The instant the pater popped the question, she murmured a Yes. And they ran into Bombelli's at Breach Candy, to seal the deal with happy helpings of this "mooh meetha" of their choice. Which is why vanilla and chocolate it was, to celebrate any cause for congratulations in our clan.
My jubilant folks hardly stood out hanging there. The soaring passion and proposals Freddy and Betty Bombelli indulgently witnessed, at both their Breach Candy and Churchgate branches, delighted the Swiss restaurateurs. Propelling plenty of prem kahaanis, Bombelli's cast a spell over everyone walking in. When its Polish pianist paved the way for a three-piece band, the dance floor livened up with jazzy jiving at packed "jam sessions". Georgie the singer-pianist, Darryl the guitarist and Philip the drummer made a melodic trio for bopping collegians who pestered them for request songs.
Behram (Busybee) and Farzana Contractor at Wayside Inn in March 2001, one of his last outings before passing away a month later. Pic courtesy/Pervez Patel
Bombelli's was a veritable haven away from home. Lovers locked looks, passed perfumed notes, dared dangerous liaisons here, distanced from prying parents. One overwhelmed bride selected it as her getaway space. Dazed numb by the polite prattle around her, she took off for Bombelli's after the morning ceremony, informing just the understanding groom. Heavy in trousseau finery, she stole the heady peaceful breaths craved. Her favourite café embraced her. Rested, she rejoined the shaadi shenanigans.
I source elusive photos of Bombelli's, thanks to my friend Tina, daughter of architect Minoo Mistri. The 1938-erected Metro Cinema is a visibly recognised part of the design repertoire of his firm, Ditchburn, Mistri and Bhedwar. Its other city landmarks include Mercantile Bank Building (presently HSBC Bank headquarters) at Flora Fountain—linked to Mistri's tender love for Mani Bengali.
Architect Minoo Mistri and his wife Mani (extreme right) at the Alliance Francaise Bastille Day dinner at the Taj in the 1960s. Pic courtesy/Tina Sutaria
Archiving her father's meticulously inked drawings on lustrous Irish linen, with her actress daughter Tara Sutaria, Tina recalls, "Dad courted my simple Surti mum at places as different as the Irani on Bruce Street, opposite the Mercantile Bank he built, to formal Bastille Day gala dinners laid with wine and roses at the Taj ballroom. Thirty years younger, Mum only had eyes for him. She adored his brilliant mind and he accompanied her to Hindi films without understanding the language much."
Minoo met Mani in a dream encounter. Driving from his Nepean Sea Road residence to Fort office in a blue Alvis convertible, he was dazzled by the pretty New Activity School teacher waiting daily at a Hughes Road bus stop. After months of smitten silence, he landed a Eureka moment. Presiding at a function in her school, he was thrilled to spot her. Plucking up courage the next afternoon, rather than rev past, he stopped, introducing himself as the previous day's chief guest. She taught primary school, ending at 1 pm. He faithfully dropped her home before heading to work, every single day till they got hitched in Hatfield, the beautiful ancestral bungalow at 61 Pali Hill. "It was a real Manmohan Desai saga," Tina declares.

Freddy and Betty Bombelli at their Churchgate confectionery counters. Pics courtesy/Anita Bombelli
What of the King of Masala Movies himself? Manmohan's son Ketan Desai reveals his parents carried on "a saamnewali khidki affair". Blooming within their little gully, it was the whispered talk among Gujaratis in all 14 Khetwadi cross lanes—she Maharashtrian, theirs an exciting "love marriage". Manmohan in Pratap Niwas was completely captivated by Jeevanprabha Gandhi, a not-so-secret glance away in Dr Bhajekar Lane.
The director-producer giving the industry its highest grossers (delivering four back-to-back hits in 1977 alone), sat in a chair on the road, cheering his team at cricket, saying, "Mine is the ground. I can't make films from the 36th floor." Nobody disturbed him batting, not even Amitabh Bachchan, who got Bollywood's first vanity van from "Manji", as Manmohan was fondly known.
Bombelli's at Breach Candy with its van parked in front
Manmohan continued in his small, crammed flat as Khetwadi appealed to him—windows within touching distance, greetings waved early morning, feuding families united in emergencies. Manji never bothered that nosy neighbours typically kept querying, "What has Jeevan Bhabhi cooked for lunch today?"
Jeevanprabha was a patient sounding board for his potboiler prowess. He told Connie Haham, author of Enchantment of the Mind: Manmohan Desai's Films, "A great lady she was. I could not ask for a better wife. I used to think up ideas in the night, not getting sleep. I'd wake her with 'Please, I have a plot.' She would listen for two hours and say, 'It's late, Manmohan. Go to sleep, okay? We will hear this in the morning.'"
From down-to-earth gully gup, my mind flies to sweet accounts of rooftop rendezvous commonly conducted across Raghav Wadi at French Bridge. The latter has not to do with anything French. Fully British, in fact, the name is rooted in 1866 when it was constructed. The BB&CI Railway founder chairman was Colonel Patrick T French. Interviewing locals, my ears rang with "So-and-so Kaka exchanged glances with So-and-so Kaki". I learnt this from Aapli Wadi, the documentary shot one Gudi Padva, which traced everything endearing and enduring about life in lanes beneath the bridge: aromatic bhakri breakfasts, loud board games, deciding what to do with kids shattering windowpanes in robust rounds of cricket.
Couples enjoyed sharing hobbies on terraces too. "I held the firkee for Dev and we fell in love," chuckles Neha Ghia, of Saraswati Niwas, describing the kite flying she indulged in with the man she eventually married. "My pockets were always stuffed with marbles. And I lived and breathed kites," he says. Datta Talchelkar in Shankar Bhavan opposite was patang-crazy Dev's mentor, from whom he inherited 1,000 kites.
Regaled by as many charming anecdotes from senior citizens, I smiled to hear Nunu and Shahrukh Hajeebhoy from Mahim. Like scores of Mori Road couples, Nunu Fazelbhoy paired off with Shahrukh Hajeebhoy at the ABC (Amateur Badminton Club). "She gave me love games," he laughed softly. Of course, Nunu scantly demurred.
That generation often merged at quaint "tea dances". Art and altruism going hand in hand for gallerist Kekoo Gandhy, attracted the idealist in Khorshed Adenwalla. She found herself on his table at a tea dance, helping philanthropist Bapsy Sabavala sell tickets for a charity. Bored by the prim decorum of this social ritual, Khorshed and Kekoo hooked off for a Metro movie. Soulmates, they married in 1944, she the driving force behind artistic or social concerns mattering to them. "She was full of initiative and now the softness of old age," he pronounced, as I watched her on the balustraded verandah of their seaside mansion, Kekee Manzil, preparing the guest list for his 90th birthday party years ago.
Wooing and wedding changed after Bombay's inaugural swing show on September 15, 1948. The highlight was Frank Fernand's original piece, Prabhat, inspired by an audience with Gandhiji. Pacing musicians for genres from classic to cabaret, Mickey Correa became the first Indian to form an orchestra independently, roping in Chic Chocolate, George Pacheco, Johnny Baptist, Eddie Tavares and Leslie Weeks. Two months past that soiree, November 28 saw the Bombay Swing Club's debut show treating blues buffs to rousing riffs at Cama Hall.
Rustom Baug romances bloomed beyond the colony gates, opposite at Jaffer Book Stall on Byculla's Victoria Road. Jaffer Khilawala started the circulating library after selling hand-churned ice cream in the 1940s. "Amazingly, he remembered regulars by membership numbers," his son Zulfikar said. "Receiving their invitations, he would exclaim, 'Arre, No. 120 is marrying No. 130!'"
Ardour thrived at cosy addas like Wayside Inn. Fortunate to frequent that eatery for some good years till it shut, we were thrilled to realise that such worthies as Cowasji Jehangir, Mohammed Ali Jinnah and Salim Ali had graced the same chairs. Attraction swelled level for all. Proprietor Pervez Patel confirms that two Tata directors and leading lawyers clasped hands discreetly with ladyloves over mixed grill platters. Handholding was the height of PDA. Corners later saw canoodling kids try hotter moves under tables covered with red gingham cloths. "Bombay's beloved Busybee was fan enough of Wayside to refuse five-star hotels offering a meal on Farzana's birthday. They chose Wayside instead," recalls Patel.

By the time our dating days dawned, the vote went to breezy Cafe Naaz. Hugging the Malabar Hill slope with loads of character, it extended us achingly familiar comfort. Open to a spectacular Bombay panorama, the view from Naaz was unmatched. We wept at the wrench as marauding municipal authorities claimed it.
Still, there was Samovar, then at least. Where I dashed from work in the 1980s, to sneak a quick half-hour with someone special before returning to send my weekly magazine pages to press. Rain pattered softly outside. Steaming pakoras barely served, the beau swerved his gaze guiltily from me, to silently indicate what hung on the wall above. A framed lyric by my poet editor—on love in the monsoon. An uncanny reminder. Gulping, I flew back double fast.
Author-publisher Meher Marfatia writes fortnightly on everything that makes her love Mumbai and adore Bombay. Reach her at meher.marfatia@mid-day.com/www.meher marfatia.com