A Steamship named Bandra ...
bandrabuzz.com


Full Steam Ahead: A Steamship named Bandra
Bandra has always been associated with maritime culture & history. We all have a friend or relative in Bandra who is, or who has been a part of the Maritime Industry. And we in turn have been wowed by tales of their travels and adventures. Bandra is home to all echelons of 'Shippies', like the ubiquitous Pepe Fernandes of St. Paul Road, and the legendary master of the high seas, Capt. Ram Java of Carter Road. But what is not commonly known, is that there was once a ship that bore the name of the suburb itself – the S.S. Bandra.
One of the many ships owned by the British-India Steam Navigation Co. Ltd. of Glasgow, Scotland; the S.S. Bandra was a Passenger / Cargo vessel, officially described as a "Steel Screw Steamer". She was built by the shipbuilders Barclay, Curle & Co. Ltd., at Yard No 507 of the Clydeholm Yard in Scotland, at a cost £68,500, over a century ago.
Launched on December 15th, 1913, the "Bandra" had gross tonnage of 3300 tons, was 341 feet in length and could carry 36 passengers (12 in First Class and 24 in Second), in addition to her cargo. Primarily designed for the company's Persian Gulf routes and use in the Red Sea, the "Bandra" also was used on routes within India, like the Calcutta to Bombay run, as well as on other routes from Bombay. Perhaps she often sailed past the suburb from where she got her name. During WWI, she was also used as a troop ship for the British Forces.
"Bandra" at Bahrain – 90 years ago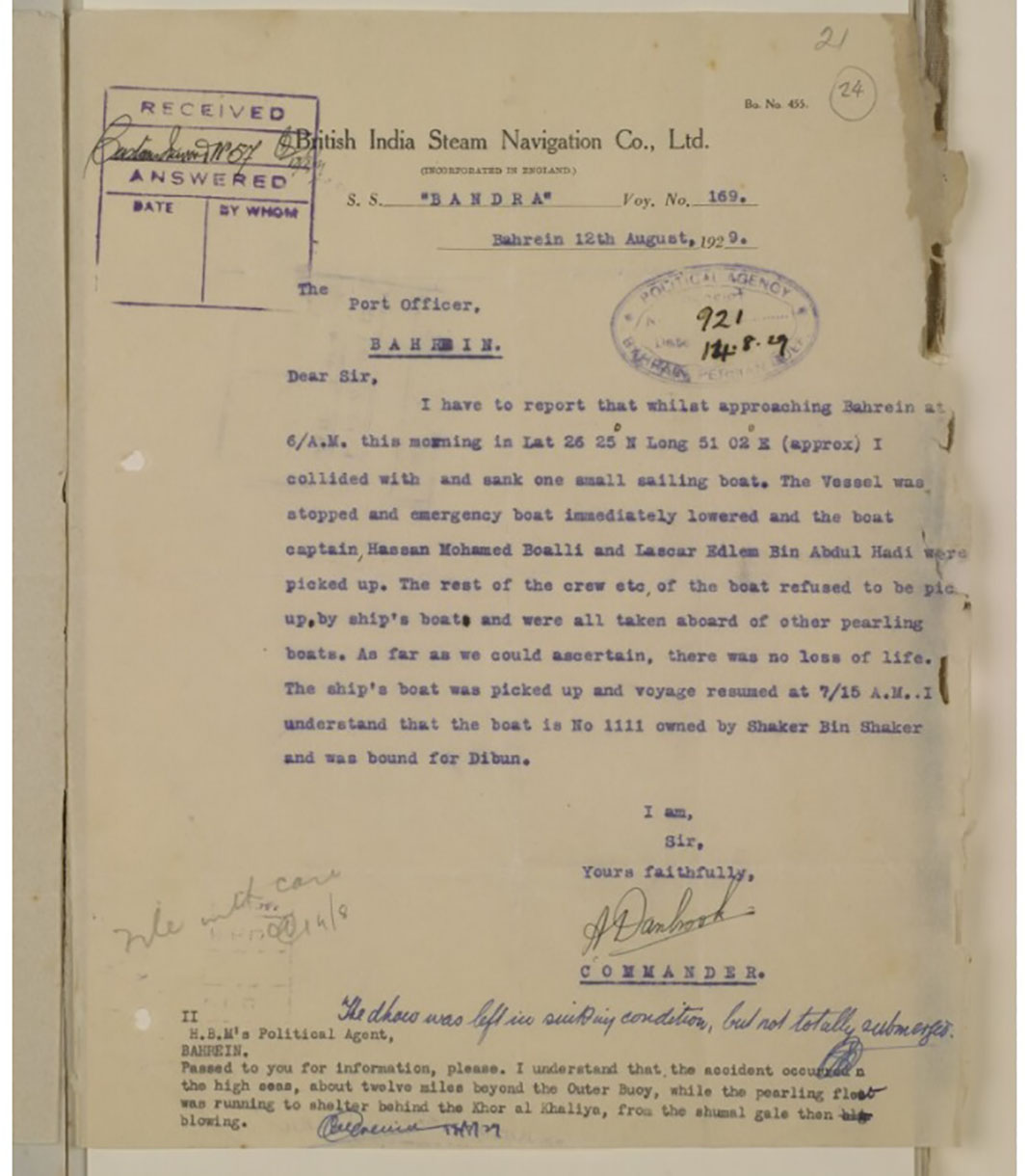 On the morning of 12th August 1929, the S.S. Bandra was involved in a collusion with a small Dhow, in the Bahrain harbour. By incident accounts, the "Bandra", under the command of Capt. Arthur Danbrook, rammed the local pearl craft at around 6 am. While the Bahraini Dhow was damaged and later sank, there was luckily no loss of life. An out-of-court settlement between the owners of the Dhow and the British-India Steam Navigation Co. Ltd was reached for an amount of Rs. 3000 – perhaps a handsome sum at the time.
The "Bandra" sailed under the ownership of the British-India Steam Navigation Co. from 1914 until 1951, when she was sold to the Whangpoo S.S. Co. Ltd. Her new owners based her in Hong Kong, where, the S.S. Bandra ended her service life and was broken up and scrapped, in mid 1952.
Thus ended the little-known saga of the "Bandra", a Scottish built ship, that flew the flag of the United Kingdom, saw two World Wars, and bore the name of this suburb. So the next time your seafarer friends in Bandra like Pepe Fernandes or the good Capt. Java regale you with nautical tales, you can tell them about a Steamship named Bandra.