Juhu Aerodrome:-
History
The aerodrome opened in 1928 as the then Vile Parle Flying Club. J. R. D. Tata, the father of civil aviation in India made India's maiden voyage from Juhu airport to Drigh Road airstrip, Karachi, via Ahmedabad, on 15 October 1932.
Gandhi on Juhu Beach 1937
The airport served as the city's sole airport till Santacruz airport, now Chatrapati Shivaji International Airport. It served as the city's airport up to and even during the 1939-45 war. Two bitumen runways were in operation and a third was planned for construction in 1939 but this never occurred.
At present, Juhu has only a single operational runway (08/26, 3750 ft/1143 m) and is run by the Airports Authority of India. It hosts a flying club with several executive and light aircraft, gliders, and a heliport to ferry Oil and Natural Gas Corporation personnel by carrier Pawan Hans to offshore oil rigs at Bombay High. The airfield is located at Juhu, an upmarket residential suburb of northwest Mumbai flanking the city's Juhu Beach along theArabian sea.
The Imperial Airways 'Hanno' Hadley Page passenger airplane carries the England to India air mail, stopping in Sharjah to refuel.
ENGLAND TO INDIA IN 6 DAYS BY PLANE!

-FASTEST TRAVEL POSSIBLE 1940'S
In 1929, Aga Khan offered through the Royal Aero Club, a special prize of £ 500 for "a solo flight
completed within six weeks from the date of starting". The prize was to remain open for one year from
January 1930. There were three contestants – an eager JRD Tata, Man Mohan Singh, a civil engineer
graduating from Bristol who had learnt to fly in England, and ASPY Merwan Engineer, later the Chief of
the IAF. The three men set out flying single-engine, light aeroplanes with simple instruments and without radio. Man Mohan Singh took off from Croydon airport, south of London, in a Gypsy Moth
Gypsy Moth
which he
called Miss India; ASPY Engineer followed the same route while JRD Tata, also in a Gypsy Moth, started
his journey in the reverse direction. After Croydon, Man Mohan Singh flew on to Lympne, Le Bourget
(Paris), Dijon, Marseillers, Rome, Naples, Catania, Tripoli and Sirle. From Gaza, he flew eastwards to
India, with Engineer trailing a day behind. Singh finally landed at Drigh Road, Karachi on 12 May 1930,
Karachi Airport (1930)
winning the historic air race. Engineer landed the next day and, though he came second, due to a technicality,
was eventually declared the winner, which Singh accepted.
On October 15th, 1932 JRD Tata took off from Karachi to Ahmedabad and on to Bombay in a solo flight carrying postage mail. He landed at the Juhu airstrip and India's civil aviation took off. In 1946, Tata Airlines became Air India and in 1953, the company was nationalized by the Government of India.
----------------------------------------------------------------------------------------------------------------------------
The Armstrong Whitworth A.W.154 Argosy stemmed from a declaration by Imperial Airways that all its aircraft would be multi-engine designs, on the grounds of safety. They were intended to replace the older single-engine de Havilland aircraft that Imperial Airways had inherited from its constituent companies, mainly Daimler Airway.
The passenger cabin of an Imperial Airways Argosy, which could accommodate 18 passengers. Posing at the rear is the steward who served them a buffet lunch as part of the airline's "Silver Wing" service:
Argosies continued in service with Imperial Airways until 1935, with the last example G-AACJ City of Manchester being used for joy-riding by United Airways Ltd of Stanley Park Aerodrome (Blackpool), that was later merged into British Airways Ltd. It continued in use with British Airways until December 1936.
Hello ladies!
Caption:
Air hostesses were first introduced in Air-India way back in 1946. Beautifully tailored European dresses with caps set at a jaunty angle formed the uniform. Sari, as a uniform, was introduced when Air-India acquired its first Boeing 707 in 1960s.
The beginning
Vintcent Mr. Neville, a former pilot in the Royal Air Force in 1929 he met Mr.
JRD Tata
, the first holder of a pilot's license in India by this encounter stemmed from both an awareness of the extent of the immense potential in India aviation.
On October 15, 1932 set off the first flight from Karachi to Mumbai via Ahmedabad, headed by JRD Tata; lands at Juhu, and continued his journey to Madras in southern India, led by Mr. Vintcent.
In 1933, the first operational year, Tata Airlines carried 155 passengers and 10 tons of mail and made known its mail service to the Indian government, to make sure supporters to advance and expand.
In 1934 the number of flights went to two, in the direction of Karachi and a new line to Trivandrum, with a stop in Goa and Cannamore.
Three years later, flights double and creates a new route between Mumbai-Delhi, were also introduced new aircraft in the fleet.
In February 1938, the expansion process is interrupted by the war, but with the appearance of the DC-3 at the end of World War I finally resumes.
The development of aerospace and transp
ort port after the legal transformation of the airline - Tata Airlines -
became Air India July 27, 1946.
Tata Airlines initially consisted of one
Puss Moth aircraft
, one
Leopard Moth
,
one palm-thatched shed, one whole time pilot assisted by Tata and Vintcent, one part-time engineer and two apprentice-mechanics.
Initial service included weekly airmail service with a
Puss Moth aircraft
between
Karachi
and
Madras
via
Ahmedabad
and
Bombay
, covering over 1,300 miles. In its very first year of operation, Tata Airlines flew 160,000 miles, carrying 155 passengers and 10.71 ton of mail. In the next few years, Tata Airlines continued to rely for its revenue on the mail contract with the Government of India for carriage of surcharged mail, including a considerable quantity of overseas mail brought to
Karachi
by
Imperial Airways
. The same year,
miles merlin plane for Bombay Trivandrum flight 1933
The first Indian lady pilot, Sarla Thakral, at 21 years of age.
DURING SECOND WORLD WAR
1940 CURTIS PLANE
K.L.M (Royal Dutch Air Lines) Douglas DC-2 (PH-AKK Koetling)
Image above right: K.L.M (Royal Dutch Air Lines) Douglas DC-2 (PH-AKK Koetling) flying over Jodhpur. K.L.M used 14-seater DC-2's in the 1930's on the Amsterdam-Batavia route with stops at Jodhpur, Allahabad and Calcutta airfields. K.L.M. started the Amsterdam-Batavia (at the time part of the Dutch East Indies) service in 1924 (non-scheduled) with a single-engined 8-seater Fokker F.VII.
Bombay Flying Club on New Years Day 1931-JUHU AIRPORT
Bristol Bombay - K 3583
The first production
Bristol Bombay - K 3583
- flew in March 1939 and was to be the basis for the post War Bristol Type 170 Freighter, Wayfarer and Superfreighter
Following the success during the Second World War of the twin engined
Bristol Type 130 Bombay
utility aircraft in the Middle East theatre of operations, the Bristol Type 170 was devised along similar lines but with a much larger fuselage and simplified single fin tail and two-spar wing construction. It was also to be more specialised as a rugged heavy duty freighter with low initial and running costs and easy maintainance without the use of any special tools. Indeed, initial projections were for just one man hour of maintenance per aircraft hour of flight.
The production
Type 130 Bombay
had been introduced in 1939 as one of the first large twin engined monoplane designs to serve with the Royal Air Force. Built to meet Air Ministry specification C.26/31 for an aircraft capable of carrying 24 fully armed troops, 10 stretcher cases as an air ambulance or equivalent mixed freight, the high seven-spar cantilever winged fixed-undercarriage Bombay used lessons learned from Bristol's unique twin engined Bagshot fighter ( J7765 ) of 1927. The oval sectioned monocoque steel strip and aluminium fueslage frame of the Bombay was covered by a stressed Alclad skin. Alclad - an American invention - consisted of the lightweight but potentially corrosion prone Duralumin coated with a thin film of pure aluminium.
For civil aircraft specification 22/44 Bristol designer Archibald E. Russell had retained the wide tracked fixed undercarriage of the Bombay but gave the wing - with the same section and taper ratio - a swept leading and straight trailing edge.
super constellation plane
Air India super constellation plane readying for London flight at Juhu airport
photos of planes at juhu airport 1940-1950
The increased capacity enabled the creation of a new connection Bombay-Nairobi-Aden on 21
January 1950 since 26
July of that year, the plane landed in Karachi.
On the route to London, Rome was from 12
March served as an additional stopover.
was increased as the number of flights to London to four a week, two of these services started from 17 October in Calcutta, and on 8
April 1951 by India from London stopped after lift-off machine for the first time for a stopover in Paris.
From 2
December 1952 launched some of the leading on Bombay, Cairo and Rome, London flights in Delhi, and on 21
February the following year was incorporated into the network of Dusseldorf All.
Another innovation was the economy class on international flights, on 7
December 1952 with DC-4
DC-4
Five-seat cabin monoplane-
Miles Aircraft Limited-
1935
was opened from Bombay to Karachi, Aden and Nairobi.
Spitfire T Mk IX HS 534 (ex RAF MA 848
SM-832
MT 915, Merlin 66)
MV 293
operated service Bombay-Ahmedabad.
Due to lack of profitability of the route but had 26
October, reinstated.
Between July and September 1949, the Bombay-Nagpur-Calcutta route was flown daily, and 1
Opened in March 1950 machines of the type Viking day services between Bombay and Delhi.
A month later, the approach of Hyderabad on the Bombay-Madras-Colombo route discontinued and replaced by Tirutschirapalli, and finally on 10
December 1952 the service of the DC-3 extends between Madras and Bangalore on Triwandrum, Koimbatur and Cochin to Ma
49C Super Constellation
49C Super Constellation, the first on 19
June 1954 will be put into service, and after the second plane was taken over in July, had the 749A
Pan American World Airways Boeing 377 Stratocruiser (N1033V)
"Cipper Seven Seas"
arriving at London Heathrow on September 12, 1954 during Pan Am's heyday.


| | |
| --- | --- |
| | This image has been resized. Click this bar to view the full image. The original image is sized 1696$sx1056$s. |
Photo by RuthAS
for two new routes will be exempted.
Bombay, Madras and Bombay-Calcutta-Singapore-Bangkok-Hong Kong was on 16
14th July respectively
August opened.
The latter route was to the extradition of three L-1049E
L-1049E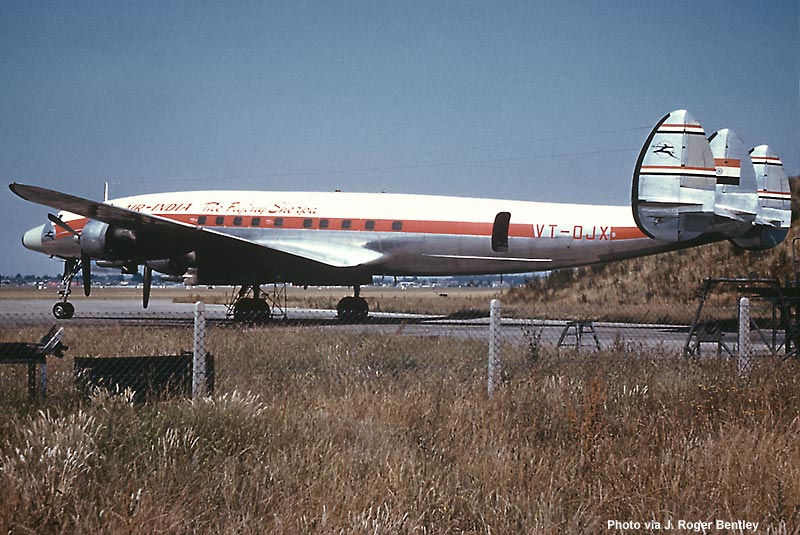 7th
May be extended from 1955 to Tokyo.
Finally, we included two months later, the airport of Beirut and Zurich in the London route.
In April 1956, followed by Damascus and Prague.
On 11
June can AII Bombay their first L-1049G
L-1049G
One of the neatest vintage airliner promos around. Fantastic footage of PAA Strats, plus s
take over on 5
October for the opening of the weekly service, Bombay-Madras-Singapore-Darwin-Sydney used.
As the first non-Soviet bloc owned airline also received All traffic rights for Moscow.
The Soviet capital was allowed - in the pool with the Tu-104
Aeroflot
Tu-104
Aeroflot
- from 14
August, Delhi and Tashkent are served.
Their first jet aircraft could AII in February 1960 to introduce the first place.
JUHU AIRPORT BOMBAY WHICH WAS THE INTERNATIONAL AIRPORT
BEFORE.
Movie : Jhuk Gaya Aasman Music Director: Shanker Jaikishan Singers: Mohammad Rafi Director: Lekh Tandon Enjoy this ...
SANTACRUZ AIRPORT WAS BUILT IN 1948
Nationalisation
The early '50s saw the financial condition of various airlines operating in India deteriorate to such an extent that the Government decided to step in and nationalise the air transport industry and accordingly two autonomous Corporations were created on August 1, 1953.
Indian Airlines was formed with the merger of eight domestic airlines to operate domestic services, while Air India International was established to operate the overseas services.
On 15 July 1953, a BOAC




DH.106 Comet
landed at Juhu Aerodrome instead of Mumbai's much largerSanta Cruz International Airport. The aircraft was flown out some nine days later.

On 28 May 1968, the pilot of a Garuda Indonesia Convair 990

Convair 990

also mistook Juhu Aerodrome for Santacruz Airport and tried to land his aircraft. It overshot the runway falling just short of the traffic road ahead and several residential buildings when its nose wheel got stuck in a ditch at the end of the runway. All passengers survived.

On 24 December 1972, Japan Airlines Flight 472, operated by Douglas DC-8-53
Douglas DC-8-53
also landed at Juhu Aerodrome instead of Santacruz Airport. The aircraft overran the end of the runway and was damaged beyond economic repair.
International Airport , Santacruz Built in 1948[people looking at one of the first jet plane in bombay]
NOW
====================================================================
Mar 24, 2015 - Uploaded by Pratik Gupta
On 24th March, 2015 - The Indian Airforce conducted a military exercise to test the short landing capabilities ...


====================================================================
New plan approved for Juhu Aerodrome's security cover
Posted On Thursday, May 24, 2012 at 03:14:35 AM
Juhu Aerodrome authorities finalised a security plan for the 384-acre aerodrome, which divides the premises into 'operational' and 'non-operational' areas, to ensure tighter security.

Currently the aerodrome - the city's only helibase - is protected by 27 private security guards approved by the Maharshtra State Private Security Guard Board, which the authorities believe is woefully inadequate.

After conducting a survey of the area a couple of years ago, the Central Industrial Security Force (CISF) had declared that the aerodrome requires 174 personnel to man it. However, the new plan was drawn up after aviation ministry officials made some back-of-the-envelope calculations and found that paying 174 personnel would cost more than what the aerodrome earns annually.

(According to officials, the cost of hiring 174 CISF men would cost around Rs 14 crores annually, while the aerodrome - where around 100 helicopters land and take off every day - earns between Rs 8-10 crores annually.)

The 'operational' area, including the runway and hangars, will now have a higher number of security personnel, while the 'non-operational' areas, including the residential quarters, will have fewer guards. Sources said that the state police-owned Maharashtra State Security Corporation has approached airport authorities with a proposal to provide armed security personnel to Juhu aerodrome at Rs 18,000 per personnel per month. An official added that a proposal to have 25 policemen from the state/city constabulary had already been approved.

An official added that they have spent several crores for bachelor accommodation for 80 personnel in preparation for hiring a larger number over the past few years. However, a source said that after CISF authorities demanded that those who were married should receive a one Bedroom-Hall-Kitchen (BHK) accommodation in Juhu, officials said that it would be impossible, especially within the government house rent allowance stipulations.
========================================================================

The Juhu runway extension plan was proposed to start in 2010, but the Ministry of Environment and Forests (MoEF) did not give its NOC then. However, in 2011, with Coastal Regulation Zone (CRZ) rules permitting roads on stilts in CRZ-I areas (within 100 metres of the shoreline), the project looks all set to take off.

Project runway
2010: The year Juhu runway extension plan was proposed
2020 metres: The proposed length of the runway
100: Number of flight operations (small aircraft), would be shifted to Juhu airport once operational
================================================================
Versova link gets coastal body nod
MUMBAI: The Bandra-Versova sea link on Friday received the go-ahead from the Maharashtra Coastal Zone Management Authority (MCZMA). The authority also approved the offsite infrastructure for the Navi Mumbai international airport. Both the projects have been approved under the new Coastal Regulation Zone norms of 2011, said T C Benjamin, principal secretary, urban development.
The MCZMA will now write to the Union environment ministry to allow the construction of the two projects, said Valsa Nair-Singh, secretary, environment. The go-ahead from the MCZMA is considered a virtual green signal from the Union environment ministry as well
=========================================================================
Nod for Bandra-Versova sea link
First Published: 01:43 IST(30/12/2011)
Last Updated: 01:44 IST(30/12/2011)
Even as the state-appointed joint technical committee on coastal roads is slated to submit its report this week, the government has firmed up its decision to construct a sea link from Bandra to Versova.
A government resolution issued on Thursday by the Public Works Department(Maharashtra State Road Development Corporation) said that the decision to construct a 10 km sea bridge 900 metres into the sea, from Bandra to Versova, had been finalised after considering four options. This alignment of the sea link had been recommended by MSRDC-appointed consultants Parsons Brinckerhoff, which carried out a feasibility study.
The GR states that the consultants recommended the sea link option after looking at preliminary cost estimates, environmental concerns and the new Coastal Regulatory Zone notification 2011.
This alignment has also got a go-ahead from the MSRDC board and was under consideration by the state. The state government, after consultations with the planning department and approval of the finance department, has now cleared this alignment.
The 8-lane link, which will run from Bandra to Versova, will have two connectors/inlets for vehicles at Carter Road junction (near Otters Club) and at Juhu Koliwada.
The sea link has got a green nod from the state coastal body and has been awaiting clearance from the Ministry of Environment and Forests (MoEF). "If we opt for mixed alignment or coastal road, we will have to struggle for clearances. MoEF is unlikely to clear the coastal road in a jiffy. In that time, the sea link project can take off," said a senior official, who did not wish to be named. There have been consistent flip-flops in the government in the last year on whether the Western Freeway project, aimed at linking south Mumbai to the western suburbs, should be a sea link or a coastal road.
Chief Minister Prithviraj Chavan, who has been keen on a coastal road as it is cost effective, had set up a committee led by municipal commissioner Subodh Kumar to carry out a techno-feasibility report on the project. The report is likely to be submitted this week. This has already delayed the proposed Worli-Haji Ali sea link.
Posted 17th July
First look: Rs 4,300-crore Versova-Bandra Sea Link
Yogesh Naik
Mail this page Print this page Translate this page

Rate me....




Share Share Share Share
Posted On Thursday, December 06, 2012 at 04:37:03 AM
Artist's impressions of the Versova-Bandra arm of the Sea Link, which in the future will extend all the way to Nariman Point along Mumbai's western coast, shows three entry/exit points on the nine-km stretch, and one spot for a proposed extension in the future.

The plans, accessed by Mumbai Mirror, have already received one set of environmental clearances, and the MSRDC (the nodal agency for the Rs 4,340-crore project) is now preparing the groundwork for the tender process. The link runs approximately 900 metres off the coast.

The Maharashtra Coastal Zone Management Authority (MCZMA) has cleared the project, and passed it on to the Ministry of Environment and Forests (MOEF) with a recommendation that it be given a final go-ahead.

A marine geo-technical investigation, to obtain information on the physical properties of rock and soil on the sea-bed, began in October, and the MSRDC hopes to begin construction in January, 2014. A five-year deadline has been set for the project to be completed.

45
Minutes that commuters will save, according to MSRDC estimates

14
The number of signals you will skip by using the Versova-Bandra Sea Link

1500
Metres. The average depth of the superstructure

9.3
Kilometers. The (approximate) length of the Versova-Bandra Sea Link

16
Kilometers. The total length of roads that will be built, including the three connecting arms

2019
The year this segment of the Sea Link will be completed, if all goes to plan
At Versova, the Sea Link will join inland near Nana Nani Park, from where commuters can go right towards Juhu Circle, or left towards Yari Road. This connector will consist of six lanes (three in each direction).
The Versova-Bandra Sea Link meets the Bandra-Worli segment at a clover leaf intersection. A few kilometers before this, at the Otters Club end of Carter Road, space has been marked out for another connector, which can be built in the future.
The Juhu Koliwada connector will cut land on the stretch of beach at one end of Khar Danda, near Juhu Koliwada, and then go further inland before turning left towards Juhu road. This stretch will have four lanes.
The project plan includes a 150-metre cable-stayed bridge (similar to the stretch at the Reclamation end of the Bandra-Worli Sea Link) at Juhu beach, to ensure water transport is not affected.
Balance cantilever bridges with 100-metre spans will be built near Chimbai in Bandra, Khardanda and Juhu Koliwada - all fishing villages - to ensure fishermen can navigate the waters without difficulty.
This graphic shows how the approach path of Juhu airport's main runway interferes with operations on Mumbai airport's secondary runway. G
raphic/Amit Bandre
Security at Juhu airport gets a boost
MUMBAI: Security at Juhu airport finally got some boost after the local police sanctioned around 30 police personnel to guard the perimeter area. The airport has been battling sever security issues for the last few years with neighbouring slums spilling into the operations area. There have been reports of slum dwellers intruding into the operations field at will despite a live runway with aircraft operating on it. Airport Authority of India (AAI) officials have been unable to construct a boundary wall to keep the slums at bay.
Airport officials said that finally a total of of 30 policemen will guard the airport. Some of the personnel is armed and will be patrolling the airport periphery even during the night. "this is likely to bring down the theft cases and will secure the air-filed too," said a senior airport official. "We are trying to get more people so that the work on the wall can also be undertaken,' he added. Officials said that despite a request for about 200 Central Industrial Security Force (CISF) personnel at the Delhi headquarters, no strength has been sanctioned.
Despite the repeated terror threats which have categorically suggested aerial strike or hijack as a possibility, Juhu airport has been a vulnerable air-field.
b
Dil Ke Aaine Mein Mohammad Rafi Film Aao Pyar Karen (1964) Music Usha Khanna.