Gandhiji ate here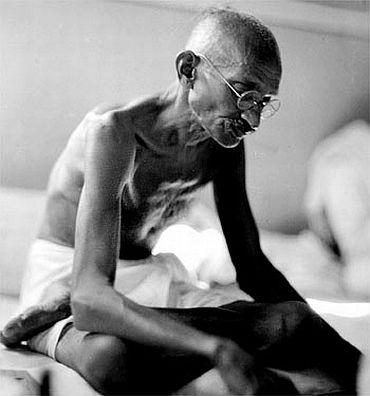 History lesson
The Friends Union Joshi Club was started by Govindram Shankarji Joshi and four of his friends in 1945. Originally from Rajkot, Gujarat, Joshi came to Mumbai in the early 1940s, after several unsuccessful attempts to find work in Ahmedabad.
"My grandfather was a freedom fighter. He went to jail for eight months, along with Gandhiji, Morarji Desai
and UN Dhebar.
When he was released, he found that his home and his (soda water) factory were auctioned by the British. He had eight dependents and no profession to pursue," shares Anand Joshi. In Mumbai, GS Joshi met old friends Morarji Desai and UN Dhebar, since the Congress had its head office here.
Dhebar put GS Joshi in charge of organising meals for the five of them. Over time, the group expanded to 30, which is when they thought of opening an eating place. "The British initially denied my grandfather a license. They said it would only be possible if they formed a club with more than 100
members," says Joshi.
Resolute, GS Joshi and four of his friends contributed Rs 100 each towards the effort, and managed to get 100 'members' to sign up at the 'club' for a monthly meal service. "And that is how it came to be known as The Friends Union Joshi Club," shares Joshi.
At the time, the 1,500 sq ft eating joint that can seat up to 50 people, did not have its trademark benches. "There was a separate patla (wooden stool) to sit on, and another to place the thali," says Joshi.
In keeping with their Gandhian beliefs, Joshi says that the place was closed on Sunday evenings; a policy that is practised by the current owners as well. "My grandfather (and father) believed that just as we need a day's rest, so does the stomach, which is why we (are) the only restaurant in the area to remain closed on the busiest day of the week," says Joshi.
The Friends Union Joshi Club might be a far cry from today's swish thali joints with their gleaming counters, but what loyal diners return for is a wholesome Gujarati thali, service that's kind, and a chance to reminisce over history.
If crammed, functional thali joints are not your cup of tea, then skip this one. If one thrives on the colourful cacophonies of Kalbadevi, the hunt for this first-floor spot and then slipping into a large, functional, clean restaurant. settle down on the well-arranged chair and table, and get down to the business on the plate. Here, we are served pure-vegetarian Gujarati Thali and every morsel is a delight! A variety of fresh, delicious and home-made items make their way to your stomach, so enjoy! There is an extra charge on sweets during weekdays,
It is indeed a bit hard to find - while on Kalbadevi Road walking from the Princess Street end, look for a small lane on the right side - Babu Genu Road. Friends Union Joshi Club is on the first floor of the next building on Kalbadevi Road and there's a big sign outside saying Joshi Bhojanalay.
AT:
The Friends Union Joshi Club, 381-A Narottam Wadi, first floor, Kalbadevi Road.
CALL:
22058089
Timings:
11 am to 3 pm; 7 pm to 10 pm. Closed for dinner on Sundays.
FOR:
Rs 110.[$2]
The thali is unlimited and includes farsan, 4 vegetables, 3 types of roti, dal, rice, and the usual papad, salad, pickles and a glass of chaas. All for a price of $2
Dessert is an additional Rs 20. Sunday lunch is priced at Rs 150.
photo at Paris - Mahatma Gandhi travelled BY ship to Europe IN 1930'S on the way to London