A traditional container for formal letters that were to be delivered by a special herald or messenger;
*
"A kinkhab bag, Kharita, used as an envelope by the princes of India, with the seal of H.H. Tukoji Rao Holkar... engraved by Shekh Nisar Mahomed of Delhi," from the Journal of Indian Arts, vol. 1, London 1886
*
---
"Diorama of the route of the overland mail to India-- Leaving Suez," from the Illustrated London News, 1850
Tallis maps from 1850′s were very interesting. It gives you a sense of place, a sense of geography and a sense of images from the place.Like the one above, it has the map, it has the color coded overland routes to India and is adorned with little vignette of the images and those little camels and lions are just so adorable.
In the 1830s, the Suez route—steamship to Alexandria, overland to Port Suez, steamer across the Arabian Sea—halved the travel time from London to India: three months rather than six. (It would halve again with the opening of the canal in 1869.)

For all England's pride in its empire, few Englishman had any sense of it before the 1850s.
The Arab slave trade passed mainly over land routes
COWES:Launch:West India mailship Solent,old print,1853
"Mail-gary in the northwest of India," from 'Ballou's Pictorial,' 1856
"Dawk Walas (Postmen)


"Slinging letter-bags in the rainy season," from the Illustrated London News, 1858
The catamaran postman"*

"Her Majesty's Mail in India," from the Illustrated London News, 1867
Successive postmarks on a letter to the Nawab of Rampur, 1867
The postmarks show that the letter travelled from Delhi to Meerut, then on to Calcutta, then on to Aligarh, then to Rampur, where it finally caught up with the Nawab.
"The postal services carriage," by A. de Neuville, from 'Le Tour du Monde', 1873
---
A special postal office was set up on the Prince of Wales's ship (Illustrated London News, 1875);
Loading mailbags into the Prince of Wales's ship, from The Graphic, 1875*
---
"Gwalior: The Dak-Ghari," from 'India and its Native Princes' by Louis Rousselet, 1878
A letter sent from Diu to Karachi in 1881; the envelope has been secured with sealing-wax
c.1900, from India :
across the man's chest is a leather strap, leading to his letter pouch; in one hand he carries a package, and on his shoulder is a large metal badge that reads "Post Office Delivery Peon No. 11

The staff of the Delhi Central Post Office, in a photo by Raja Deen Dayal, 1903 (to celebrate the coronation of Edward VII)

"Mail sorters," a photo by A. Keyes, 1925-30

Post By Walk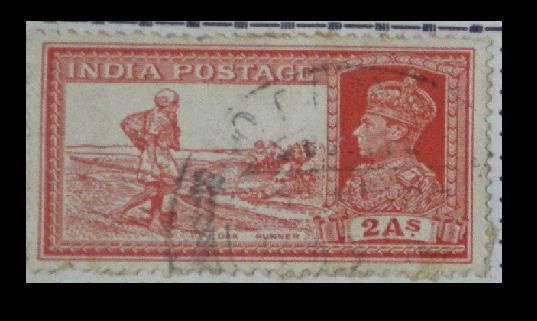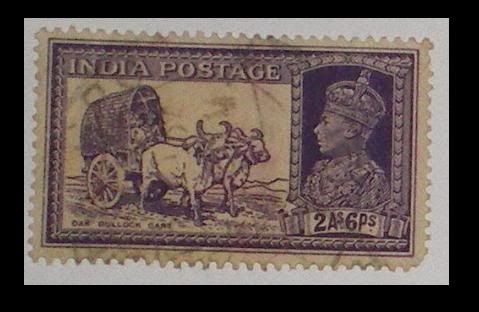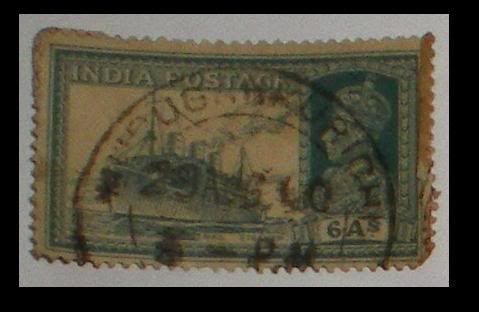 ORISSA POLICE PIGEON POST
Issued in 1989 to pay tribute to the last Pigeon Post service still in service
Pigeon Post: a woodcut from 1481
Pigeon Post was an official form of communication during the early times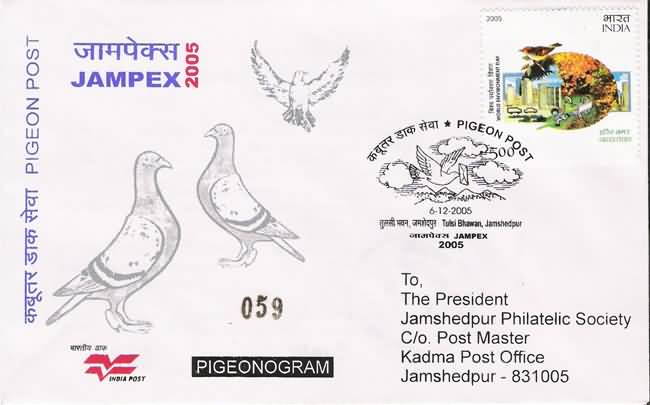 POST Carried by Elephant
Launch of the West India mail steam-ship "Solent," at Cowes
Genuine original antique engraving, 1853
Caption below picture: 'Launch of the West India mail steam-ship "Solent," at Cowes'