Between St Xavier's College and Metro Cinema is a Grade-III heritage structure known
as Jer Mahal. A cluster of six buildings and an annexe, it represents the finest example
of a whole style of vernacular Indian architecture. It has even been called 'Bombay's
most beautiful chawl'.
A Goan cultural hub, Jer Mahal accommodates 50 Goan clubs on its premises at Dhobi
Talao. These clubs have been around for over a century; the oldest one can be traced
back to 1857. Each floor accommodates 3 to 4 clubs, along with a single kitchen and
a bathroom. Today, the clubs are characterised by broken walls, protruding cable wires
and worn out arches.
Club class
Published: Sunday, May 18, 2008, 3:40 IST
By
Radhika Raj
The Goan clubs at Dhobi Talao's Jer Mahal have been around for over a century, but now their crumbling rooms face the threat of demolition, finds Radhika Raj
Praxis Remedios pulls out one coin after another out of thin air and then makes them disappear within a blink of an eye. His black jacket and a magician hat hang from a rusty hook on a chipped room wall. Above it lies a broken wooden board that says Guirim Club. Remedios is one of the residents of a Goan club at Jer Mahal in Dhobi Talao. "These clubs are boarding houses for people from Goa," he explains. "Every village has club for its residents here. It is a mini-Goa in Mumbai." Remedios has been living in his club for over twenty years, but still has a difficult time explaining his address. "If I tell people in the city of our club, they ask if there is a swimming pool there," he smiles.
Sandwiched between city stalwarts like St Xaviers College and Metro cinema, Jer Mahal bears the distinction of being one of Mumbai's most beautiful chawls and a Goan cultural hub, accommodating 50 Goan clubs in its premises. Jer Mahal however is facing the threat of demolition because of its location."Jer Mahal is a Grade III structure and hence can be pulled down if proven that it cannot be restored,"says conservationist architect Abha Lambah."It is necessary to list Jer Mahal as a Grade II structure as it is one of the most culturally rich chawls in city. We must protect it from turning into another concrete tower".
With over 104 years of history tucked away in its crevices, notice boards with Konkani scrawls, chapels in each of the clubs, posters of Jesus Christ (and occasionally white women in skimpy outfits) this bulky structure is indeed a world in itself. The oldest Goan clubs can be traced back to 1857. Later, the second world war and an acute food shortage brought people to the newly developing city of Bombay. Goans, with their Portuguese backgrounds and knowledge of the Roman script, could easily pick up the English dialect. They were employed as cooks, clerks, musicians and seamen. Most clubs were set up at Jer Mahal at Dhobi Talao, since it was near Crawford Market and convenient for the cooks. Government offices at Fort and the docks for seamen were close too. Even today, most residents here work as seamen for the navy, musicians in Catholic orchestras or waiters at five star hotels. "This is home away from home. All the people here go to the same church, most of them have grown up together," says Joel Fernandes from the Majorda Club.
Dinshaw Mahal, one of the wings of Jer Mahal, where Fernandes stays, contains Goan clubs all the way up to the top floor. Each floor accommodates 3-4 clubs, along with a single kitchen and a bathroom. The rent or the baddem is as low as Rs200 per month. "These clubs are so old that some traditions have been followed for a century," says Vitthal Aranjum, accountant and member of the United Club of Assondra. For instance, due to space constraints, mattresses were not allowed at the clubs in the 1950s. Despite the number of residents reducing by almost half, this rule is still religiously followed and every member picks a spot on the floor at bedtime.
These days the clubs are characterised by broken walls, protruding cable wires and worn out arches. "A decade ago there were 14 people at our club, but today there are only four," adds Aranjum. Four clubs in the past few years have merged to form one United Club of Assondra. Most clubs at Jer Mahal have downed their shutters while others have been lent to locals.
Change has trickled into these stolid old structures. Football and cricket have taken over the annual feasts and the Goan DJ brought in every year during Christmas also plays Himesh Reshammiya songs. There are also some constants, like the resident ghost who allegedly haunts the terrace. As Anthony Fernandes cooks pork vindaloo, someone at the neighbouring club plays a popular Goan classic. Residents at the Durga club dig out an old frame. When they they find it, they look at it with amazement. 'Established – 1908 it says in Konkani. "Oh my god, our club turns hundred this year," they exclaim. "We must celebrate
-------------------------------------------------------------------------------------------------------------------------------------------------
GOAN KUDDS IN BOMBAY: GOING, GOING, GONE_


By Frederick Noronha

PANJIM, May 10: Fulgence Rodrigues was surprised when he recently
tried to get a place for his shipbuilding-qualified son at one of
Mumbai's kudds. He realised that the famous decades old clubs
of Goan expats in that city, that served as a gateway to a better
life for generations, are verging on collapse.

Shocked and saddened by the sorry state of affairs of these
institutions that played a crucial role in the history of Goan
emigration, Vasco-based Rodrigues is now all fired up to do
something that could safeguard the kudds.

Says he: "In the halcyon days of the fag end of the eighteenth
century and the beginning of the nineteenth, our farsighted
ancestors in their wisdom and for the benefit of visiting Goans,
founded clubs known in the vernacular language as kudds in
erstwhile Bombay, now renamed Mumbai."

"In the beginning they were like chummeries. Our village folk in
those days would migrate to Bombay, as it was a city of
opportunity, in quest of jobs", Rodrigues says.

Some went for medical treatment. Others for professional studies.
Many Goan youth, particularly Christians from simpler and less
affluent backgrounds, would go there in droves for a sea-faring
career.

These institutions provided low-cost accommodation, and friendly
mentors from among one's fellow-villagers. Today, with
allegations of suspicious deals by some of those in charge, and
pressures from land-sharks, these institutions face a bleak
future.

Recent amendments in the Rent Act mean that the real estate lobby
has "cast its greedy eyes" on these dilapidated properties, says
Rodrigues.

Even owners and landlords -- perhaps whose grandparents had
originally leased out these structures -- have tried to take up
eviction proceedings in Mumbai's Small Causes Court.

Some kudd secretaries have developed questionable links with
the builders lobby, and disposed off kudd premises, getting
free flats in the bargain for themselves. In the rumour mill,
some names of prominent individuals are already being mentioned.

Secretaries of the kudds are supposed to maintain accounts.
But, without supervisory control, some secretaries have allegedly
run amuck.

Migrant Goan villagers would arrive in Bombay by bus, train or
boat. Strangers in that huge and heartless city, the kudds
would offer them "shelter, board and facilities such as they were
accustomed to back home", says Fulgence Rodrigues.

This home-away-from-home offered them low cost boarding. Their
needs were often subsidised by other members of the kudd (or
village club), till they could find a job of their own. Prayers
were said at 8 pm sharp, and members also had to stay present for
the Sunday cleaning-up operations.

Collective funds fuelled the mess. Profits, if any, would accrue
to a general fund, which was "disbursed appropriately to those
members who would retire or leave the kudd in order to settle
down back in their respective villages or towns", says Rodrigues,
in a brief study of this issue.

Many clubs have large, spacious halls. Most are situated in old,
multi-storeyed buildings constructed in the nineteenth or early
twentieth century. Many buildings have become decayed, decrepit
and dilapidated.

Bombay's Rent Control Act froze the rentals taken from tenants.
This meant no repairs or maintenance was done on buildings.
"During a recent visit to Bombay, I was horrified at the
appalling situation in some of these kudds, which looked
abjectly pathetic," said Rodrigues.

Interiors of many kudds are on the "verge of collapse owing to
paucity of funds, and nobody seems to be doing anything nor
anybody comes forward to repair them," adds Rodrigues.

Fulgence Rodrigues believes that with institutions like the NUSI
Maritime Academy at Assolna and the Institute of Maritime Studies
at Bogda-Sada, Mormugao, Goa badly needs institutions like the
kudds to help its youngsters get access to better jobs offshore.

"Goa government has a Goa Bhavan in Juhu. But (the average) Goa
cannot avail of these facilities due to its distant location from
Greater Bombay, considering transport costs, travelling
inconveniences and bureaucratic hassles in booking
accommodation," says Rodrigues.

On the other hand, the kudds are located at prime and
convenient spots.

"I've visited kudds of villages like Chorao, Divar and Margao.
There are many Bardez kudds too. Most are located in areas like
Dhobitalao and Mazgaon. I was told that there are some at Dadar,
Parel, Matarpakaddi, and Byculla too," Rodrigues told this
correspondent.

Rodrigues says something badly needs to be done to save these
institutions. Interested persons can contact him at 555063, says he.

He has sought the support of former Goa Speaker Simon D'Souza,
and politicians like Dr Wilfred Mesquita. "I want to speak to CM
Sardinha and persuade him of the need for a detailed report into
the functioning of all the clubs."

He suggests the clubs could come "under one umbrella" to fight
against eviction attempts.

Rodrigues says that the prestigious Jer Mahal, in the centre of
Dhobitalao, is popularly known as a "mini Goa", and is full of
Goan kudds.

"It was a miniature capital of Goa and their cultural hub. Now
the kudds have fallen into utter neglect, and are on the verge of
extinction. Economic and social changes in the lifestyle of Goans
have had deleterious effects on the kudd system," says he.
Perhaps the growing affluence of Goans has also made us more
individualistic and selfish! (ENDS)
-------------------------------------------------------------------------------------------------------------------------------------------------
kalba devi 1880




Lithograph of a view of Colaba by Jose M. Gonsalves (fl. 1826-c.1842

) plate 3 from his 'Lithographic Views of Bombay' published in Bombay in 1826.

Gonsalves, thought to be of Goan origin, was one of the first artists to practice lithography in Bombay and specialised in topographical views of the city.

Colaba was originally the southernmost of Bombay's seven islands and named after the Koli fishermen who lived here. The island was visited by the English residents of Bombay for recreation from the 18th century and also used as a military cantonment in the 19th century. Colaba was connected to Bombay by a causeway that was only accessible at low tide by 1838. Within six years, Colaba became the new centre for the cotton trade



----------------------------------------------------------------------------------------------------------------------------------------------------------------------


TUESDAY, SEPTEMBER 30, 2008
THE LITTLE ODYSSEY
Bombay (now Mumbai) has been a second home to many Goans who have lived and worked there for generations. Nevertheless, they have not lost touch or their love for Goa. During the months of April and May, entire families will flock to Goa for their annual summer holiday along with their kids, soon after school final examinations. These two months have traditionally been the most enjoyable months, full of fun and frolic for everyone. The purpose of visits are many-fold; some of them are to get away from city life, holiday for parents and the kids, while other reasons are to carry out necessary repairs to ancestral homes and visit their loved ones. In the old days, many of us looked forward for such holidays. It would be an unforgettable experience. For most people the modes of transport to travel for this holiday was by steamer and bus, and to some by rail and air. Of all these, traveling by ship was the most popular and full of excitement. It was as though one large Goan family of more than five hundred members traveled for one mega holiday to one common destination: GOA. Here is my own experience.
It was the month of February
Not losing count of any single day
In quite a hurry
I seemed to be;
Thoughts of getting away
From life in the city
Of bright lights
Bus, tramcar and train
Far away from the hustle
And bustle of Churchgate,
Fort and Flora Fountain.

Endless waiting
Thoughts of remaining days of school
And final term examinations
Seemed never ending;
Thoughts of mangoes
Jackfruit and cashew apples
Were in the offing
Their aroma I imagined
And was for a while lost
In far away thoughts
And awakened by the sudden screech
Of the speeding train.

"Just one more month, son"
Mum and Dad seemed to comfort;
Dad has his suitcase
And holdall at the ready;
Mum has already been shopping
For summer wear
At the local market fair.

Tickets are booked
Dad has made sure of that
"We will be going by steamer" he said.
"Aunty Pam and kids will join us too"
Said Mum in the summer of nineteen seventy-two.

The day to leave for Goa
Has finally arrived
The Ambassador taxi
Is waiting down by the kerb-side.

Off to Ballard Pier before dawn we head
And on board our place we finally get
The steamer's deck is full;
There seems to be quite a din,
Each in their own place,
The great journey is about to begin.
The ship sounds its siren,
With a mighty roar
As it lift its anchor;
There's slight rumble on deck
As tugs pulls it out to sea;
In the distance the majestic grandeur
And awesome structure
Of this landmark Gateway of India
Grew smaller and smaller.

Soon we head south
Along the hazy coast on our left,
On the right we see the huge expanse
Of the Arabian Sea;
While for some at the start
Of the twenty-four hour journey
Seems to be to quite dizzy,
Slight pitching of the ship
Only a short-lived agony;
Others are quite at ease and jolly
Perhaps having traveled
So many times before
That they lost count
In their memory.

It is midday out at Sea
Ship's canteen is busy;
Gathered on the aft deck
It's a hot summer's day
A bunch of teenagers
Have already got started
With their guitars tuned;
Joined in shortly with some new friends
They have a go with the first round
It's the beginning of our summer holiday
With the popular hits of the times
Of Cliff Richard and the Shadows
Bachelor Boy and Young Ones.
Its evening
With breeze from the south-west
There is a slight lull on deck;
The ocean's waves are high
It seems the ship's constant roll
Had its toll
For many are now relaxed
After a short snooze.

Silhouettes of seagulls at sunset
Formed flying patterns,
As the passing ship heading north
On our starboard side
Seemed to bellow
With its siren a huge hello;
Promptly acknowledged
By our ship that woke up
Many a tired fellow.

It was supper time
The silvery moon
Seemed to smile
With its reflection
On the starboard side
Leaning on the rail
We took it all in
And young men sang
Lilting melodies of moon songs
As we sailed along in the splendid night.

Astern the moon lit up
A white trail of surf in its wake;
Aft deck above the horizon
The Pole Star
Posed as a direction finder
Amidst the seven bright stars
Spanning the northern skies
In the mighty constellation
Of the Great Bear.
Fishing line cast out into the sea
A lone sailor
Joined us later
As he stared into the dark horizon
And before everyone fell asleep
Narrated mariner's stories,
Great travel adventures and life at sea.

Dreams on the upper deck that night were plenty
If fact a huge string of them,
Happy and lengthy;
Thoughts of Calangute,
Colva and Miramar beach
Friday Mapusa Bazaar;
Visits to Goa Velha
And Dona Paula.

After a marathon journey and a long night
The sun seemed to be in no hurry to rise,
The landscape seemed familiar
Something I have seen in the years earlier
Dad pointed out to me
The distant forts of Tiracol and Chapora
And the oldest lighthouse of Asia
At Fort Aguada;
He seemed to hold court
For almost everyone on
On the ship's portside
As we to our destination
Were getting closer .

The ship glided gently
Through the delta and sandbar
At the mouth of the Mandovi River
Edging towards the quay
Some admire the beauty
Of the city of Pangim
To our left other admire
The beauty of the hills of Betim.
Dreams will shortly turn into reality
Uncle Seby will come
To fetch us hopefully
In a reserved 'Opel Rekord' taxi
Taking us to our ancestral home finally
With an experience of what seemed to be
A little odyssey.
FRIDAY, JULY 17, 2009
Companhia Nacional de Navegacao
India
45:India
, in service 1951-71, 7631 grt, 387 passengers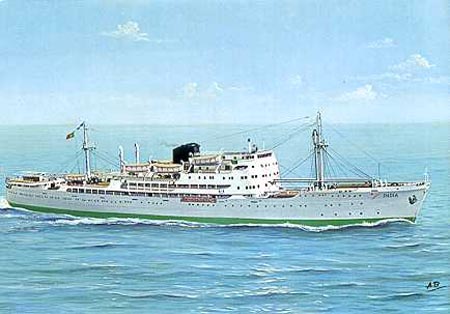 Unidentified commercial card of India - number 2 of series 18.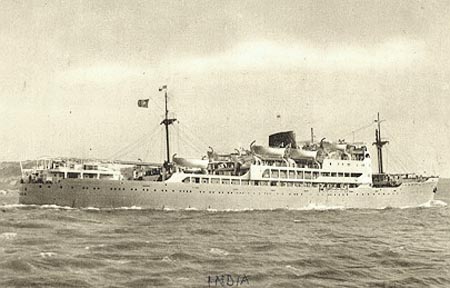 Home movies of the RMS Chusan from 1968 to 1970. Films of crew and passengers. Shots aboard ship and ashore. Covering USA, India, Orient, etc. A brief glimpse of the RMS Canberra.
Recent Posts
Archives
Topics
Search
By Michael L. Grace | August 4, 2009
Cruise History: The RMS Viceroy of India was an ocean liner that was owned and operated by the Peninsular and Oriental Steam Navigation Company Ltd. of Great Britain. During World War II she was converted to and used as a troopship. The Viceroy of India was sunk in November of 1942 by German U-boat U-407. Her service was succeeded by SS Chusan from 1950 to 1978.
The RMS Viceroy of India was P&O's crowning achievement of the 1920s. While she was stately and traditionally styled externally, her engines were a radical departure from contemporary practice.
She was fitted with turbo-electric machinery, making her only the third passenger ship in the world to have such an installation. The Viceroy of India went a long way towards elevating the quality of service on the India route to the standard by now established for the service to Australia.
The Viceroy of India was a revolutionary ship and aboard her, for the first time, all first class passengers had cabins to themselves.
She also was used as a cruise liner in the off-peak period and soon became very popular in this role. Sadly after being requisitioned as a troopship during the Second World War the Viceroy of India was sunk off Oran in North Africa in 1942 during "Operation Torch" landing troops in Tunisia, Morocco and Algeria to drive out the Axis forces from North Africa.
The S.S. Chusan replaced the Viceroy of India after World War 2.
DECK PASSENGERS TWEEN DECK. ©D. BEEDLE.
DECK PASSENGERS SLEEPING ARRANGEMENTS.
©D. BEEDLE.



©D. BEEDLE.



©D. BEEDLE.
DECK CARGO OF BUFFALO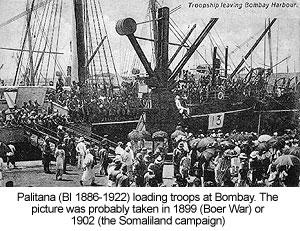 colonial troops in Goa 1950
colonial Portuguese rupia-rupee note
border marches by Indian satyagrahis [peaceful freedom fighters]
invading Indian troops at vasco
Outnumbered and overpowered by a combination of Indian land, air and sea forces, the Portuguese lost the two-day war. Despite orders from the Portuguese capital to not surrender, Goa Governor General Manuel Antonio Vassalo e Silva told his forces, "…situation does not allow myself to proceed with the fight without great sacrifice of the lives… I have decided… to get in touch with the enemy… I order all my forces to cease-fire.

happy Goan villagers with Indian flag after liberation


Taxi Fare Calculator to

jer mahal

Country
help?
City
From
To

Rs 218 - Mumbai Auto fare from malad west to 657 jer mahal estate, dhobi talao

Total Distance = 31.136 Km
Estimated Travel Time = 40 minutes

*The above is an approximate. Actual fare and travel time may vary depending on traffic, stoppages, road conditions, etc. Pre-paid counters at Airports, Railway Stations, etc. usually charge higher than basic fares.