The last gig of the
bandstand revival project

this summer is at Dadar Chowpatty this Saturday

Tuesday, May 21, 2013, 12:30 IST | Place: Mumbai | Agency: DNA Web Team

Street music culture is taking the city by storm, find out why and also about its rich historical background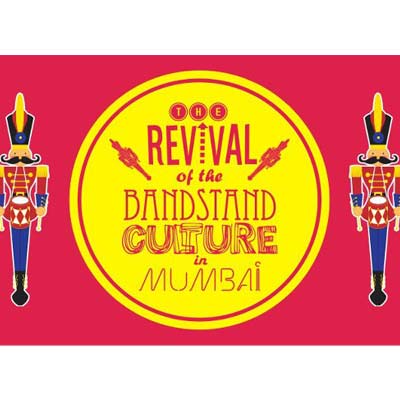 Last Sunday evening was no ordinary one at Dadar Chowpatty, where saxophones and electric guitars intoxicated the hot summer air with jazz, blues and funk music. Performances by bands like Far Out Funk, Live Cycle and singer song writer Alisha Pais's group sparked an impromptu dance war by B-boys present there and several people from the audience — kids, college students, middle-aged women who spontaneously came forward to groove to the pulsating beats.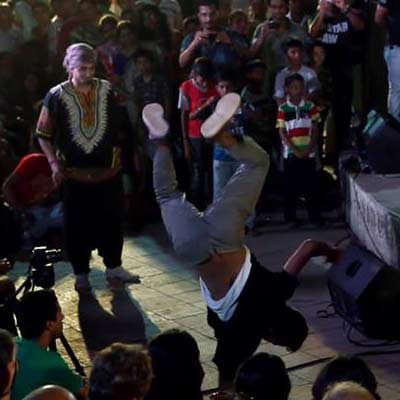 Photo Credit- Payal Kapadia
Similar gigs have been entertaining Mumbaikars every Saturday for the past two months as part of the 4th season of The Bandstand Revival Culture — a musical movement with a rich historical background. As explained by The Bombay Chamber Of Commerce And Industry (BCCI) outdoor musical performances which were iconic in the city during the 1850s.
Bombay's Bandstand culture of the 1850s
The marching of a band with drums and fifty other instruments from the Town Major (located at the east-end of Hamam Street, Kala Ghodaup to the end of Military Staff buildings) along with a brass band of an Infantry regiment promenading the Mumbai Green (a vast fifteen-acre open-space opposite the Town Hall in the South Mumbai, now smaller Horniman Circle Garden) during the late evenings was a common sight since the time the Governor of Mumbai resided in the Fort (now popularly known as the Old Secretariat).
This custom came to a standstill when in the 1860s the building was given up to build the Eliphinstone (now Horniman) Circle and other buildings. Following demolition of the Fort Walls, regimental bands began to play on the new reclamation at Apollo Bunder, where the Yatch Club, the Taj Mahal Hotel and The Gateway Of India now stand.
As the Mumbai City Improvement Trust developed new suburban areas north of the island city, bandstands were built. These included — Cooperage Garden, Girgaum Chowpatty (Kilachand Park), Victoria Garden at Byculla (now Jijamata Udyan), Sir Pherozeshah Mehta Garden (popularly known as Hanging Garden), Joseph Baptista Garden on Mazgaon Hill, King's Circle Garden (Maheshwari Udyan) at Sion, Parsi Colony in Dadar and Bandstands in Sanjay Gandhi National Park.
The services of regimental and private bands were engaged and the dates and venues were advertised in daily newspapers. A tremendous excitement was evident among the spectators at each recital. The performance held at Apollo Bunder on February 28, 1948, marked the departure of British forces from India and was perhaps one of the most moving ones. The soldiers closed ranks and marched slowly through the Gateway to the tune of Auld Land Syne played by the bands.The Governor read his farewell message and troops marched down the stairs to their boats. The bands stopped playing a few years after Independence.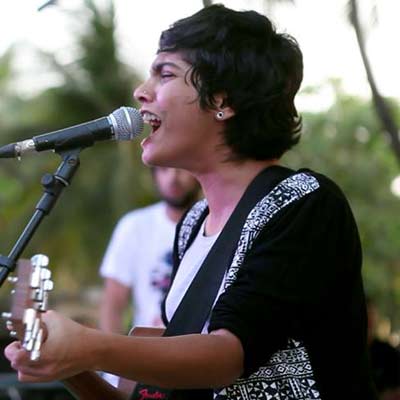 Photo Credit- Payal Kapadia
The Bandstand Revival Project is an initiative by the BCCI. "The project is not only a celebration of the city's lost cultural legacy but also an attempt to consolidate bandstand music in by encouraging live outdoor gigs in the city. It provides a platform for youth bands to showcase their talent to a diverse audience while at the same time brings the music free of charge to people who cannot afford to attend live performances at pubs and private clubs."
This season the gigs have been a musical potpourri of
Hindustani
classical artists (violinist Sunita Bhuyan and sitar player Chandrashekhar Phanse] singer-songwriters ( Winit Tikoo,Imli Imchen, Alisha Pais],Hindi and English rock and fusion acts (Lambada, Sparsh, Agnee, Sur, Empty Cafe, VRavi Guitar Fusion).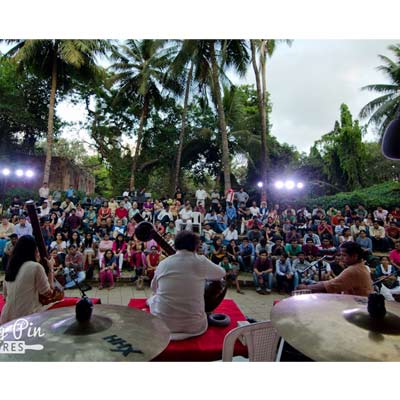 Photo Credit- Rolling Pin Pictures
Chandrashekar Phanse and Sur Live At Dadar Chowpatty

The performance on May 11th were by the winners of the People's Choice gig (based on an online poll conducted by NH4). The project also featured Municipal Corporation of Greater Mumbai (MGCM) band and the Mumbai Police Band who are known to play popular numbers from Bollywood.
27 year-old Stuart Dacosta a vocalist from Mumbai-based band Something Relevant and one of the main organisers of the project says, "This season's aim of The Bandstand Revival Project has been to connect to more people by encompassing diverse genres of music. I feel inspite of limited resources we have definitely been able to achieve it, as evident by the large crowds that have gathered at most gigs.For the first time since the project's inception there has been a standing ovation for two performances."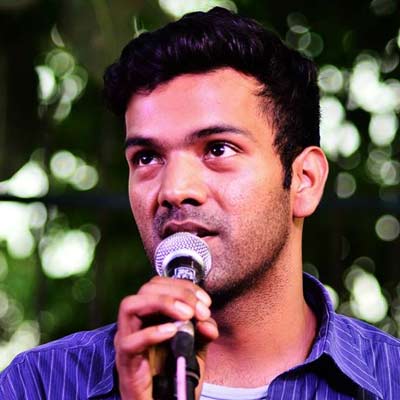 Photo Credit-TTW
Stuart Dacosta, an active organiser of the Bandstand Revival Project
Dacosta adds, "We plan to introduce a winter season between October and November, where we will explore venues in North Mumbai too. In time, we hope to promote such musical gigs on a national level and form a society for the same."
The venues of these entertaining evenings this time were Hornimam Circle, Dadar Chowpatty and Kamla Nehru Udyan (Hanging Gardens).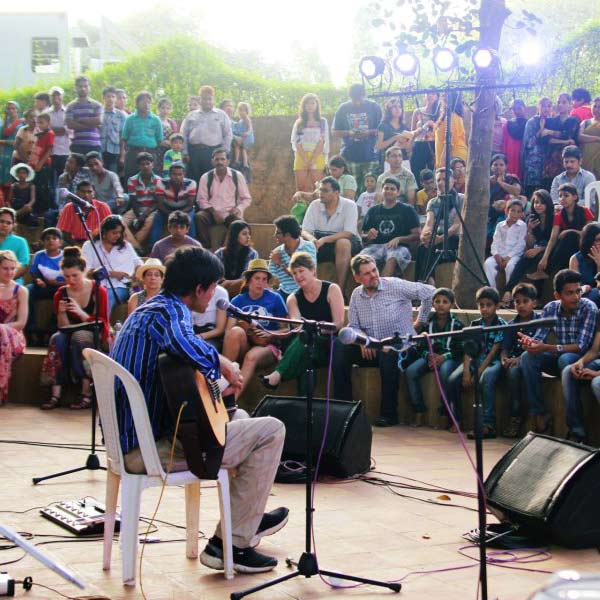 Photo Credit-TTW
Manan Gupta, winner of the People's Choice gigs at Kamla Nehru amphitheatre
Photo Credit-Payal Kapadia
Audience at Dadar Chowpatty for the bandstand gigs
Rohan Ramanna leader of Jazz Funk band "Live Cycle" and a professional musician says, "Such venues help use beautiful outdoor spaces apt for live musical performances, and create more space for such gigs in a city that has limited indoor venues for the same. Outdoor performances give artists a chance to have an immediate connection with the audience which is truly rewarding."
Singer and songwriter for band Folk Fusion, Pratyul Joshi one of the winners of the People' Choice gigs says, "Bandstand gigs are a valuable space for marketing genres such as indie, folk, old school and other non-commercial forms of music."
A fan, Marc Biefnot posted on the project's official
Facebook
page, "Excellent gig and "bon enfant" atmosphere. Bandstand Revival has to be the best thing that has happened to Mumbai in a long while!"
This is what Mumbaikars have to say on Twitter about the gigs-
17 year old Shreya Arya, student at K.C College who has attended several of The Bandstand Revival Project's gigs in the past month says, "On a social level the gigs bring together people from different strata of society to appreciate music together."
Details of the last gig have finally been released! Catch
Whirling Kallapas
(acoustic rock), Suneeta Rao (hindi/pop)
and Mumbai Police Band (Marshall music) on May 25th at Dadar Chowpatty.
Don't miss it, because it is sure to be a memorable one!
====================================================
Bombay
GREEN (NOW HORNIMAN CIRCLE)
CAN SEE THE COTTON BUNDLES AND PORTERS , THE ARMY PARADE,A BAND OF YOUNG BOYS AT LEFT EXTREME WITH BUGLES AND DRUM ,ST.THOMAS CHURCH IN THE BACK GROUND,EAST INDIA COMPANY OFFICES ,SENIOR ENGLISH MILITARY OFFICER BEING CARRIED ON A DHOOLIE BY INDIAN PORTERS ARMED GUARDS WITH DRAWN SWORDS WALKING IN FRONT.ALSO IN THE BACK OF THE GROUND CAN SEE A COVERED VICTORIA HORSE CARRIAGE WITH ANOTHER MUSIC BAND PRECEDING THE CARRIAGE,[MAY BE SOME IMPORTANT ENGLISH MAN/OFFICER]
[I DONT UNDERSTAND WHY SO CALLED ANIMAL LOVERS WANT TO BAN HORSES AND HORSE CARRIAGE IN MUMBAI?! IT IS OUR HERITAGE ]
ANOTHER PAINTING OF BOMBAY GREEN SHOWING COTTON MERCHANTS /COTTON BUNDLES FOR SALE/HAMALS(PORTERS);COTTON BEING WEIGHED ON A TRIPOD .IN THE BACK GROUND 'TAXIS'IN WAITING-CAN SEE A DHOOLIE ON LEFT AND AN OX CART ON RIGHT
Elphinstone Circle Garden(NOW NAMED HORNIMAN CIRCLE GARDEN) AFTER BOMBAY GREEN WAS CONVERTED TO A GARDEN; gate and St. Thomas Church in Back Ground.1900
TOWN HALL IN FRONT OF BOMBAY GREEN 1850'S
Church gate street in Bombay Fort 1860

;

SECOND ENTRANCE IS BOMBAY TIMES(NOW TIMES OF INDIA)WHILE THE FIRST SHOP IS FAVRE BROTHERS(NOW FAVRE LEUBA )WATCH COMPANY.A HORSE AND A DHOOLIE CAN BE SEEN INFRONT OF BOMBAY

TIMES OFFICE.

FAR IN THE BACK GROUND IS CHURCH GATE OF BOMBAY

FORT

[VIEW FROM INSIDE BOMBAY FORT]
MAP OF BOMBAY CITY , FORT AND HARBOUR 1700'S
BOMBAY ISLAND ,SOUTH OF SALCET ISLAND -BOMBAY ISLAND NORTH IS MAYEN(MAHIM),CAYMAN WITH FORT(SION)
APOLLO GATE OF BOMBAY FORT ,ENGLISH SOLDIERS CAN BE SEEN IN RED SHIRT AND WHITE PANTS(ON HORSE)
AND
RED SHIRT BLUE PANTS NEAR HARBOR GATE WHILE ENGLISH MERCHANTS ARE SEEN IN WHITE AND WHITE HAGGLING WITH AN INDIAN MERCHANT IN THE FOREGROUND. [BEFORE THE ROUND WHITE DOMED ICE HOUSE WAS MADE NEXT TO THE CHURCH]
Scotch Church, Court-House, and entrance to the Dock-Yard 1850[AFTER THE WHITE ROUND DOMED ICE HOUSE MADE NEXT TO CHURCH]
Saint Thomas's Church, Bombay.[The Bhandari Militia was the first Police establishment in Mumbai (then Bombay) during British India. Marine Police Force- After the setting up of the British East India Company in Bombay, the Middle Ground Coastal Battery island (situated a few hundred metres away from the Gateway of India), was fortified in 1682 to curb the piracy in the area. Later a marine police force, composed of Bhandaris, were stationed there to keep an eye on the pirates who used to board ships. The Bhandaris were chosen for their loyalty, honesty and local knowledge. With their yellow trousers and blue turbans , the police were a formidable sight. After piracy moved to the South China Sea, about two hundred years ago, the police were disbanded and the Royal Navy gained control of the rock]
| | | | |
| --- | --- | --- | --- |
| | | | |