Mumbai welcomes 'Metro' amid tussle between state and MMOPL: Here are some facts
Sunday, 8 June 2014 - 9:04am IST | Place: Mumbai | Agency: DNA Webdesk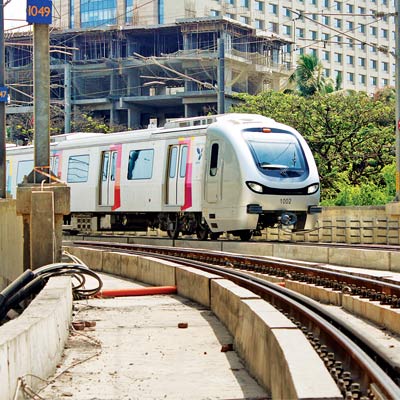 You can finally board the Metro today. However, the Metro, which had had its fair share of controversies and troubles, will not be without another one when it becomes operational. The latest is the refusal by chief minister Prithviraj Chavan to inaugurate the service. This comes after Reliance Infrastructure (RInfra) on Saturday revised the fares for the Versova-Ghatkopar line a second time. The state government wants RInfra to stick to the September 2013 fare. Chavan said RInfra went ahead with the revision without the approval of the fare fixation panel.
What's more, the company even said it will go ahead with the inaugural service, Chavan or no Chavan.
dna has already reported on Saturday about RInfra hiking fares at their whims.
In September 2013, Chavan had agreed to a fare revision under the concession agreement between RInfra and the state. The initial fares were Rs 6 (up to 3km), Rs 8 (3-8 km) and Rs 10 (over 10 km). That was revised to Rs 9 (up to 3 km), Rs 11 (3-8 km) and Rs 13 (over 8 km), against RInfra's demand of Rs 22 (up to 3 km), Rs 28 (3-8 km) and Rs 33 (over 8 km). "We, Mumbai Metro One Pvt Ltd, being the Metro Rail Administrator (as per the Metro Railway Act, 2002) have notified the fares of Rs 10, Rs 20, Rs 30 and 40 for 0-3, 3-6, 6-9 and over 9 km, respectively," said Abhay Mishra, chief executive officer of MMOPL.
On the other side, this was what Chavan said: "I will inaugurate the Metro only on one condition -- the earlier, cheaper fares are charged. They have not taken approval from the fare fixation committee." On Friday, a petition was filed in the high court over the fare dispute.
*Mumbai Metro will start with
95 escalators and 45 elevators
across the line to take commuters to and from trains, and even promises wheelchairs for the disabled according to a report by Firstpost.
*There will hardly be any gap between the train and the platform and for the first time in Mumbai, tactile paths would be provided for visually impaired commuters, guiding them to and from trains. Ramps have also been provided to help commuters on wheelchairs.
*Technology-driven, the Mumbai Metro is controlled centrally and a real-time system will provide updates on services.
*Live CCTV surveillance system with 700 cameras will monitor even moving trains, and all trains will have a data recorder to record all vital information in the event of a mishap.
*While X-ray baggage scanners and metal detectors are par for the course even on the Delhi Metro, the Mumbai Metro will have a global first in creating a dedicated squad of sniffer dogs for security on the Mumbai Metro alone. Handheld explosive detectors (HEDs) will also be used in every station and three Emergency Stop Plungers on platforms enable passengers to stop an incoming train in an emergency.
*Travel time from Versova to Ghatkopar and vice versa will be 21 minutes, with an average speed of 33 kmph, a maximum speed of 80 kmph, even as the system is designed for 90 kmph. A road trip from Versova to Ghatkopar can take around 90 minutes, so 21 minutes is very welcome by Mumbai standards.
READ: All is unwell? RInfra announces Mumbai metro opening sans MMRDA
Mumbai Metropolitan Region Development Authority staff, too, remained out of bounds on Saturday symbolising their protest to boycott Sunday's event. "Everyone's invited for the inauguration ceremony on Sunday at 9.45 am at Versova Metro Station," said Debashish Mohanty of RInfra. When asked if the project will be commissioned irrespective of whether the CM is present or not, the reply was affirmative.
Meanwhile, as a stop-gap measure, the RInfra-led MMOPL has announced a 30-day flat, one-way promotional tariff of Rs 10, irrespective of the travel distance.
RInfra officials have left a grey area over what the fares will be after 30 days, by stating that there are various combinations available with them. RInfra attributed the fare hike to rise in project cost from Rs 2,356 crore to Rs 4,321 crore. Operation and maintenance costs too have shot up from the projected Rs 100 crore to Rs 240 crore, it justified.
Road beneath Mumbai metro continues to be a nightmare
Netas aiming to be first on the Mumbai Metro made to wait till Sunday
Mumbai Metro is still 'Reliance Metro' in several places
Meanwhile. with safety clearances in place for the Mumbai Metro, the staff of 790 Maharashtra Security Force (MSF) has not been deployed at the metro installations.
Sources associated with the 11.04 km long metro rail project informed that as per the security plan that was chalked over six months ago a total of 790 security guards were needed, however, till date a skeletal staff 60 to 70 MSF guards have been provided by the Maharashtra State Security Corporation (MSSC).
The matter of concern for the officials is that the safety clearance has come and they want to start the commercial services at the earliest, which is within a week's time, and prior to that the entire security staff of 790 personnel needs to get training along with familiarisation of the metro stations and depot.
Even though a Mumbai Metro One Private Limited (MMOPL) official claimed that the issue of having an entire security staff has been resolved and all the personnel have already begun their training. KP Raghuvanshi, director general of MSSC informed dna, "We are in the process of providing the required strength of personnel for metro rail."
When a spokesperson of MMOPL was asked as to when will the full strength of MSF personnel be provided, he was unable to respond.
Related reports: Mumbai metro service to start tomorrow amid tariff dispute
When Raghuvanshi was asked about the outdated .410 rifles given to the staff and need to provide them with better weapons, he too did not reply.
As per the security plans each metro stations will have hand- held as well as door- framed metal detectors apart from dog squads to detect explosives.
Read: All is unwell? RInfra announces Mumbai metro opening sans MMRDA
With inputs from Ateeq Sheikh