www.hindustantimes.com/mumbai...governor.../story-BdUaTeJtbBBVzwqoQCe6jM.h...
20 hours ago -

Maharashtra governor Ch Vidyasagar Rao had invited chief minister Devendra ... a tour of the bunker discovered under Raj Bhavan, on Tuesday evening. ... the governor's official office-cum-residence at Malabar Hill, Mumbai.
In pics: British-era bunker discovered under Maharashtra Raj Bhavan
Faisal Mallik, Hindustan Times, Mumbai
|
Updated: Aug 17, 2016 15:13 IST
Maharashtra governor Ch Vidyasagar Rao had invited chief minister Devendra Fadnavis for a tour of the bunker discovered under Raj Bhavan, on Tuesday evening. (Devendra Fadnavis Twitter account)
---
Officials at the Maharashtra Raj Bhavan have discovered a 150m-long underground colonial bunker right under the governor's official office-cum-residence at Malabar Hill, Mumbai.
Chief minister Devendra Fadnavis, who was given a tour of the bunker by governor Ch Vidyasagar Rao on Tuesday, posted pictures to his Twitter account, revealing a fairly well-preserved structure, complete with living quarters.
Officials made the discovery last Friday when they pulled down a temporary wall inside the Raj Bhavan complex after old employees told Rao of a tunnel on the premises three months ago.
The public works department broke through the wall blocking the entrance to the bunker, finding a barrack with 13 rooms – Shell Store, Gun Shell, Cartridge Store, Shell Lift, Pump, Workshop to name some.
Maharashtra governor Ch Vidyasagar Rao with chief minister Devendra Fadnavis at the entrance to the bunker. (Devendra Fadnavis Twitter account)
Officials at the Raj Bhavan discovered the 150m-long barracks after breaking down a wall that covered the entrance to the bunker. (Devendra Fadnavis Twitter account)
Spread across 5,000 square feet, the bunker begins at a 20-ft tall gate, with a ramp leading off to long passages that opens into small and medium sized rooms, a Raj Bhavan official said. There are also scores of lamp recesses in the gangway to allow better illumination, while a drainage system and inlets facilitates fresh air and light.
"We were afraid of snakes, but we didn't find a single insect in the bunker," a senior official requesting anonymity said.
Rao is now considering consulting with experts to conserve the structure.
The main entrance to the bunker is a 20-foot metal gate. (Devendra Fadnavis Twitter account)
The bunker has 13 rooms, each seemingly named after its utility. These include a Shell Room, Cartridge Store, etc. (Devendra Fadnavis Twitter account)
The Raj Bhavan, formerly known as Government House, served as the residence for British governors from 1885 onwards after Lord Reay turned it into a permanent residence.
Prior to 1885, it served as a summer residence for British governors while the Government House at Parel served as the official residence.
Given its sub-basement placement, the bunker was built with a drainage system and inlets to ensure ventilation and water run-off. (Devendra Fadnavis Twitter account)
The entrance of the bunker lead to a ramp that opens onto a passageway. Small and medium-sized rooms open onto this passageway. There are 13 rooms in all. (Devendra Fadnavis Twitter account)
Though abandoned all these decades, the bunker appears to be in fairly good condition. Governor Rao now plans to have conservation work carried out to preserve the structure. (Devendra Fadnavis Twitter account)
There are plenty of lamb recesses built into the bunker that allow plenty of light to filter in. (Devendra Fadnavis Twitter account)
Chief minister Devendra Fadnavis posted images of his tour to his Twitter account. The bunker is about 12 feet high, and allows considerable amount of movement in its passageways. (Devendra Fadnavis Twitter account)
The governor and the chief minister discuss the finer aspects of the bunker discovered under Raj Bhavan at Malabar Hill. The building served as the official residence for British governors after 1885, and it is conceivable that the bunker was built after that year. (Devendra Fadnavis Twitter account)
HISTORY:-
AFTER THE FIRST INDIAN FREEDOM FIGHT AGAINST BRITISH IN 1850'S THEY WERE ALWAYS READY FOR A SECOND UPRISING
SO ALL THESE BUNKERS
timesofindia.indiatimes.com › City › Mumbai
1 day ago -

A pre-independence era bunker that had been sealed nearly a century ago has been opened at Raj Bhavan. The 150-metre-long underground ...
........................................................................................................................
200-year-old tunnel found in Mumbai?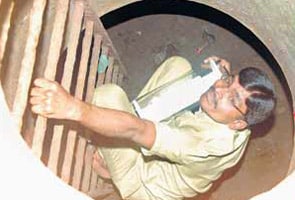 Mumbai:
An ancient tunnel dating back 200 years was discovered on the premises of the General Post Office (GPO) at CST in Mumbai on Monday.
MiD DAY learnt about this slice of history and informed the GPO authorities three days ago. Initially, the authorities refused to believe that they could be sitting, in more ways than one, on such an ancient passageway. Soon, it was thrill and excitement at the discovery and then a resolve to dig deeper and find out more about this passage.
Chief Postmaster General (Maharashtra & Goa) Faiz ur Rehman was not amused when he was first told about the tunnel.
"In the last 25 years that I've been working at this building, I've never heard about any such thing," said Rehman. "We'd like to confirm any such existence before making any comments to the media."
Yesterday, Rehman, who was in Aurangabad, was astounded when told about the passageway.
"It's like a treasure for the GPO. We are thankful to MiD DAY for bringing this fact to our notice and want to explore it as much as we can to understand what it could have been for ages together," said Rehman.
"We will seek assistance from the heritage department and others concerned to unearth this mystery."
With other senior officials at the GPO, it was a similar tale of disbelief turning into surprise.
"Neither have I ever heard of any such a passageway," said Postal Director Abha Singh who later said she admitted that the entire area surrounding the GPO may be steeped in history.
"Truly, it's a treasure and we'd love to preserve it," said Singh.
She hoped that the passage could someday be converted into a museum and thrown open to the public.
Director of GPO Shobha Madhale, however, admitted to MiD DAY of having learnt of such a thing but could not explore it due to non-availability of resources.
Acting on a tip-off by this correspondent, Postal Director Abha Singh and a few employees
started making enquiries with liftman S S Jadhav who has been employed with the department for 26 years.
Jadhav confirmed having learnt of such an underground opening.
Along with Jadhav and a few other employees, MiD DAY went to a garden in front of the building. There, we came across a cement structure covered with a lid and a flowerpot placed on it. It took at least three people to open the lid.
Inside was a rusted iron ladder, leading to a muddy floor. None of the people around mustered courage to step in. There were two other openings leading below each within a few metres of the other.
Postal Director Abha Singh gets the employees to open the lid in a garden in front of the GPO building.
A BMC drainage cleaning employee, who was at the spot, confirmed to MiD DAY that it could not be a drainage tank, as there was no foul stench of gas being emitted from the opening.
"I know each and every underground passage in front of the GPO but I've never come across anything like this before," he said.
He bolstered his claims by citing characteristics of tanks put by the civic body and confirmed that this one at GPO was not one of them.
"I cannot step in without using safety gear. Also, I need to inform my superiors before sending somebody inside," said the BMC employee.
Finally, postal employee Devji Waghela dared to enter, armed with an emergency lamp. "The mouth of the tunnel is wide open and any person can walk inside," said Waghela.
"Neither did I feel suffocated nor was the place stinking. I could see mud all over the place."
Waghela said he flashed the lamp he had and he could see a walkway-like passage flanked by strong walls as far as the eye reached.
Chairman of Mumbai Heritage Committee, Dinesh Afzalpurkar, said he would ask his officials to visit the site and study if the place has any historical background.
"We will certainly examine if it [the discovery] has any heritage value and needs to be persevered. We will write to the state government to declare it a heritage structure," said Afzalpurkar.
Assistant Director of the state Archaeological Department, Balchandra Kulkarni, said, "It would truly be a great contribution by MiD DAY if this leads to a forgotten treasure from the British era."
Kulkarni said the tunnel could either be a drainage line used during the British era or an escape route.
"Things will be clear only after a detailed study. Whatever, it's interesting and I will want to conduct a personal study of the findings," he said.
Kulkarni, who has studied Mumbai's forts said the British feared an attack by Napoleon and had constructed an underground escape route stretching from Apollo Bunder to where the Bombay High Court stands and St George's Fort (covering St George Hospital to Masjid Bunder).
A 1.5-km tunnel also exists in the adjacent St George Hospital's ward number 5.
"I have studied the St George fort passageway which opens inside St George Hospital but that passage connects to a dead end and nothing concrete could be concluded from there," said Kulkarni.
Reporter narrates how he cracked the story;
During the course of my visits to the GPO a senior postal official had, during a casual chat, told me about a tehkhana (dungeon) beneath the GPO. I had then made a mental note to explore this nugget of information. I even discussed about this with the former Chief Postmaster General and other senior officials, including Director (GPO) Shobha Madhale, but nothing transpired.
Somehow, this
tehkhana
played on my mind every time I stepped into the GPO building.Last Friday, I mentioned it to Postal Director Abha Singh and she ushered me into the office of the Chief Postmaster General Faiz ur Rehman who summoned staffers and asked them to enquire.
Postal Assistant Director S B Vyavahare entered the office with lift operator Jadhav who corroborated my statement. Rehman then promised an internal investigation and said he would revert on Monday, which he did.

History check
The British who were ruling Bombay during the 18th century feared that Napoleon would attack Bombay. In order to protect themselves, they constructed an underground escape passage route called Bombay Fort. However, Napolean was defeated in the Battle of Waterloo in 1815.
1862
Year the Bombay Fort was demolished by the British
1913
Year the GPO building was erected.
www.bbc.co.uk/news/world-south-asia-11586210
Oct 20, 2010 -

An ancient tunnel-like structure is discovered in the garden of the ... of the General Post Office in the Indian city of Mumbai (Bombay). ... "I have been here for more than 20 years," he said, "but was never ... Image caption The GPO in Mumbai is one of the city's most famous landmarks ... 'I'll never look back'.
.......................................................................................................................
Such hidden tunnels have also been discovered in all parts of the world. Let's take a look at 10 such secret passages in India and abroad:
National Library, Kolkata: In 2010, archeaologists had found a secret enclosure in the 250-year-old National Library building in Kolkata that has no entrance. Only an arch can be seen from outside that is walled up. Specualtions are there that the enclosure is a torture room or a treasure vault built by the British lords
General Post Office, Mumbai: Again in December 2010, a secret passage speculated to be dating back to 200 years. Civic officials and other experts said that they could see a walkway surrounded by walls at the end of the tunnel. It is believed to be an underground passage built by the British
Red Fort, Delhi: The Mughals are admired for their architectural genius since long. The Red Fort that stands on Netaji Subhas Marg in Old Delhi has a secret tunnel connecting the Mughal structure to the Yamuna River. The tunnel goes underground from the eastern end of the fort
Amber Palace, Jaipur: An open air tunnel connects the Amber Palace to the Jaigarh Fort in Jaipur. The tunnel is 325 metres long and dates back to the 18th century
Pargwal, Jammu: In September 2014, the Indian Army had unearthed a hidden tunnel at Pargwal in Jammu. The 20-feet deep tunnel was incomplete, however, it indicated that trespassers had tried to dig a tunnel from the other side of LOC to get into Indian territory
Talatal Ghar, Assam: Located in Rangpur, Assam, the Talatal Ghar was built by Tai Ahom architects. The structure is a palace that was primarily built to be an army base. The palace has two secret underground tunnels. One is around 3 kilometres long that connects the Ghar to the Dikhow River and the other one, which is around 16 kilometres long, connects it to the Garhgaon Palace
Charminar, Hyderabad: Indian emperors depended with underground tunnels and passages that could be used as escape routes in case of an enemy attack. It is believed by many that such a tunnel exists between Charminar and the Golkonda Fort in Hyderabad stretching up to 9 kilometres. Local residents too believe that not just one but several such tunnels existed or still exist under their houses and across Old Hyderabad.
I WANT ADD ONE MORE TUNNEL
THIS TUNNEL CONNECTS THE OLD
TRAVANCORE KINGS PALACE-CALLED "KUTHIRA MAALIGA
"[NOW RENAMED PUTHEN MAALIGA PALACE MUSEUM] NEAR PADMANABHA SWAMI TEMPLE IN TRIVANDRUM -THIRUANANDAPURAM
https://en.wikipedia.org/wiki/Kuthira_Malika
Puthen Malika palace (Malayalam: പുത്തന്‍ മാളിക കൊട്ടാരം), most popularly known as Kuthira Malika (Mansion of Horses), is a palace built by Swathi ...
Kuthiramalika Palace Museum or Puthenmalika Palace Museum is a beautiful two-storeyed palace situated near the Sree Padmanabhaswamy Temple
https://www.youtube.com/watch?v=qRLKOGVaGVE
Mar 24, 2012 - Uploaded by indiavideodotorg
Kuthiramalika palace or Puthanmalika palace, near Sree Padmanabhaswamy temple in East fort ...


THE TUNNEL STARTS AT THE WESTERN END OF THE FIRST FLOOR OF THE PALACE AND GO TOWARDS THE TEMPLE.BUT NOBODY SHOWS ANY INTEREST TO FIND WHERE THIS TUNNEL LEADS