Juhu Aerodrome:-
History
At present, Juhu has only a single operational runway (08/26, 3750 ft/1143 m) and is run by the Airports Authority of India. It hosts a flying club with several executive and light aircraft, gliders, and a heliport to ferry Oil and Natural Gas Corporation personnel by carrier Pawan Hans to offshore oil rigs at Bombay High. The airfield is located at Juhu, an upmarket residential suburb of northwest Mumbai flanking the city's Juhu Beach along theArabian sea.
The Imperial Airways 'Hanno' Hadley Page passenger airplane carries the England to India air mail, stopping in Sharjah to refuel.
ENGLAND TO INDIA IN 6 DAYS BY PLANE!

-FASTEST TRAVEL POSSIBLE 1940'S


















Armstrong Whitworth AW-154 Argosy II ...

airliners.net

















Armstrong Whitworth Atalanta | Revolvy

revolvy.com
Armstrong Whitworth Argosy - Wikipedia

en.wikipedia.org
Armstrong Whitworth Argosy - YouTube

youtube.com
In 1929, Aga Khan offered through the Royal Aero Club, a special prize of £ 500 for "a solo flight
completed within six weeks from the date of starting". The prize was to remain open for one year from
January 1930. There were three contestants – an eager JRD Tata, Man Mohan Singh, a civil engineer
graduating from Bristol who had learnt to fly in England, and ASPY Merwan Engineer, later the Chief of
the IAF. The three men set out flying single-engine, light aeroplanes with simple instruments and without radio. Man Mohan Singh took off from Croydon airport, south of London, in a Gypsy Moth
Gypsy Moth
which he
called Miss India; ASPY Engineer followed the same route while JRD Tata, also in a Gypsy Moth, started
his journey in the reverse direction. After Croydon, Man Mohan Singh flew on to Lympne, Le Bourget
(Paris), Dijon, Marseillers, Rome, Naples, Catania, Tripoli and Sirle. From Gaza, he flew eastwards to
India, with Engineer trailing a day behind. Singh finally landed at Drigh Road, Karachi on 12 May 1930,
Imperial Airways - Wikipedia











Cockpit of a HP-42


But one thing is significant - in all the years of operation and the millions of miles these aircraft flew not a single passenger died. There was a death in the fire in Karachi - but not a passenger.
The 1930s might seem to be a potentially dangerous time to have been an air passenger. Certainly there were more accidents for every 1,000 passengers than there are today. But a single Boeing 747 accident can kill 3 times as many people as the total of fatalities in the 1930s. The 200,000 people who flew on commercial services in 1936 evidently didn't believe they were putting themselves in mortal danger.
HP-42 at Cairo
They were one of the first aeroplanes in which the flying crew (pilot and assistant) were in an enclosed cabin. They were also unpressurised meaning they could not fly at more than a few thousand feet as the passengers would feel the absence of oxygen, but flying low means increased turbulence so they could be bouncy flights.
Their operation was not accident free, the Airport Society database shows 34 incidents involving the Imperial Airways aircraft all over the world - from Croydon to Cairo, Kampala to Karachi. These incidents were of varying levels of seriousness, from a wing-tip collision between two HP 42E while taxying in Khartoum, to a forced landing in the desert near Qatar leading to the complete loss of the aircraft and another that was burnt out in a fire in a hangar in Karachi.
Imperial Airways aircraft cabin, 1930s

A publicity postcard that doesn't mention the aircraft type - maybe an Armstrong Whitworth Argosy which in the interwar period constituted the fleet that maintained Imperial Airways' lunchtime service to Paris and is believed to have been the world's first named airline service.


Karachi Airport (1930)
winning the historic air race. Engineer landed the next day and, though he came second, due to a technicality,
was eventually declared the winner, which Singh accepted.
On October 15th, 1932 JRD Tata took off from Karachi to Ahmedabad and on to Bombay in a solo flight carrying postage mail. He landed at the Juhu airstrip and India's civil aviation took off. In 1946, Tata Airlines became Air India and in 1953, the company was nationalized by the Government of India.
----------------------------------------------------------------------------------------------------------------------------
The Armstrong Whitworth A.W.154 Argosy stemmed from a declaration by Imperial Airways that all its aircraft would be multi-engine designs, on the grounds of safety. They were intended to replace the older single-engine de Havilland aircraft that Imperial Airways had inherited from its constituent companies, mainly Daimler Airway.
The passenger cabin of an Imperial Airways Argosy, which could accommodate 18 passengers. Posing at the rear is the steward who served them a buffet lunch as part of the airline's "Silver Wing" service:
Argosies continued in service with Imperial Airways until 1935, with the last example G-AACJ City of Manchester being used for joy-riding by United Airways Ltd of Stanley Park Aerodrome (Blackpool), that was later merged into British Airways Ltd. It continued in use with British Airways until December 1936.
Caption:
Air hostesses were first introduced in Air-India way back in 1946. Beautifully tailored European dresses with caps set at a jaunty angle formed the uniform. Sari, as a uniform, was introduced when Air-India acquired its first Boeing 707 in 1960s.

Undated picture of an air hostess welcoming a passenger alighting from a Tata Airlines airplane.

The Sari becomes the official dress code for Air India

A call for Air India's Past Laurels ... - Airliners-India :: View topic
airlinersindia.s4.bizhat.com
› airlinersindia-post-85850
In 1932: JRD Tata prepares to take off from Karachi, on his inaugural flight carrying cargo of mail to Bo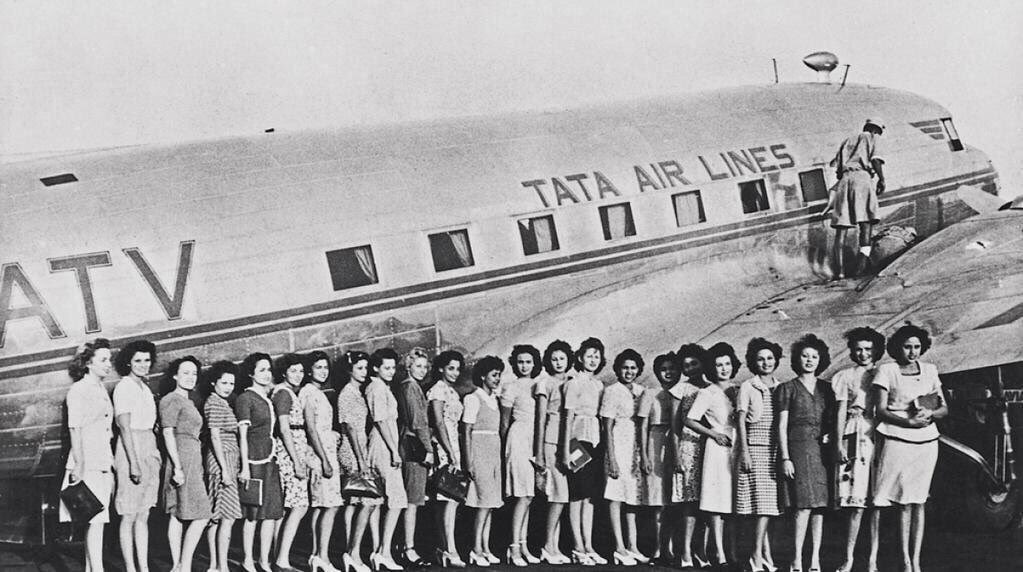 1023 × 572

In 1990, JRD's vision was finally fulfilled when Air India, in association with Indian Airlines and the Indian Air Force, created a world record by evacuating 1,11,000 people from Amman (in Jordan) to Mumbai in 59 days just before the Gulf War broke out in the Middle East. This was the "the largest evacuation effort by a single civilian airline."
This was probably JRD's greatest contribution to modern civil aviation in India. As he put it, "No success in material terms is worthwhile, unless it serves the needs or interests of the country and its people."
A year after he was awarded India's highest civilian honour, the Bharat Ratna, JRD Tata passed away in Geneva on November 23, 1993, at the age of 89. On his death, the parliament of India was adjourned as a tribute to JRD – a rare honour usually not given to people who are not members of the parliament.
Where was the first airport in India ...
quora.co
But, for the initiative of a few people - airline development might never have got off ... In May 1933 Poona was substituted as a halt in place of Bombay due to ... Official cover flown on the first return flight from Trivandrum to Bombay ... The flights to Colombo were made by Mr Homi Bharucha in a Miles M4A Merlin VT-AHC.
airspacemag.com

The beginnin
Archive Country - Airmail Collector
DURING SECOND WORLD WAR
1940 CURTIS PLANE
Bombay Flying Club: HC asks oldest ...

mumbaimirror.indiatimes.com
Bombay Flying Club lets dreams soar

indiastrategic.in
Bombay Flying Club on New Years Day 1931-JUHU AIRPORT
Bombay Flying Club to be a heritage site

mumbaimirror.indiatimes.com
Bristol Bombay - K 3583
The first production
Bristol Bombay - K 3583
- flew in March 1939 and was to be the basis for the post War Bristol Type 170 Freighter, Wayfarer and Superfreighter
Following the success during the Second World War of the twin engined
Bristol Type 130 Bombay
utility aircraft in the Middle East theatre of operations, the Bristol Type 170 was devised along similar lines but with a much larger fuselage and simplified single fin tail and two-spar wing construction. It was also to be more specialised as a rugged heavy duty freighter with low initial and running costs and easy maintainance without the use of any special tools. Indeed, initial projections were for just one man hour of maintenance per aircraft hour of flight.
The production
Type 130 Bombay
had been introduced in 1939 as one of the first large twin engined monoplane designs to serve with the Royal Air Force. Built to meet Air Ministry specification C.26/31 for an aircraft capable of carrying 24 fully armed troops, 10 stretcher cases as an air ambulance or equivalent mixed freight, the high seven-spar cantilever winged fixed-undercarriage Bombay used lessons learned from Bristol's unique twin engined Bagshot fighter ( J7765 ) of 1927. The oval sectioned monocoque steel strip and aluminium fueslage frame of the Bombay was covered by a stressed Alclad skin. Alclad - an American invention - consisted of the lightweight but potentially corrosion prone Duralumin coated with a thin film of pure aluminium.
For civil aircraft specification 22/44 Bristol designer Archibald E. Russell had retained the wide tracked fixed undercarriage of the Bombay but gave the wing - with the same section and taper ratio - a swept leading and straight trailing edge.
super constellation plane
Air India super constellation plane readying for London flight at Juhu airport
Malabar Princess
JRD Tata
Mr & Mrs J.R.D. Tata meeting Mr V.K. Krishna Menon, then High Commissioner for India, on the arrival of Malabar Princess.
photos of planes at juhu airport 1940-1950
49C Super Constellation
BEFORE.
SANTACRUZ AIRPORT WAS BUILT IN 1948
Nationalisation
The early '50s saw the financial condition of various airlines operating in India deteriorate to such an extent that the Government decided to step in and nationalise the air transport industry and accordingly two autonomous Corporations were created on August 1, 1953.
Indian Airlines was formed with the merger of eight domestic airlines to operate domestic services, while Air India International was established to operate the overseas services.
On 15 July 1953, a BOAC




DH.106 Comet
landed at Juhu Aerodrome instead of Mumbai's much largerSanta Cruz International Airport. The aircraft was flown out some nine days later.

On 28 May 1968, the pilot of a Garuda Indonesia Convair 990

Convair 990

also mistook Juhu Aerodrome for Santacruz Airport and tried to land his aircraft. It overshot the runway falling just short of the traffic road ahead and several residential buildings when its nose wheel got stuck in a ditch at the end of the runway. All passengers survived.

On 24 December 1972, Japan Airlines Flight 472, operated by Douglas DC-8-53
NOW
====================================================================
JUHU AIRPORT IN HINDI FILMS -
Song
from old classic movie
Mr. and Mrs
.
55
(1955)
starring
Madhubala
, Guru
Dutt
, Kumkum, Johny Walker, Lalita Pawar, Cuckoo ...
Dil Ke Aaine Mein Tasweer Teri Rehti Hai
– Singer : Mohammad Rafi – Lyrics : Rajinder Krishan – Music : Usha Khanna – Movie ...
(1968)
Song: Kaun Hai Jo Sapnon Mein Aaya Starcast: Rajendra Kumar, Saira Banu Music Director ...