2 days ago —
Interesting urban history nuggets are nudged out when doors they hide behind swing open to an inquisitive stranger.


Interesting urban history nuggets are nudged out when doors they hide behind swing open to an inquisitive stranger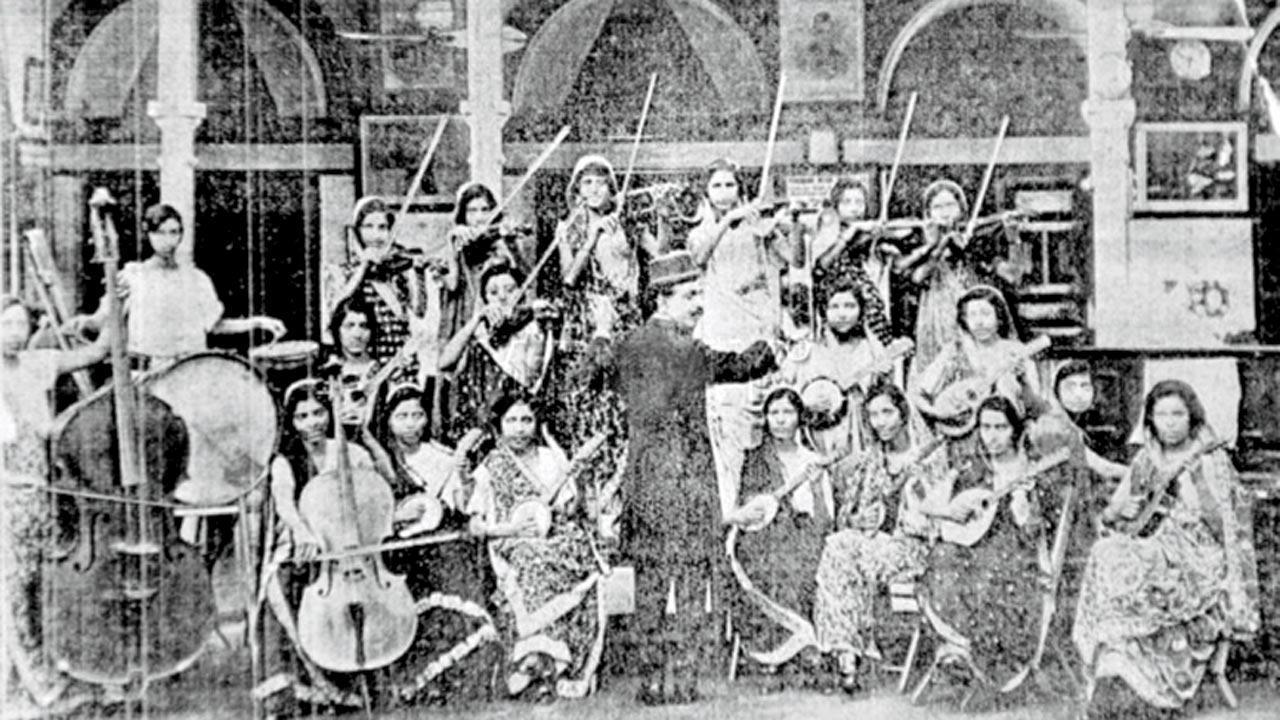 India's first all-women symphony orchestra in the early 1900s at Young Ladies High School at Fort
Knock and it shall be opened unto you" isn't merely scriptural. Journalists working an out-and-about beat gladly appropriate the line. Thanks to the mandate of this column of chronicles, I stand often before every type of door—wide and welcoming or guarded and forbidding.
Joy when unexpected entrances and rusted gateways creak promisingly ajar on cold-call visits, spilling a wealth of hidden stories. The sketchiest directions to dodgy destinations ("third door from the bakery", "Chhajja beside the bidi shop") can bring cool discoveries.
Ronald Jeffries outside Sunkist, the 1939 cottage his grandfather built facing Willingdon Catholic Gymkhana, Santa Cruz. File pics
In the chaotic heart of Agripada, I once reached the BIT (Bombay Improvement Trust) Chawl on Madhavrao Gangan Marg, to figure whether it was indeed a British jail in an earlier avatar. Catching the eye of Anasuya Dhone from Building No. 3, I followed her into her room. "My husband kept store for a boss who was Parsi, like you, Limji Seth of Bombay Cycle and Motor Agency," she smiled.
Unannounced intruder as I was, a glass of chilled rose doodh promptly pressed in my hands shook the sweat off that searing hot day. Anasuyabai's daughter Shubhangi said, "The 1993 riots shattered our peace. In curfew, we survived on bread and milk that the kind Memon shopkeepers supplied us." Popping in from next door, Vithabai added, "We remain one, though things are changing."
Dorothy Rodriguez, whose husband JJ Rodriguez opened this dance studio in 1951 on Allana Road, seen with daughter Crystal
To knuckle taps on doors without a bell to ring attaches the question: "Koi hai?", "Koi chheh?" or "Kon ahe?" Multi-lingual to match the person likely waiting on the other side. Seldom have I felt unsafe wandering. Rarely has a door slammed on me.
I nurse fears of my own. Decrepit structures sans lifts are an occupational hazard. Plus, towering flights of steps and gazing either too high or low (also a must-do), challenge the vertigo prone. One ill-timed dizzy spell struck precisely as I tottered to the top floor of Ruby Mansion on Forjett Street, to meet an illustrious clan of Hindustani classical maestros. Rickety staircases under repair propped by precarious, shaky bamboo scaffolding helped not. End of climb, a "Nobody home" message hissed through the peephole.

Anasuya Dhone and her daughter Shubhangi outside their BIT Chawl rooms in Agripada
In a later conversation, Agra gharana guru Anwar Hussain Khan's son Raja Miyan said, "Ours is a true mandir of music." His uncles, Vilayat Hussain Khan, Khadim Hussain Khan, Azmat Hussain Khan and Latafat Hussain Khan tutored thousands of talents. People joked that a stone tossed from Ruby Mansion would surely hit the house of one of their students.
Sadly, some doors stay bolted in uninformed minds. Even long-time residents in Wadala, among the eight villages of 1720s Bombay, muttered, "What's in Wadala, just educational institutes." Ah, scratch the prosaic mosaic of bus terminus and crumbling barracks, wind up Antop Hill and the landscape leavens mystically. Physical and metaphorical doorways swing softly back to reveal charismatic spaces suffused with love and light.
The Ahmedji brothers washing the ancient sacred stone in the Wadala dargah of Shaykh Misri
The terrace tomb of trader turned preacher Shaykh Misri rests within a bricked enclosure. He is supposed to have hailed from 15th-century Egypt (Misr in Arabic and Persian). Another legend goes that, for the poor to augment their income, the messiah miraculously converted salt layering the ground, to misri or khadisakhar (sugar). His shrine is maintained by Konkani locals, the Ahmedjis, appointed mujawwar (caretakers whose ancestors served saints).
The courtyard shaded by tamarind, soapnut and gulmohur trees, has a huge weighing scale heaped with offerings from women conceiving babies with difficulty and the unemployed gaining jobs. In 1941-42, legal proof of the dargah's establishment was demanded. Fortunately, a divine apparition urged the Ahmedji brothers' grandfather, Ghulam Mohiuddin, to scour for evidence: "Beneath bushes around the creek, 100 metres from the dargah lies a stone to save you." Inscribed with the words "Hazrat Shaykh Misri", the serendipitous find apparently convinced the judge.
With typical Bambaiya curiosity collectively piquing at the sight of a searching stranger, half a dozen faces peered from dingy doorways in a midtown building I entered. On Clare Road, I hunted for a signboard with Byculla girl Hutoxi Doodhwala. Homemakers on this street—Bohri, Parsi, Anglo Indian, Baghdadi Jew, Protestant Christian and Cantonese Chinese—were proud seamstresses. Hutoxi's father Edulji traded in sewing machines from Roghay Building. "Yahaan hoga", "Wahaan hoga" chorused voices with randomly pointing fingers. We finally found "E. H. Turel and Co." etched on a mossy wall.
Blithely open doors mislead. Digging for details on the inception of Young Ladies High School in 1889-constructed Trafford House on Murzban Road, I kept being pushed away from the authorities. Managing trustee Adi Desai eventually unearthed a priceless photograph, of India's first women's symphony orchestra performing on the premises, with his headmistress aunt Soonabai Desai on bass violin. Pianist Jehangir Khodaiji is the sole male seen at the centre, conducting as the musicians play mandolin, double bass and drums, in embroidered gaara saris.
On Allana Road in Colaba, I paused at a door. Deja vu surged strong. In younger years, my parents frequented this Sethna House apartment for Cours De Dance classes conducted by JJ Rodriguez. The legend pioneered authentic mambo and cha cha cha in the country (contrary to standard "1-2 cha cha cha" notation, the dance really begins on the second beat, with the count 2-3-4 and 1). Feather-footed Joao Joaquim Rodriguez of Margao arrived in the city to introduce his art in 1951 and soon it was de rigueur for couples to master those smooth ballroom swirls.
Unable to call ahead, I was lucky my press of the bell was answered, by JJ's son-in-law Damian. That was pre-COVID, in January last year. Imagine this happening in today's surreal scenario—double masked, distanced, distressed. Inside, the poised Dorothy Rodriguez told me she planned to carry forward her husband's legacy.
Continuity between generations was slower revealed in a mystifying encounter at Shivaji Park. Along its periphery, I fell fully in love with locked Sarah Lodge, determined to find secrets it harboured. I stared, transfixed by the stubbornly sealed exterior, a Star of David winking dully on the verandah. Nothing known beyond the fact that this was where postal department officer Eliab Erulkar and his wife Sarah resided with their children. Admiring stained-glass remnants as breath-taking as they were broken, I wished an Erulkar would simply magically emerge.
They swept in en masse—after the piece printed. From seeming desolation, Sarah Lodge suddenly jumped alive in a flood of attention from Erulkars crisscrossing the globe. "Our home may fall victim to a developer's wrecking ball," emailed Dr Arun Gadre, a grandson in San Diego. "If that house could speak, it would of the mayflower tree, of Irish stew stirred over a slow 'badami' coal fire, of heated bath water in a copper samovar. In the monsoon, my grandmother oiled hinges and rolled up the Persian rug to prevent water damage."
Shouting names in the desperate hope that someone appears at a door isn't the politest start to an interview. Without a phone number, I was trickily reduced to this, seeking Spanish teacher Audrey Lopez in Mahim. I'd only heard she lived in a red cottage in a gully off LJ Road and might provide great information about the neighbourhood. Tired tumbling into wrong paths galore, I grated to a hesitant halt outside a garden overgrown with fragrant petunias and peppercorns. There it was—brick-red Edelweiss—combining, as learnt later, her parents' names, Edward and Gladys.
"Audrey, Audrey" I called out, conscious of absurdly rupturing the noon quiet of the cul-de-sac. She showed up at last with a vague wave, ascertaining I was no dubious character. Settling to chat, surrounded by sniffing pooches, she told me these Kote Wadi acres near Mahim Fort were a wedding gift to her maternal grandmother.
Adjoining Mori Road presents rowed chawls with thin wisps of curtain flap "doors". Stopping at the kholi of Bismarck Fernandes (whose son's name is Adolf, yes), I talked to the tailor previously employed in Zanzibar and Bahrain. Scissors smartly fitting customers, Bismarck now outsourced suit jackets, but cut pants and shirts himself. "And he stitches my lovely frocks!" squealed his sprightly little granddaughter, skipping up to me.
A suburban garden path led to a charming believe-it-or-not account of civility in the city. I was documenting the half dozen Catholic cottages left in Santa Cruz. Despite stern "Beware of dog" warnings plastered over the hedges, Ronald Jeffries' green bungalow, with "Sunkist" lettered in cement, drew me in. His West Indian grandfather Frank Thomas came from Ratlam, silver medalled for services to the BB&CI Railway, at King George VI's proclamation. He built this home opposite Willingdon Catholic Gymkhana in 1939, when the club was a modest asbestos-roofed shed.
Delightedly, I observed gleaming brass fixtures, Burma teak surfaces and windows from which Frank Thomas gazed at steam engines grandly puffing past. The Deco design of the grills wove the initials "ftj" within and "jef", for "Jeffries", outside. The main door of Sunkist stretches deep inward, rather recessed from the road. A lady across the lane, in Kenville, had a request. Could Mr Thomas please position his porch to not obstruct her view of the club? Belonging to the courteous Bombay that was, he graciously did.
Author-publisher Meher Marfatia writes fortnightly on everything that makes her love Mumbai and adore Bombay. You can reach her at meher.marfatia@mid-day.com/www.meher marfatia.com
---